Submitted by Cathy Johnson of Dandelion Gardens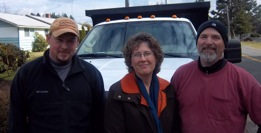 What do software engineering, landscape design, and landscape installation have in common?  Leslie Coulter!
Leslie is an example of how we journey through life and adjust our journey's path as we travel.  Like many of us, she went in one direction in her 20's and then made a radical change as she approached her 40's.  After 20 plus years as a software engineer for large companies, Leslie decided to engineer a little change of her own – to transform herself from a computer geek to a plant geek.
Like many of us, she had always enjoyed gardening and had dabbled in a variety of artistic expressions, so landscaping was simply a new way to express herself.  She exchanged her computer desk for a classroom desk at South Puget Sound Community College's Horticulture Department.  After graduating from SPSCC, Leslie and another graduate, Travis Meyer, opened Outdoors by Design to provide landscape design and installation services.
Through design and installation, Leslie is able to provide artistic solutions to landscape problems.  "Northwest Informal" is her typical design approach with big sweeping curves, numerous woody shrubs, and perennials for fillers.  She especially enjoys using pavers, stones, and boulders to create the structure, i.e. "bones" of the landscape.
"Northwest Informal" suits most residences and is easy to maintain – a critical point since most clients don't have the time or inclination to spend hours doing landscape maintenance.
Bamboo is a new favorite in her plant palette because there are many varieties of non-invasive (i.e. clumping) bamboo which she can utilize, deer don't eat it, and bamboo fits very nicely into the Northwest landscape.   One of her business partners is a bamboo expert, so bamboo is not a scary subject.  The community isn't a scary subject either, so she volunteers for Rebuilding Together, mentors students from SPSCC, and is a guest speaker for SPSCC fundraisers.
In a typically male dominated field, Leslie excels.  Her business partners (Phil Comer joined the firm as a partner three + years ago) treat her like "one of the boys" and don't condone any biases.   Most of the residential landscape clients are women.
While clients aren't a challenge for Leslie, but the soil can be!  Working year round requires her to work with all types of soil in all types of conditions – wet, dry, hot, cold, etc.  It can be very challenging to work with clay soil in February!
Due to her father's employment as an engineer for Georgia Pacific, Leslie moved around quite a bit as a child, living primarily in the South and New England areas of the country.  She went to college in Texas and decided to head west after graduating.  After moving to the Pacific Northwest, she fell in love with the landscape and her husband, Bruce.    After years of landscape work, she still loves to look at the landscape "big picture" instead of focusing on individual plants or elements. Looking at the entire structure of the landscape and the many ways to design it really makes her happy.  Her design and installation work allows her to fully exercise her beloved Spiderman's "Spidey sense".
You won't find Leslie hanging in a web, but you will find her hanging around in a landscape.