By Tom Rohrer

While official school sanctioned athletics provide a great opportunity for student-athletes to showcase their talents and play for their institution, those looking to take their talents to the next level of the sport often join traveling club teams.
Since 2009, the Capitol Lady Outlaws Fastpitch team has been raking in trophies while providing a platform for their student athletes to use as a jumping-off point for a possible college scholarship.
With six total teams spread across age groups 12-to-18, girls of all ages from the Thurston County area and the whole state have an opportunity to participate in a structured team organization, while learning responsibility, both on and off the field.
"The goal for most of these girls is to play at the college level, and get a scholarship," said Lori Braniff, the team's General Manager. "We do what we can training wise, and getting them exposure at tournaments, to make that happen.  But they have to be tough, and we monitor all the players grades to make sure they take care of business in their personal life."
This structured approach has led to success at various tournaments and to the collegiate careers of several former players.
This past spring, the Outlaw's 18 and under Gold and Black team tied for 1st place USSSA 18uA/B Fall championships while being awarded NSA State champions.  The other four teams finished either second or third in the fall championships, and in 2010, the 16 and under team took home the NSA State championship.
Currently, there are a dozen former Outlaw players that are or will be playing at the collegiate level.
Braniff credits the players and coaches dedication to much of the team's success.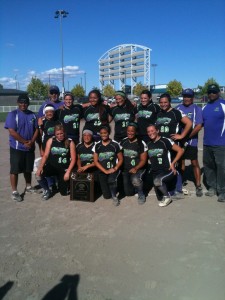 "A lot of it really is dedication," Braniff said. "We are year-round and always putting in the hard work, whether it's in the gym, in the cages or on the field. We have terrific coaches that do everything as an organization.  Our younger teams get as much attention as the older flagships, and that's not a common sight around here for fastpitch"
Comprised mostly of girls from Olympia, Lacey and Tumwater, the Outlaws also feature players from Aberdeen, the Portland area and from the eastern side of the Cascades. The players know what they are signing up for, and competition to make and coach a team is very high.
"The girls are very coachable, there are no divas or no 'me-me' attitude," Braniff said. "Every player has to try out each year, no matter if they are returning, and the same goes for the coaches. Just because someone is committed to us for a year, that doesn't mean we won't reevaluate the situation and see if it's working or not."
Braniff also believes the established structure of the organization attracts players looking to get serious about the sport.
"Part of the attraction of the team, is the organization behind it," Braniff noted.  "The official by-laws, and the overall dedication team officials put into the program are appealing."
Being spotted by college scouts is also an appealing prospect.
"If you want to play college ball, a lot of it is exposure, and that's what we're providing you with," Braniff said. "We have a college compliance officer that is contacted by universities and collegiate teams. We go to exposure tournaments that allow for our girls to be seen.  But we also run the program like a college one, and that prepares the girls even more so."
Transitioning from high school play to a more competitive setting forces the players to stay focused during every pitch and at bat.
"With Club ball, you are playing solid teams and there are no mistakes," Braniff said. "It's a whole different level of ball.  When the girls excel at that, it's amazing to watch."
Braniff, who played competitively starting at a young age into her twenties, believes that while the culture surrounding the sport differs today from the past, players will always respond to success and goals.
"Kids always respond to structure," Braniff said.  "If you keep setting that bar, they will strive for it.  They will always respect structure.  As long as they keep raising that bar, they will keep rising with it.  The younger girls worship the older girls and that helps.  Just showing up isn't good enough and the girls see that."
For more information, visit their website or contact Lori Braniff at lori@capitolladyoutlaws.org.