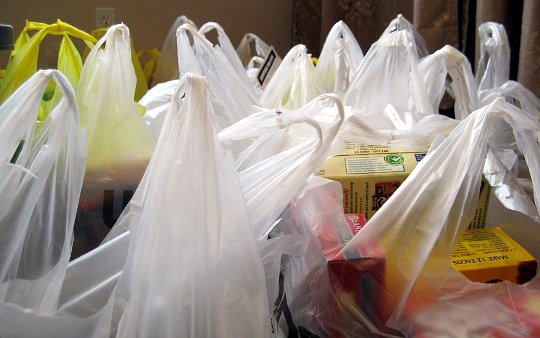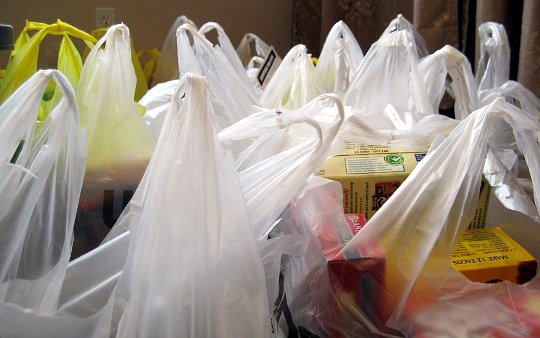 I have retrained myself to carry reusable totes.  At first I was enticed by shaving a few pennies off my grocery bill. But, my true motivation was to minimize the amount of plastic my family consumes.
I had to find the appropriate spot in my car to store the collapsed bags so that I would grab them.  The reminder signs on the front door of the grocery store helped too.  I admit that it was a learning curve but I have a routine down now and am a faithful tote bag carrier.
Thurston County Solid Waste is educating consumers about the impact that plastic bags have on our environment.  The numbers are truly staggering.
Plastic bags get used, on average, for 12 minutes.
Americans use half a million plastic bags every minute.
Nearly 200,000 plastic bags are land filled every hour.
Thurston County residents use about 90 million plastic shopping bags each year.
The impact to the environment is even more concerning.  According to the Center for Marine Conservation, plastic bags are among the 12 items of debris found most often in coastal clean-ups.
But, plastic bags can be recycling, right?  "Unfortunately, plastic bags cannot be recycled in our co-mingled curbside program because they tangle the equipment at the sorting facility," explains Terri Thomas, Education and Outreach Specialist for Thurston County Solid Waste.
"Throwing a plastic bag into the recycling adds an extra expense of about $1,000 per day to our recycling facilities," says Thomas.
In addition, the Environmental Protection Agency indicates that plastic bags are recycled at less than one-third the rate of paper bags.
"All disposable bags have benefits and drawbacks.  Paper bags actually use more energy and water to produce.  But plastic bags create the litter and marine problems that are of great concern.  Based on several life cycle analysis, the best solution is to use reusable bags," describes Thomas.
So, what does Thurston County Solid Waste recommend?
"Find a plastic bag recycling bin at a nearby grocery store.  Recycle your plastic bags there.  You can also drop plastic bags at the WARC Recycle Center," encourages Thomas.
The list of plastic items that can be recycled here is quite extensive.  "Recycle plastic bags, dry cleaning bags, bread bags, plastic newspaper sleeves, and any other type of stretchy plastic that you can poke your finger through easily," explains Thomas.
Thurston County Solid Waste encourages residents to use durable bags to prevent waste and is working with the community to develop possible solutions to reduce our use of plastic bags.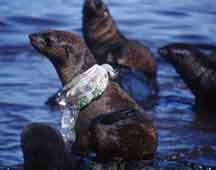 Thurston County Solid Waste wants to hear from the community on ways we can reduce the number of plastics bags used.  To gather information, Thurston County Solid Waste will be asking residents for their ideas and surveying at community meetings, special events, and at the entrance to local retail stores.  To learn more or attend one of eight community meetings, click here.  You can also complete the short survey online.  In addition, they have several copies of the film "Bag It' that residents can borrow to show for their neighbors, churches, or community groups.
In exchange for answering the survey, residents will receive a free, reusable, recycled content shopping bag. Participating gives leaders valuable information about residents' views on plastic bags in our community.
My education from Thurston County Solid Waste includes a new step that I'm adding to my routine. I'm going to wash my bags since like kitchen sponges, towels, and surfaces, reusable bags can hold bacteria.
Thurston County Solid Waste's B.Y.O.B (Bring Your Own Bag) Reminders
Write 'bring shopping bags' as the first time on your grocery list.
Keep a bag at the office, in your purse, or in your briefcase.
Hang the bags on your front door knob, or place them with your car keys.
Make yourself a colorful door hanger for the house.
Put the bags back in your car right after you empty them.
Keep your bags in the front seat of your car so you can see them.
Place a 'grab the bags' sticky note on your dash or car door handle.
Give your little ones the job of remembering the bags when you go shopping.
Charge yourself a dollar every time you forget your bags.  Donate the money to charity.
To learn more about Thurston County Solid Waste and reducing material consumption, visit their website or follow the agency on Facebook.
Thurston County Solid Waste also maintains an amazing list of items that can be donated or recycled in Thurston County.  Visit Where Do I Take My…? to get some great alternatives to the garbage can and land fill.
Still have more questions?  Call 360.867.2491 or send an email to thurstonsolidwaste@co.thurston.wa.us.
All photos provided by Thurston County Solid Waste.