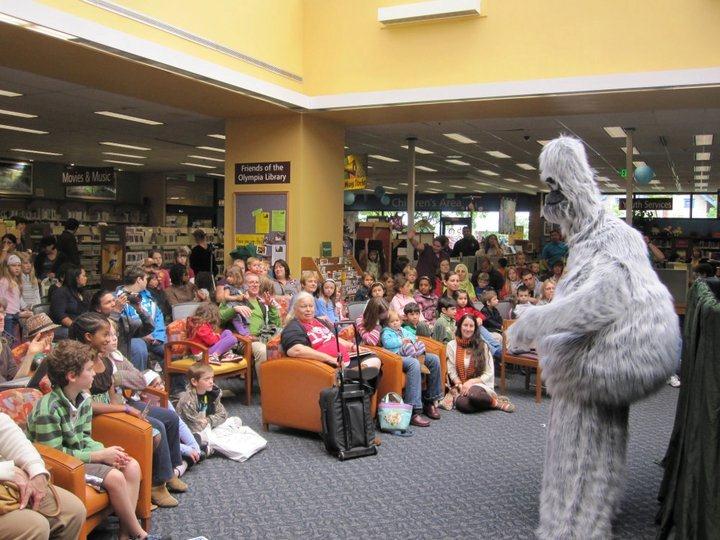 Dear Dads – Please accept my apologies for foregoing a post on Father's Day in lieu of promoting the South Sound Reading Foundation's Imagination Celebration.   We will be celebrating fathers at our house on Sunday but this event was just too closely tied to Thrifty Thurston's core to skip it.  Check out ThurstonTalk's event calendar for some ideas to treat Dad.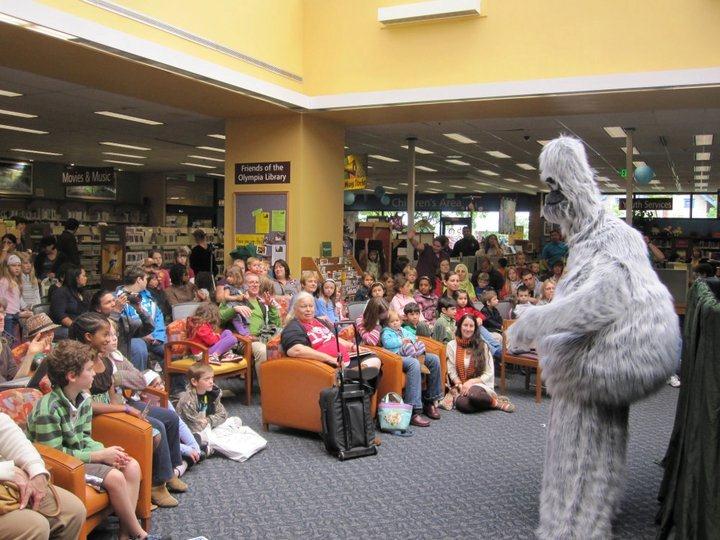 At our house, we have three readers and one who prefers glossy pages with more photos than text.  (Our family includes a mom, dad, and two little girls ages eight and six.  I'll let you determine who is the picture book reader, but one hint – it's not the author of this story or a little girl.)
It's remarkable, as a parent, to watch your child learn to read.  I love that look of amazement when they figure out a tough word or truly understand the meaning of the words that they have verbalized.  And, I have great respect for the educators, who are in my children's daily lives, who show tremendous patience with the learning process.
The South Sound Reading Foundation provides these statistics on why reading over the summer is important:
Kids need to read at least six interesting and challenging books during the summer to prevent the 'summer slide' (losing up to four months of school skills).
Research shows that if kids, in grades kindergarten through third, have access to books they are excited about reading then their reading levels can improve by 30-40%.
61% of low-income families have no age appropriate books in the home.
Increasing access to books in the home is a very effective way to promote literacy and grade level reading.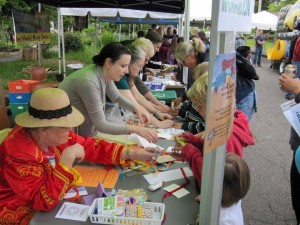 Celebrate the kick-off of the Timberland Regional Library's summer reading program.  The Imagination Celebration is presented by the South Sound Reading Foundation in collaboration with the Timberland Regional Library District and the City of Olympia.
The Imagination Celebration is a full day packed with great entertainment, wonderful music, spirited dance and a chance to meet accomplished authors and illustrators.  Show up anytime on Saturday, June 16 between 11:00 am – 3:00 pm to participate in the fun.
"Families looking for a wonderful day to spend with the kids have found it.  Imagination Celebration is a free youth and family event that marks the beginning of summer in Thurston County," announces Jennifer Williamson-Forster, Executive Director of the South Sound Reading Foundation, a co-sponsor of the event.
One booth not to miss is Shea Carr Jewell's Lego building station.  "Kids are welcome to create any structure at our table or take the Legos out to the pavement for extra building space," explains Bob Jewell who comments that the team members that volunteer during the event relate very well to children.
Shea Carr Jewell is a local engineering firm.  "We are a local company that believes in supporting important groups and causes.  With all the increased technology, we feel that there is less focus on reading.  We want to show our support," adds Jewell.
Here are some other examples of free activities occurring throughout the day:
Read to dogs from the Paws to R.E.A.D. program.
Make your own comic books.
Create rubbings of the sunset.
Meet special guest Clifford, The Big Red Dog.
Get your face painted.
Receive a free book from the South Sound Reading Foundation.
Learn from the Stream Team.
Listen to great music or watch a dance performance.
Be amazed by Jeff Evans' magic.
Attend a costume parade as your favorite book character.
Clearly, there are ample activities to keep tykes of all ages entertained.  And, with a focus on reading, parents are sure to be impressed.  The Timberland Library encourages all children to participate in the summer reading program.  Sign up on the last day of school at your local Timberland Library branch.
The library makes the summer reading program easy.  Your child may read or listen to as many books as they would like over the summer months.  Mark titles in the reading log or teens can use the library's new online feature to record titles.
"Summer at the library offers kids and teens exceptionally positive experiences with books, reading, and libraries," says Ellen Duffy, Timberland's Youth Services Coordinator.
"Libraries want kids, teens, and families to keep coming back for more.  Our knowledgeable and welcoming library staff are available for customized reading recommendations for great summer reading.  Research also tells us that children who enjoy reading will read more and become more proficient at the same time," adds Duffy.
Teens and families are invited to the libraries for extraordinary programs all summer long.  Maybe your kiddos want to creep around Lacey Library from June 25 – 30 searching in the Creatures of the Night Scavenger Hunt.  Or, slip over to the Olympia Library on June 21 at 10:00 am to see Eric Haines: Comedian-Juggler-One Man Band.  He'll also be in Tenino that afternoon at 1:00 pm. If you are a Yelm resident, kick off the summer on June 21st at 11:00 am with the annual Treasure Hunt.  And, in Tumwater on June 28th at 2:00 pm to hear Brian Waite's high tech band in the "Land That Rock Forgot."
Perhaps this year we'll sign dad up for the summer reading program and see what he can accomplish!
Imagination Celebration
Saturday, June 16th
11:00 am – 3:00 pm
Block party celebration on 9th Street between Adams and Franklin, next to the Olympia Timberland Library
Know of an inexpensive family activity that we should feature in Thrifty Thurston? Drop an email to submit@thurstontalk.com.