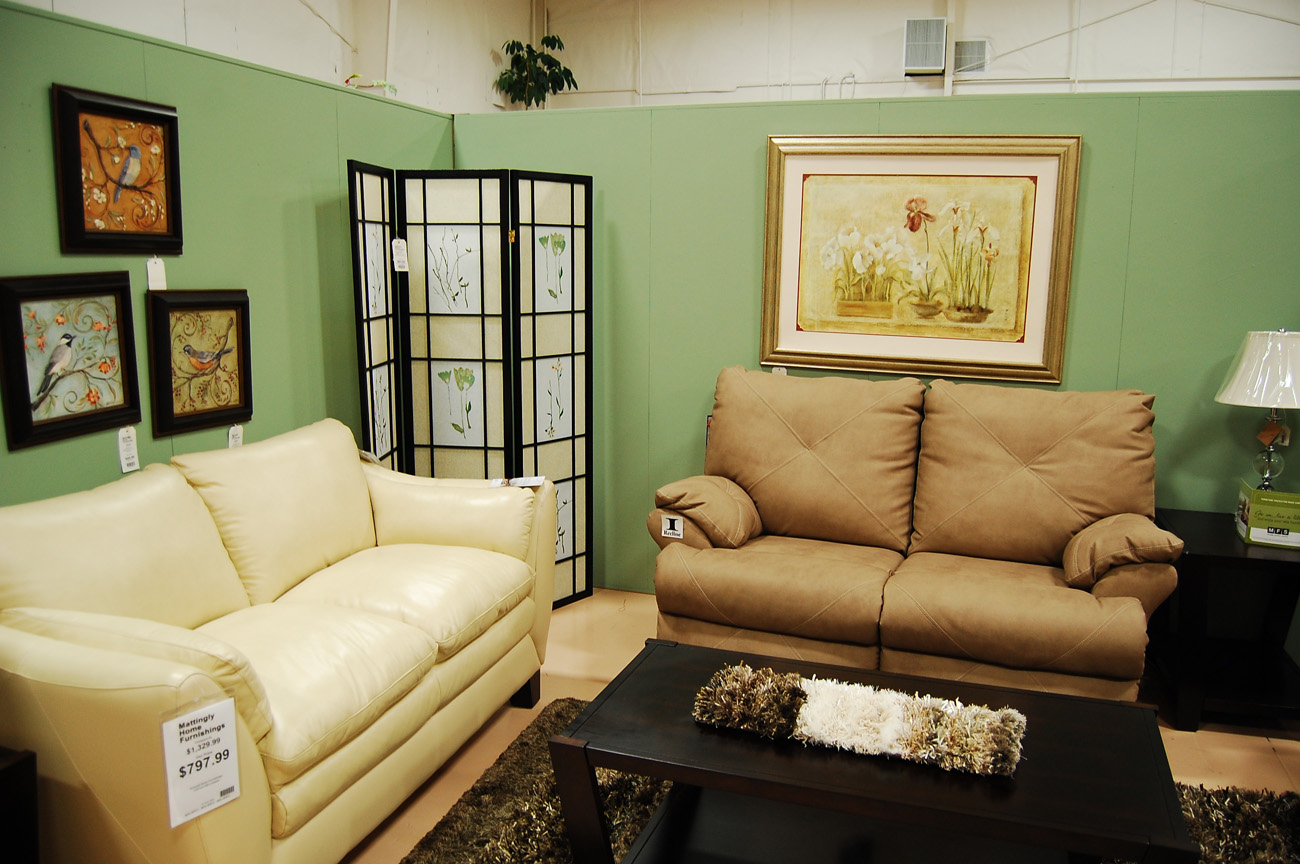 "We're a relatively small store, but we give you access to more product than anybody else in the area," says Shad Mattingly, owner – with his wife, Lisa – of Mattingly Home Furnishings in Lacey. "Our emphasis is on service, quality, and customer care."
In fact, through their on-site stock, extensive website, and in-store catalogs, Mattingly Home Furnishings offers more than a million distinct items.
Mattingly Home Furnishings carries an in-store sampling from each manufacturer they carry, so clients can get a feel for quality.
"We carry everything from very budget-minded through the middle price range and all the way up to custom," says Shad.
From living room, bedroom, dining, occasional tables, and art for the walls to lighting, rugs, pro-grade pool tables, and more, Mattingly Home Furnishings carries a huge selection from contemporary or modern styles to more traditional – and everything in between.
Shad and Lisa run every aspect of the store, employing three part-time employees. "Otherwise, we do everything," says Shad. Their Australian silky terrier, Tucker, is also on hand to greet folks as they walk in the door.
"Tucker's the boss, aren't you?" Lisa says to the adorable canine, with a laugh.
"We're going to teach him how to accept payments," Shad jokes. "Let clients give him their credit card or check."
If, upon entering Mattingly Home Furnishings, the ambiance is decidedly welcoming and warm, that's by design – and completely authentic.
"We want you to feel like you're coming to our house – and we pretty much live here," Shad says with a laugh.
Shad and Lisa, both originally from the east side of Washington State, strive to treat each person who comes through the door as more than simply a customer; they work to create long-term relationships with clients. "And we don't deal with gimmicks or high pressure," says Shad. "You just don't have that here."
A year-and-a-half ago, Mattingly Home Furnishings moved from its west side location, where it had been for five years, to the old Sears warehouse in Lacey, across from Saint Martin's University.
"We were growing and needed more space," Shad says. The store's current 15,500 square feet doubles that of the previous store.
All that extra room means more items in supply. "All of our stock is on site, so we don't have to go to a separate warehouse," Shad explains. "If we need to check stock, I can either pull it up on the computer or run downstairs and physically put my hands on it."
What sets Mattingly Home Furnishings apart from other furniture stores is shorter order times. "If we don't have something in stock, instead of saying we'll have it in a few weeks – just estimating – we'll pick up the phone or get online immediately and tell you when we can get it," Shad says. "It's in stock in L.A.? We'll have it here in 5 to 10 days."
A custom upholstery sofa can take a minimum of 12 weeks at most furniture stores, but at Mattingly Home Furnishings, the turnaround time is four to five. "And that's U.S.-made," Shad says. "You pick your fabric, you pick your frame."
In fact, Mattingly Home Furnishings emphasizes U.S.-made furniture, mattresses, and upholstery.
They also carry an heirloom-quality Amish-made line of furniture, crafted to order in Illinois. "It's a very high quality line of furniture and completely customizable," Shad says. "It's spendy, but we're very competitively priced." Clients choose the wood, stain, hardware, fabric, and leathers they want with the Simply Amish line.
Whether it's a high-end or budget item, the emphasis at Mattingly Home Furnishings is on quality. If a lower-priced item is constructed with particleboard, Shad and Lisa let the client know, leaving the final decision up to them.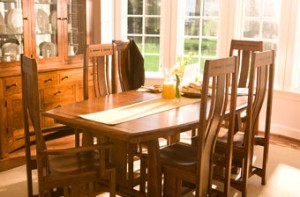 "We're going to educate you. We ask a lot of questions," says Shad. "Then our job is to get you what you're looking for – instead of us selling you what we think you should get."
Mattingly Home Furnishings carries an array of mattresses and bedding options, from budget to luxury. "You can get yourself a really nice pillow top mattress and box spring for $279," says Shad. "We cater to a lot of different feels of beds."
The company is also environmentally conscious. "Especially with memory foam, you have to be," says Shad. "Anything shipping out of China, you want to be sure it's being done right." Most of the mattresses carried by Mattingly Home Furnishings are made in the U.S.
They also carry adjustable beds and Comfort-Pedic beds. Shad is confident in his praise of Comfort-Pedic over Temper-Pedic beds. "Comfort-Pedic is very comparable with a lot of attributes that surpass what Temper-Pedic does," he says.
Shad and Lisa's objective is to create a niche market with their store. "Our goal isn't to stomp on everybody around us," says Shad. "But we are very competitive."
Mattingly Home Furnishings doesn't run big sales. Rather, their everyday prices are extremely competitive. "And not just competitive, but fair – because there is a difference," says Shad.
Mattingly Home Furnishings does have a clearance room and may run the occasional promotion if they are over-inventoried and need to move something quickly or if a manufacturer runs a promotion. Otherwise, clients can expect attractive prices every time they visit – without big sales announcements.
Delivery options are available, and in-stock items can be rolled out at the point of purchase to a client's waiting vehicle.
Visit the Mattingly Home Furnishings website or Facebook page to learn more about the company and peruse their impressive selection. Then stop in and say hello to Shad, Lisa – and Tucker.
Mattingly Home Furnishings
5001 Pacific Ave. SE
Lacey, WA 98503
360.754.6671
info@mattinglyfurnishings.com