Submitted By: Dwayne Boggs (Dwayne is a home inspector serving the Thurston County area home inspection market.)
Some builders are still missing the mark.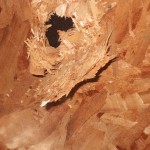 The other day I went to a subdivision where I have inspected many homes in.  Some of the builders do a great job, while others are not so good.
Right away, Ron, my other inspector, and I noticed poor installation of the siding and even damaged siding.  But that was just the beginning. When the agent and buyer arrived, we went inside the home.
I set up shop in the kitchen, reviewing last minute paperwork with my client and setting up my computer.  Ron and I returned outside to continue the inspection of the exterior and roof.   We were concerned about inadequate ventilation, which was confirmed later when we entered the attic.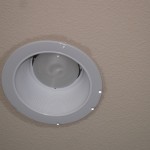 After finishing the exterior, I returned to the kitchen and to my surpise saw water dripping from the ceiling light onto the kitchen counter right next to my computer.  I ran upstairs asking the client and agent what water they had turned on.  They responded that they were just looking at the bedrooms and had not turned on any water.  I found the main water valve and turned off all the water to the house.  I informed the clients to call the builder and request that this issue was addressed.  I continued the inspection with the water turned off.
When we got into the attic, we saw several areas of damaged sheathing, gable vent damage, blocked roof venting, and twisted framing.  Each of these issues should have been caught before the roofing material was installed.
The plumbing leak was diagnosed from the installation of the washer and dryer.  The supply line was damaged by a drywall nail causing a slow leak which by the time we showed up had reached the light fixtures.
This experience is another reminder that all home buyers should have their homes inspected, regardless of the age of the home.
About the Author
Dwayne is the former past President of the Washington Association of Property Inspectors, Dwayne is also a committee member for the Washington State Pest Management Association (WSPMA), Dwayne has been serving the Thurston County home inspection markets of Olympia home inspection, Lacey home inspection and Tumwater home inspection for many years. Boggs Inspection Services can be reached at 360-480-9602.