By Tom Rohrer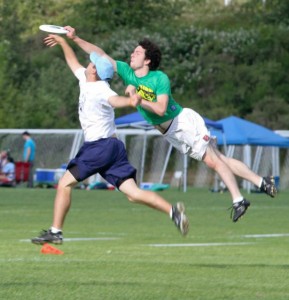 A special part of athletics is the opportunity to develop a relationship, not just with teammates and fellow competitors, but with the sport itself.  Traditional games like soccer and baseball have lengthy histories, painstakingly detailed through contest recaps and excessive statistics.  However, other sports continue to develop, creating their own lasting legacies one new participant at a time.
It was not long ago that the sport once called Ultimate Frisbee, referred to as Ultimate by the game's caretakers, was essentially an urban myth, with rumors of pickups games spreading through conversation, unaided by social media and iPhones.
"It was just a lot of word of mouth at the beginning," said Mike Santana, a league organizer for of the South Sound Ultimate Players, who first played Ultimate in New York City in the mid-nineties. "That's the way a lot of the players came into the sport, people would ask, 'Are you interested, do you want to come try it out?' There was no website, no forum.'"
Created in 1968 by a group of high school students in New Jersey, the sport has now entered its sixth decade, and during that time laid a foundation in Thurston County, aided by a website for the South Sound Ultimate Players, a traveling co-ed team with connections to the youth and working adults sector.
"The league and the sport has really become more competitive and organized in the last ten or so years," said Beth Drake, a member of the Olympia area travel team. "But we have a unique mix of players.  There are state workers, teachers, students…. it's a great group connected by the sport."
Entering the tenth season since its inception in 2003, the South Sound Ultimate Player base their yearly number of seasonal leagues on the number of active players. More players equal more seasons per year. On average, each season includes six-to-eight co-ed teams with between 12-20 players per roster.
Leagues follow the five-to-two ratio rule, which states there must be at least two women on the field at all times, and no more than five men.
The equality between genders is what Santana and Drake find most appealing about the sport.
"My personal passion is in the co-ed aspect and being able to enjoy that balance, where you get to play with women and men," Drake said. "That interaction and camaraderie makes it far more interesting for me."
"Its probably the only sport where I'm playing on an equal level with women," Santana said. "There is a lot of equality and equal talent and that is truly part of the spirit of the game."
A co-ed travel team, named O'School or just O, participates in regional tournaments and match-ups against teams from Portland, Tacoma, Seattle, and other communities.  The popularity and participation in the league has significantly developed in the last decade.
"Talks about the league started about 15 or 16 years ago, I was living in Missoula (Montana) and would come back to Olympia and play," Santana said about the league's foundation. "I mentioned to them a league in Missoula and people began saying "why don't we have a league?"  The first two or three years, it was 30-40 people each season.  Now it's between 80 and 100."  Santana went on to say, "The traveling team's development has surprised me.  About six years ago, a talented group of women came in, and we started having 8-10 consistent, strong female players at each tournament.  The more we played, the more things started to take up."
While the traveling team has recently taken off, an Olympia based team participated in tournaments in 1983 when Chris Wudtke enrolled a team in the original Puget Sound Ultimate League.
In the mid 1990's, 'The Olympia Spawn' took the torch as the area's most active team, which has been passed on to the current generation of players.  Each year the association hosts Geofest, an eight-to-ten team tournament that features teams from Seattle and Portland.
Along with the regional tournaments, O'School has traveled to Hawaii and to Bogota, Colombia this past February.   Being able to play in a tournament abroad allowed the players to understand that the game has no cultural or linguistic barriers.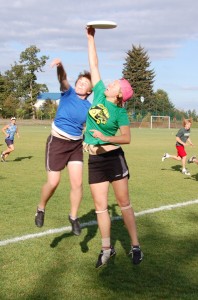 "When we were in Columbia, we had some bi-lingual players, some Spanish only, some English, some who dabbled in both," Drake said. "Despite the language barrier, the common language was Ultimate. It was truly beautiful to see what happened on the field and that we were able to play together."
Ultimate has taken one Olympia women abroad several times, including an opportunity to represent the United States.
Kati Halmos, a math teacher at Timberline High School, was able to play at the highest level of global competition in the sport. Halmos picked up the game as a student at Humboldt State University in Arcata, Calif., in the early 1990's, playing for the school women's team, 'The Humboldt Hags.' After finishing third at nationals with the Hags in 1993, Halmos moved to Seattle, where she fit right in with the bustling Ultimate scene. In the later part of the decade and the dawn of the new millennium, Halmos played for a variety of club teams, including the nationally acclaimed Riot, among others.
The Seattle Riot earned back-to-back national championships in 2004 and 2005, while taking first at the 2002 World Ultimate Club Championship in Hawaii.  Selected as one of the 11 best co-ed players in the country, Halmos was part of the USA team that brought home the gold medal at the 2005 World Games in Duisburg, Germany.
The World Games serve as a global competition, and a platform for sports looking for official recognition as an Olympic Sport by the observing International Olympic Committee.
In the final game, the U.S. team defeated Australia, allowing Halmos to go out at the top of the sport when she retired a year later.
"It was a great experience, playing on a huge stage like that," Halmos noted.  "To be part of a gold medal team, and be a part of a collection of talent from across the country, that was special."
While playing on national and international teams, Halmos has forged friendships that have continued to last.
"When you are competing at a high level like that, you form a bond with the people you are undertaking it with," Halmos, the 2005 recipient of the Kathy Pufahl Spirit Award noted. "It brings everyone together, and that's part of the beauty of the sport."
While living and playing in the Seattle area, Halmos coached middle school kids for eight years, and was a witness to the vast expansion of the sport at the youth level.
"It's huge up there," Halmos said of the Ultimate scene in Seattle.  "The school system pays coaches to instruct students beginning in the fifth grade, all the public and private schools have teams and there are tournaments every weekend.  It's one of the biggest feeder system for college programs in the country along with the Bay Area."
Halmos has undertaken the role of coach for the Timberline High School Frisbee Club and believes there is potential for the Thurston County area to come up to par with King County.
"It would be great if Thurston County did what was done in Seattle, and organize tournaments for the kids," Halmos said. "Then there would be volunteer coaches and it would only benefit the sport in the area."
Santana, who runs the spring league for the Ultimate players, is working on creating such a culture among the area's youth.
"Part of the process is just reaching out to the kids, and letting them know we want their participation," said Santana, who has handed out questionnaires to high school players in order to garner more information. "The kids need an opportunity to learn the game and make mistakes like any other sport or activity."
The now-strong organization for Ultimate players in Thurston County has regularly scheduled pick-up sessions for indoor and outdoor play.
"The structure we have, the connections we now have, we are able to get the word out more," Santana said. "Before, it was more spontaneous, which can be fun and exciting, but now, it's reassuring to know that we will have a game or a session and have the appropriate participation."
Santana, an attorney, originally relocated to Olympia for a job with the Supreme Court in 1998.  Now 46, he operates a website providing prep work for future law students, and is happy that the sport allows him, and others you would not assume are  "athletes," to play at a high level.
"At my age, I'm still able to play and play competitively," Santana said.  "There are all kinds of people who can play and who do play.  Big people, short people, people who may not play other sports.  That's part of the sport's appeal."
Ultimate, with its reduced injury risk and more affordable equipment, now has an opportunity to garner new players, as official school sponsored sports are facing uncertainties, including pay-to-play fees and sports safety issues.
Currently, according to the district website, the Olympia School District requires a payment of $125 per student, per sport.
While the fee can be waived for students enrolled in assisted lunch programs, additional equipment, such as batting gloves or football cleats, if not provided, are not subsidized.
Sports that feature severe physical contact continue to generate concern due to injuries like concussions or muscle tears.
"All you really need is a Frisbee and some shoes.  That's part of the beauty of the sport," Santana said.  " A lot of people don't realize this, but Ultimate is a non contact sport, even at the highest levels.  Sure, there is always a chance for injury and a little contact in anything you do, but it seems to be lower in this sport than others."
Developing a rapport with the game can help younger players when they make an educational transition.
"Ultimate is a huge social deal on the college level," noted Santana. "As a lot of people know, the transition to college can be tough, especially when someone travels away and hardly knows other peers.  If you're ready to play Ultimate at college, you can instantly enter a social community."
Finding friends in a new area drew Drake to the sport.
"When I moved here, I had no experience playing organized sports," said Drake, who is a senior research associate at the Washington State Institute for Public Policy. "But I started playing because I was new to the area and wanted to meet new people and friends.  And that is exactly what happened."
The guiding principles of the sport, such as sportsmanship and fair play (there are no referees, and players must make their own calls.) and the culture around it, have found a home in the Thurston County area.
"Ultimate is what's great about Olympia and the surrounding area," Santana said. "It's about family, meeting new people from all walks of life and coming together to play a beautiful game."
"Fitness is a huge part of the sport," Halmos said.  "When you play in a tournament, you run more than you would in a marathon.  That idea of getting outside, playing together and getting a workout while having a great time, that's what makes the sport great, and people in the area seem to gravitate towards that."
The development of any sport or activity starts with pure enjoyment through participation. As time marches on, so does the organization and the player's competitive spirit.
However, Ultimate in Thurston County has retained its guiding spirit during its period of development.
"The game is based on sportsmanship, and that has helped Ultimate keep its identity," Drake said. "Sure there is more participation and people have become more competitive, but it's all about fun, learning the game, and spreading that enjoyment to others."
For more information on the South Sound Ultimate Players, click here.
To learn more about the sport's rules and regulations, visit usaUltimate.org.
Pickup Ultimate, open to anyone, takes place at 6 p.m. on Thursdays on the Evergreen State College playing fields.
On Tuesdays at 6 p.m., O'School practices at Capital High School, with all skill levels welcome.