By Alec Clayton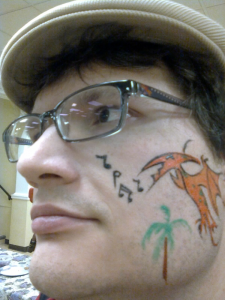 One might easily read some of David Raffin's writings and get the impression he is absolutely bonkers.
Here's what Friedrich Nietzsche had to say about such a supposition: "And those who were seen dancing were thought to be insane by those who could not hear the music."
Raffin's book "Rhyme Or Treason" might be seen as the ramblings of a madman — an inspired and intelligent madman to be sure — but an hour spent talking to Raffin convinced me that he is, in fact, quite sane. (I sipped coffee and took notes while he let the ice melt in his lemonade.)
"Rhyme Or Treason" is a collection of short stories and brief humorous pieces, some so short as to be practically one-liners. Many of them were originally published in Raffin's literary magazine "Vision? Nary!" And some were originally published in the national humor magazine "Funny Times," which publishes such luminaries as Garrison Keillor, Michael Moore, Andrei Codrescu, David Sedaris and Bill Maher — pretty impressive company for a young writer in Olympia to be keeping.
Originally from Longview, Raffin began his career as a stand-up comic working clubs in the Portland area. He says he learned to write by doing stand-up and improv. "I did acting and improv a lot. A lot of improv people learn how to write to tell their stories." Like a written story, stories told during improv performances have to have structure. "You need to know how to build characters and structure a beginning, middle and end."
The stories in "Rhyme Or Treason" are dark fantasy tales filled with gallows humor. In "Twilight of the Clowns" we learn there was a time when almost a quarter of all people were clowns. But then clowning fell into disfavor and the circuses shut down and a troupe of unemployed clowns all moved in together in a tiny one-room apartment (stuffed in as in the traditional clowns-in-a-tiny-car stunt). They became a gang of murderous criminals. In "More than One Day in the Life of Igor Igoravitch" a KGB agent is caught up in a web of intrigue as he does double duty as a CIA agent feeding false information to both the Americans and the Soviets.
The Northwest Examiner called "Rhyme Or Treason" "a cross between Garrison Keillor and Salvador Dali." The Daily Olympian said of Raffin, "He's not your average comedian." Jodi Lamm, author of "Titan Magic," said, "His perversions are oddly analytical."
Raffin says his book is broken into three sections. It starts with short stories and then goes into humor columns from "Vision? Nary!" And then the last third of the book consists of shorter pieces that are lighter and more surrealistic. A lot of the darker columns from "Vision? Nary!" were written shortly after his father died, and some of the darker columns were never published because the publishers thought they were so disturbing that they would turn off their advertisers.
Examples of some of the strange pieces in the last section of the book include a satirical memoir by George W. Bush written after he left office and a piece about Abe Lincoln as a theater critic.
Raffin recently published a story in "Attic Toys," an anthology of horror stories that has published some big-name writers such as Piers Anthony. He also has a new book called "Perils of Free Thought" that he is hoping to get accepted as an Amazon Single. He describes it as short, with "lots of puns." It is also darkly humorous but, he says, more like the last third of "Rhyme Or Treason." He's also working on three different novels. One of the works in progress is a "kind of a memoir about jobs I've had." It's called "Scenic Cesspool." Those jobs, described as a series of one-day jobs, began when he was eight years old and was hired to burn a neighbor's field. He used the money to buy comic books.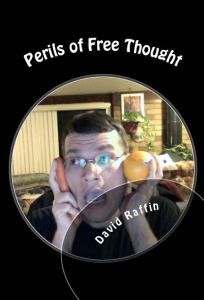 This is how David Raffin thinks as evidenced by his writing:
"The earth is below me; therefore I am on top of the world."
"Once I started a dream journal. Then I woke up."
"If they could get oatmeal to speak, it would be much more expensive. But it might put people off eating it."
"Sometimes I think inside the box. It's quiet there — but so dark."
"I buy all my shirts at half-off, due to the fact that they're irregular. Not irregular due to production glitches, but because they have deviant thoughts."
"People who say, 'It's all good' are either overly optimistic or have very low standards."