By Anne Larsen
Rashon Smith has been running track since the 2nd grade at the Briggs YMCA, but back then he only ran the 400. Now that he is a senior at Timberline High School he competes in the 110 hurdles, 300 hurdles and 4×400.
During his freshman year he was  playing around on the track and jumped over one of the hurdles the wrong  way.  "My coach saw me do it and as a slight punishment said he was going to teach me the correct way to jump over hurdles and that's just kind of how it happened."
"Rashon didn't know, but I knew he was going to be a hurdler. He didn't have a choice. I was looking for the excuse. " says Coach Bob Atwell.
He  started out being a 300 hurdler – that's 36 inches – because he didn't think he was a high hurdler.  His freshman year he ran the 300 hurdles, and later added the 110 (high hurdles). "Hurdles are my life, I enjoy them more than anything."  But it hasn't always been that way.
During his freshman year he learned the mechanics of the hurdles. He fell a few times, and didn't win any races.  "I was just getting down the form and learning how to run the race."  With his form down and a season of races under his belt, he started to shine in his sophomore year and started competing for times.  Last year was his most successful year, he broke the school record and also started running the 110's. "That was an interesting year because I added another race into my arsenal and I found the 110's to be just as enjoyable and made the 300's feel a lot easier."
Rashon has been team captain since his Junior year because he leads by example. "Kids come out and watch his work ethic. He doesn't have to talk, he just does it."
Rashon is a track junkie, and loves the independence, competition and focus of track and field. "Football and basketball are team sports and it's fun to see how the team grows but in track it's fun to see how people as individuals grow.  I consider it the ultimate to see someone going from a place with slower times to a point where they are just getting amazing times and hitting PR's. It's just awesome. At practice you'll see your teammates that always push themselves and when it comes to a meet you'll see all the hard work they put in take off . "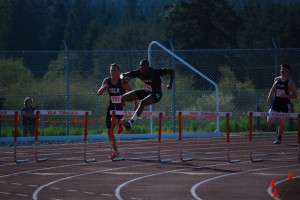 How does he stay focused and motivated during the hubbub of track meets? "There is a ritual that I do before the race. I think about the race and I pray to myself  10 minutes before the race starts and just walk the field up and down.  Then I'll go over the hurdle once and I just kind of stay focused instead of listening or talking to people. I just focus and run the race over and over multiple times until I can feel myself running it. Then when I run it – it really doesn't feel that strenuous."
"I am always trying to get a better time, so if I get second but get a really good time I'm content because if I PR when I get second that means it's the best I've ever run.  At the same time I also like to win because it gets the team points in. It's kind of a motivator to win, because no likes to lose."
When I asked Rashon what really differentiates Timberline from other schools, he praised his coaches for what they've not only done for him, but for the team as a whole. "Back in my freshman year, I wasn't the top hurdler here and coaches always gave me  time when they could to help me do better. Eventually I ended where I am today. I believe that the races are won at practice. I like to live by that. If you work hard at practice meets are just that much easier."
Coach Todd Taylor,  Timberline's "fearless leader" (as his fellow coaches call him) has seen Rashon grow as an athlete and as a person. "He was just a gangly guy, kind of wide-eyed, but he's continued to improve. He's always been really focused that hasn't changed, he's just grown into his body and his commitment is just great."
"We try not to cater to the super stars.  If you want to get better,  we want to get you there. We don't have an overt plan to motivate we just give the kids independence and the kids that take the independence and come and work will gain from that."
The kids know these coaches want to be there.  "We want to commit our time, we want to give you what we know – we take that and do the best we can with it."
Rashon dreams of running track at Washington State University (go Cougs!), that would be "the ultimate." What would his future track coaches find in Rashon?
Coach Bob Atwell has been coaching for 36 years and tells me "He's the most coachable kid I've ever had.  In four years, there are two sentences I've heard out of his mouth. 'Yes coach' and 'no coach' and he's been that way from the get go."
What Timberline CoachTodd Taylor will lose, Rashon's future coaches  will gain. "This is the kid that's going to work, he's going to take every workout you give him and maximize it. He going to listen, he's coachable and he's going to do nothing but improve. He's going to do his job in the classroom, he's going to do his job in the community -he works for Boys & Girls Club- and he's just a good citizen. He's that kid that deserves everything that he's been getting. He's got the work ethic, but he's also just a great human being.
Rashon's track stats can be found here.