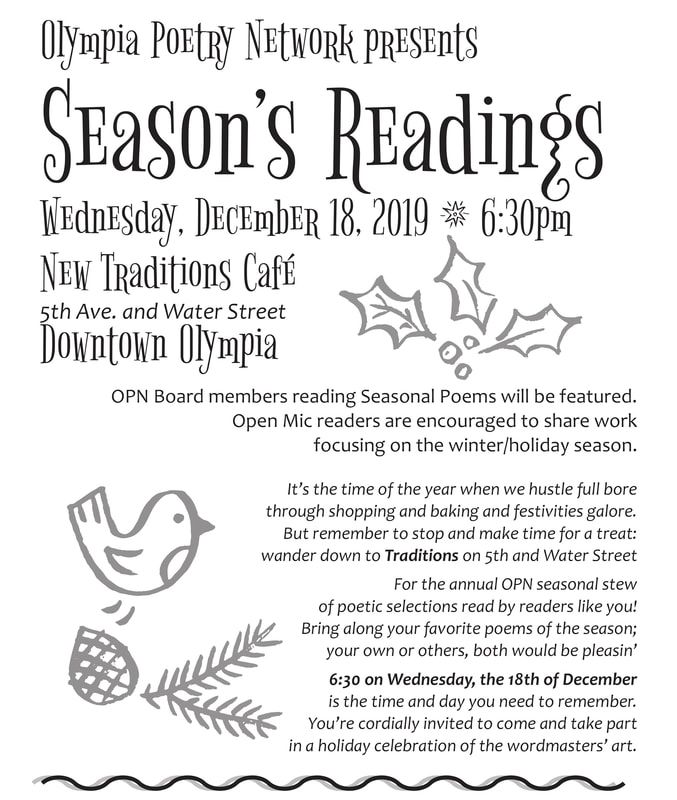 When:
December 18, 2019 @ 6:30 pm – 8:00 pm
2019-12-18T18:30:00-08:00
2019-12-18T20:00:00-08:00
Where:
New Traditions Fair Trade Café
5th Ave & Water Street
downtown Olympia
Contact:
Olympia Poetry Network
360-705-2819
Olympia Poetry Network presents Season's Readings. OPN Board members reading Seasonal Poems will be featured. Open Mic readers are encouraged to share work focusing on the winter/holiday season.
It's the time of the year when we hustle full bore
through shopping and baking, festivities galore.
But remember to stop and make time for a treat
at Traditions Café, 5th and Water Street,
for the annual OPN seasonal stew
of poetic selections read by readers like you!
Bring along your favorite poems of the season;
your own or by others, both would be pleasin' .
6:30 on Wednesday, 18th of December,
is the time and the day you need to remember.
You're cordially invited to come and take part
in a holiday celebration of the wordmasters' art.