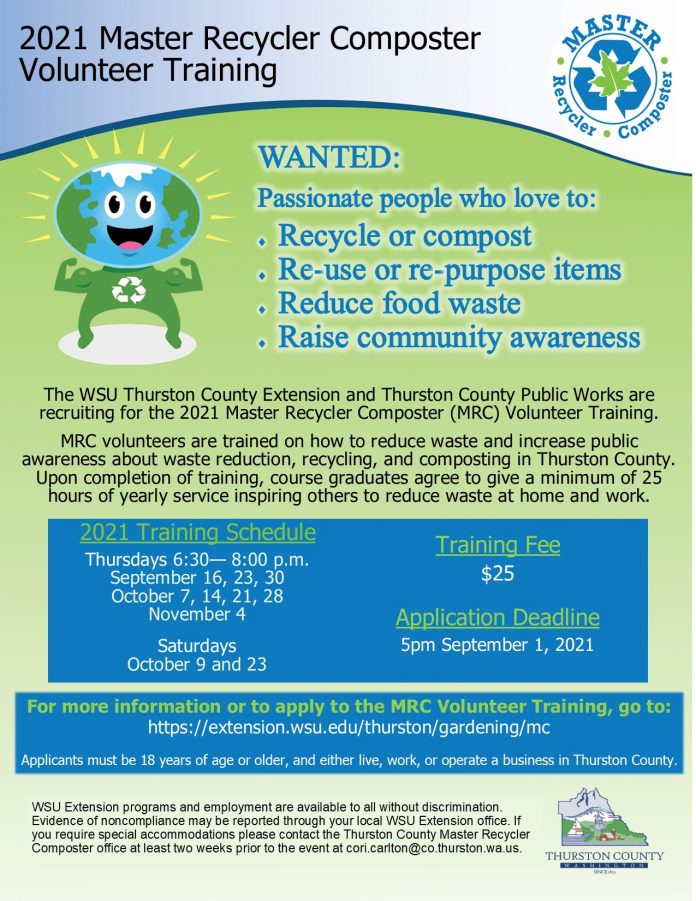 When:
2021-07-21T00:00:00-07:00
2021-07-22T00:00:00-07:00
Where:
Fall 2021 Master Recycler Composter Volunteer Training

Contact:
Cori Carlton
360-867-2162
The 2021 Master Recycler Composter Volunteer Training application is now available!
Do you have a passion for waste reduction, composting, and recycling? If yes, then consider applying to be a volunteer with the Master Recycler Composter (MRC) program of Thurston County. MRC volunteers are trained on how to reduce waste and increase public awareness about waste reduction, recycling and composting in Thurston County. Training begins September 16.
To learn more about what MRC volunteers do, the training and how to apply, visit: https://extension.wsu.edu/thurston/gardening/mc/thurston-county-master-recycler-composter-volunteer-training/
Applicants must be 18 years of age or older, and either live, work, or do business in Thurston County.
Deadline to apply is 5pm on September 1, 2021.