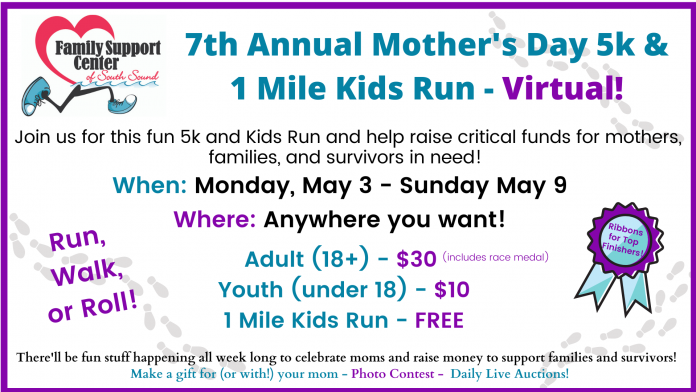 When:
2021-05-06T00:00:00-07:00
2021-05-07T00:00:00-07:00
Where:
Virtually
Stay Home and Stay Healthy
Contact:
Maija Glasier-Lawson
360-754-9297 x 214
We encourage everyone to join us for our Annual Mother's Day 5K! Even though things are a little different this year, we still want to have fun with our community. Our solution? A VIRTUAL 5K! You even get a whole week to do it! Our Virtual Mother's Day 5K will kick off on Monday, May 3rd and end on Mother's Day – Sunday, May 9. You can walk, run, or roll the whole 5k, or 1 Mile Kids Run, at once or break it up into smaller chunks, just post those results on our Facebook page by 11:59pm on May 9th!
We encourage moms, dads, grandparents, kids, and everyone who ever had a mom to get out and run, walk, or roll (with proper social distancing!!). Run with your mom, in memory or honor of your mom, because you support moms, or just run for the fun of it! Challenge your friends, family, and neighbors to get outside and complete their own 5K!!
We have ribbons for this year's Top Finishers and awards for a few other fun categories including 1st person to post their results, last person to post their results, and best Finisher Photo! If you have a race shirt from a previous Mother's Day 5K post a pic of yourself wearing that too!!
When you complete your 5k make sure to BRAG ALL ABOUT IT on social media and tag us @FamilySupportCenterofSouthSound and use the hashtag #FSC5k2021.
Registration Link – https://portals.compass-360.org/Compass360WebUserServices08/org=fscss.org/eventId=7C9D597B-AE4F-433A-BA42-AB5242A7E18E/request=standard