During the mid-20th century, Olympia's population was growing exponentially. At the time most people who ate out were single or working men. But the Baby Boom was in full swing. Where could a family go to eat? Many liked to go to the Olympic Grill at 512 South Washington Street.
Downtown Olympia Restaurant
Owned by Rolland E. Klontz, the restaurant opened in May 1949 in the Olympian Hotel Garage building. Formerly, Klontz worked for the Olympia Oyster Investment Company at Oyster Bay, which was owned by his father-in-law Dr. George Ingham.
"Come get acquainted!" urged the Olympic Grill's earliest advertisements, even offering patrons who could "stump our chef" on their egg orders a refund. They offered 24-hour service, including all-day breakfast. Their slogan was "eating out is fun!" and promoted themselves as a family restaurant with a restful atmosphere, an inexpensive treat for tired housewives and, with air conditioning, a way to "beat the heat. The "quality food, deliciously prepared, reasonably priced" was cooked in "clean-smelling butter not messy, smelly fats." Their food, they declared, was prepared "not the way mom used to make but better."
The restaurant served breakfast, quick order lunches and full dinners, concentrating on barbecued steak, chicken, ribs and seafood. And even the youngest were provided for as the restaurant featured "prepared, strained and chopped foods for the perambulator set." The Klontzs certainly knew about cooking for kids, they had five sons and two daughters! Ray Clark was chef in 1955 and in 1949 employee Violet Furlong was nominated for a Veterans of Foreign Wars sponsored contest for most popular Olympia waitress.
Olympia's 150 Dining Room
On August 26, 1953 the restaurant reopened after a kitchen remodel. They added a private dining or club room in November at the adjacent 510 Washington Street, naming it the 510 Dining Room. This space offered a private space for parties and club meetings. Colorful pastel walls, plastic tile flooring, heavily upholstered wrought-iron chairs made the place the pinnacle of style. It could host up to fifty people at a time.
Many groups took advantage of the club room, using it for special lunches and dinners. The Breakfast Club met there regularly, as well as the Olympia Lions and Lady Lions. The Toastmasters and Toastmistresses also held their regular meetings there. These twin groups, which helped people improve their public speaking skills, even hosted their annual speechcraft courses at the Olympic Grill.
Olympic Grill's Menu
"Eating out is fun!" was the restaurant's motto and they strived to provide a varied menu. This featured steaks, chicken and seafood.
Breakfast was served all day. Their claim of having the "freshest eggs in town" was no idle boast, their eggs came from the Klontz's chicken ranch on Schneiders Prairie. Besides short orders, a "Club Breakfast" special of juice, eggs, toast, and coffee cost 62 cents.
The Olympic Grill's fountain service made a good quick lunch or afternoon snack with sandwiches, fish and chips, hamburgers, cake and, of course, coffee on order. They had a full ice cream service, serving "soft ice cream" or soft serve, "Olympia's newest dessert sensation" of 1950 in their malts, sundaes, shakes and cones. A businessman's lunch special, consisting of soup, salad, potatoes, vegetables, and an entrée, cost 50 cents.
Dinners of barbecued meats or seafood, especially Olympia oysters were also an option. In 1949, Rolland Klontz introduced his Friday Frank: "The Frankfurter That Can Be Eaten on Friday," which consisted of fish rather than meat for Catholics and those who liked fish.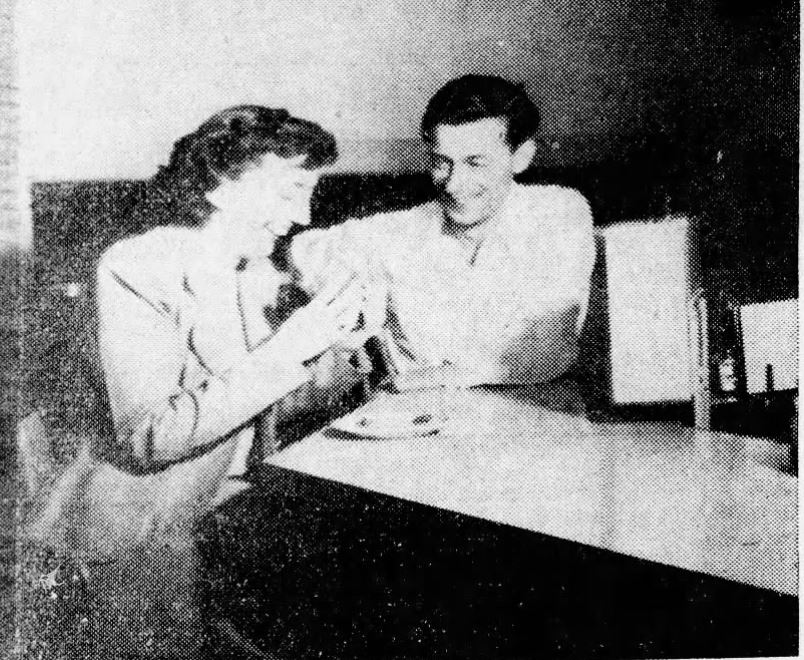 It, a reporter gushed in the Daily Olympian on December 4, "looks like a frankfurter. It's encased in a frankfurter bun. It's even surrounded by relish and other condiments which are the frankfurter lover's delight." Made from white fish such as halibut, snapper or sole, battered and deep fried, it replaced hotdogs and hamburgers. Klontz joked that he copyrighted the dish, stating that "If the guy who thought of fish and chips had done that he'd have reaped a comfortable piece of change by now." For 15 cents, the Friday Frank could be enjoyed with a serving of French fries.
The restaurant also advertised their to-go menu. A pound of fried chicken could be bought for 75 cents a pound, cheaper, they boasted than making it at home. They also provided picnic lunches for $1 with chicken, potato salad, rolls and soft drink. "Fully crusted" chicken pot pies sold for 50 cents. "Call hubby," an October 12, 1949 ad for a family-sized plate of chicken fricassee, hot biscuits and honey urged housewives, "Have him pickup on his way home from work!" for only 50 cents.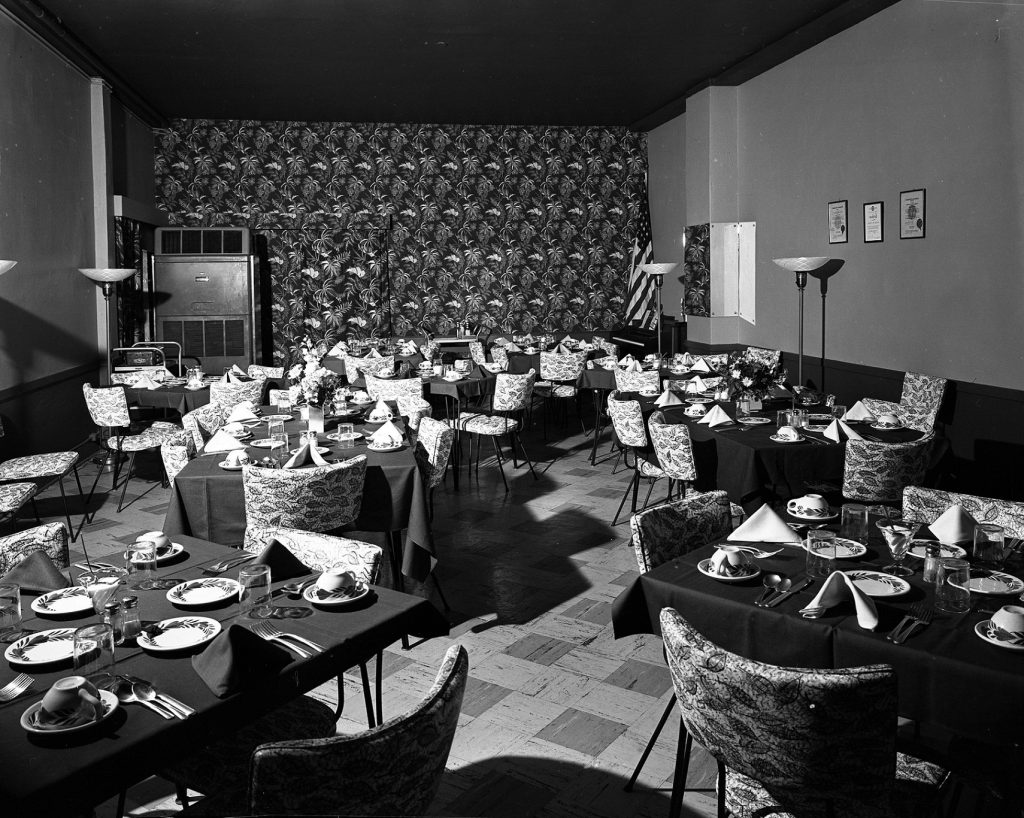 History of the Olympic Grill: Later Years
Rolland Klontz died unexpectedly in March 1955. He was 47. His wife Caroline Ingham Klontz took over ownership of the restaurant, continuing to operate it with the help of a daughter.
In the last week of September 1962 customers were shocked when Olympic Grill closed. The owners of the building told Caroline Klontz that her lease had run out and she was told to vacate by October 1. The owners wanted to lease the building to the Hotel Olympian Apartments and fill her space with the Washington Title Insurance Company. Longtime customers presented Caroline Klontz with a cake on her last day.
Olympic Grill, the restaurant that boasted "We never close," had shut its doors for good. But its memory lingered on among the countless people that had enjoyed its delicious food.