The Great Depression was a difficult time to start a business, but Tate Henry Rogers did it anyways. She opened a gift shop and tea room in her home in 1929 and when times got tough, she moved herself and the store into the new Governor Hotel on Capitol Way in Olympia. This resourceful woman kept her business alive throughout the rest of the Depression and World War II.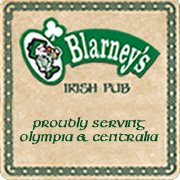 Tate was born May 2, 1885 in Olympia to Dudley Henry and Fanny Talcott Henry. Dudley worked as a civil engineer for Olympia and Thurston County governments. Tate married Raymond "Ray" Rogers (1881-1957), son of prominent Olympia photographer A.D. Rogers, on January 21, 1908.
The couple settled in Aberdeen. Ray was an advertising manager for the Aberdeen World newspaper before founding the Rogers Motor Company. The couple had no children but frequently visited relatives in Olympia, even attending the 1909 Legislative Ball.
Historical Gift Shop in Olympia
The Rogers moved back to Olympia in April 1929. "I've had a yen to get back to Olympia," Ray told the Daily Olympian. The pair lived in the Hotel Olympian before moving into a house at 715 Washington Street. Ray worked as a salesman for John D. Dodge Motors before switching to Abram Schaefer's dealership. He worked for Schaefer through the Great Depression and World War II, difficult years for car sales.
In November 1929, Tate opened a gift store and tea shop in their home, the Tate Henry Rogers Studio. "Gifts With Personality" was her slogan and she sold a wide variety of domestic and imported decorative items including: glass bowls from Holland, Italian religious prints, china, costume jewelry, stationary, playing cards, paper weights, ash trays, pottery, Persian rugs, brassware and Turkish coffee pots.
Tate also crafted some of her wares herself. "Chief among the attractive [articles] are the artistic bedroom sets made by Mrs. Rogers herself," wrote Helen Hollingsworth for her Window Shopping column in the Daily Olympian on October 30, 1930. "Gifted with considerable skill and ability in painting, Mrs. Rogers makes hat boxes, vanity cases and the like and covers them with papers, shellacked and then finished with artistic satin pleatings and tassels." Tate also hand-painted linens and leatherette telephone book covers. Her designs included birds and fruit.
She hosted teas from 3 p.m. to 5 p.m. each day and arranged bridge luncheons and supper parties, mostly for women's clubs and groups of friends, at 35 cents a plate. Tate set up flowers and table cards and served food. These events were typically informal or no-host. Some women even held bridal showers there.
"The writer," wrote a newspaper columnist known only as H.M.H. on November 3, 1929, "entered the studio shortly before the hour for luncheon to find a crackling fire, cheery contrast to the gray outdoors, reflecting its ruddy light on the squat copper kettle on the heath. In the dining room were orange curtains, appliqued with brown cattails, [making] constant sunshine, the luncheon table reflected beauty and refinement of appointment. Lavender and yellow were the colors used with the crystal in that orchid tint. Something so cozy and homelike in the atmosphere makes one feel immediately 'comfy' and ready to enjoy oneself."
Hotel Governor During the Great Depression
But the Great Depression made business hard. In September 1932, Tate packed up shop and moved into the recently built Hotel Governor with Ray. She reopened her store just off the lobby at 623 Capitol Way. She kept her drop-in afternoon teas but quit catering events. Ray helped run the shop from 1941 to 1948.
Her accomplishments as a businesswoman were recognized in her own lifetime. Zonta International even invited her to speak at their luncheon at the Hotel Olympian in 1941.
Tate Henry Rogers Community Involvement
As a businesswoman, Tate was active in the community. Her store helped sponsor the Pagan Frolic in 1935, a precursor to Capital Lakefair. She supported the Orthopedic Guild's summer garden parties in the 1930s and judged Olympia Camera Club's contests throughout the 1930s. She also donated prizes for the Oakgrove Riding Club's horse show in 1940.
Tate was particularly active with the history community. She served as the president of the Daughters of the Pioneers, helping run the historic Crosby House Museum. She led tours and acted as a hostess at events and meetings. She often had the honored role of pouring tea.
Furthermore, she often acted as hostess for the Sacajawea Chapter of the Daughters of the American Revolution, of which she was also an officer. Tate was also a lifetime trustee of the State Capital Museum. She served on committees and helped host events.
Legacy of Tate Henry Rogers
Tate closed her business in 1948 but continued her active involvement with history groups into her later years. She passed away on November 21, 1979. At the time she was the oldest baptized member of St. John's Episcopal Church. Tate's ability as a businesswoman during times of both economic crisis and prosperity showed inspirational ingenuity.