Olympia has been home to many professional photographers over the decades. One of the leading commercial photographers in the mid-20th century was Merle Junk. From snapshots of events and buildings to weddings and family portraits, his work offers a window into history, bridging the past and present.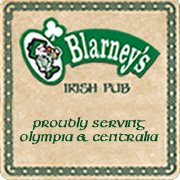 Merle Junk Early Life
Merle Pinkerton Junk was born on June 2, 1899 in Fairfax, Iowa to James Junk (1848-1936) and Lucretia Loomis Junk (1853-1944), the youngest of six children. The family soon moved from their farm in Iowa to Montesano, Washington before relocating to Olympia in 1908.
Junk attended Lincoln School, even making the third-grade honor roll in Miss Scroggs' class. As a teenager, he was active in the YMCA and Christian Endeavor at the United Churches where he remained an active member the rest of his life. Senior class treasurer, Junk graduated from Olympia High School in 1918. His nickname in the yearbook was "Just Junk."
Then Junk joined the Student Army Training Corps (now ROTC), and studied mechanical engineering at Washington State University, hoping to build bridges. After two years, he changed his mind and became district manager for Olympia's Buckeye Extract Company in Aberdeen.
In September 1923 he married Marjorie Cook (1901-1997) of Tumwater, also an OHS graduate and WSU student. The couple had three sons: Richard, Willard and Robert. Marjorie was active with the PTA, Daughters of the Pioneers and United Churches.
Becoming a Historic Olympia Photographer
Moving back to Olympia around 1924, Junk first worked as proprietor of the E & H Auto Paint Shop. In July 1925 he opened The Picture Shop with Ralph Haycox, who had owned the paint store, at 621 Capitol Way. This shop concentrated on cameras, photography and picture frames. They also sold gifts.
This business moved to the new Security Building (203 E Fourth Avenue). In July 1930, Junk partnered with Ralph Haycox and Paul Woods to form the Olympia Office Supply Company in the same space. Overseeing it as president, the store continued to offer commercial photography and photo developing, but in addition marketed commercial stationery and office furnishings.
In 1931, Junk founded Silvertone Studios (1067 Capitol Way). Quickly renamed Silvertone Photo Co., the business eventually moved and became the Merle Junk Photo and Litho Company, or simply Merle Junk Photos (117 Legion Way West). Junk employed other photographers, including William McNeil and George Bradley, in the 1950s.
Junk's work was highly regarded. Describing his September 1932 photos of the "Olympia Model Home," the Daily Olympian celebrated that: "Junk specializes in photography used to exploit the beauties of property, real or otherwise. Junk's photography, well known in Olympia, has reached a perfection seldom, if ever, surpassed for use in advertising mediums."
Over the years he photographed portraits, groups, clubs and weddings. He was also the official photographer for the Olympia school district, taking photos of students for over 30 years. Several state agencies contracted him to document things such as the construction of I-5, earthquake damage to state buildings and tourism promotion.
Through this and work for the Daily Olympian, Junk captured images of local events and places. Sometimes the events were tragic, like the Olympia Regional Airport's first fatal crash in 1936 and the burning of the Buchanan Lumber Mill on West Bay Drive in 1935. He also photographed happier events such as club meetings and special events like the 1947 Dairy Maid of the West competition or Mayor Amanda Smith slicing a cake to celebrate Olympia's centennial of its incorporation in 1959.
Some of his work was published to promote the Olympia area, including a 1959 Chamber of Commerce tourist brochure. A picture he took of the capitol was put on a Royal Stafford Bone China souvenir cup and saucer – and other matching pieces – designed by Dolores Merrill that was sold at Talcotts in the 1952.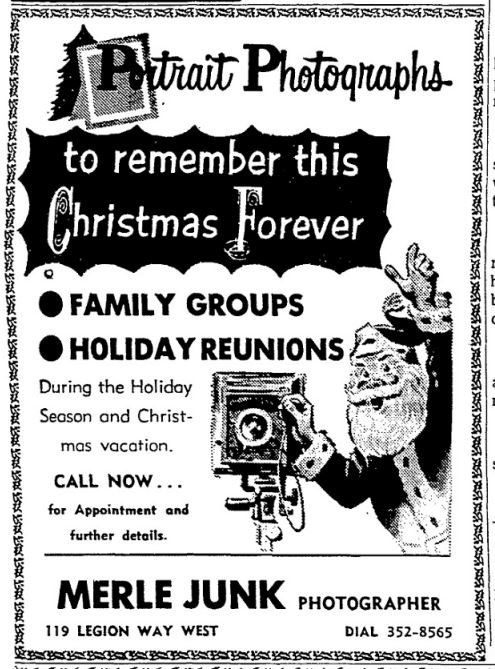 Merle Junk Was Active in Olympia Clubs
Junk was active in Olympia clubs. He was the first president of the Active Club when it formed in 1925 and continued to serve as trustee for many years. The Active Club sponsored Boy Scout Troop 31 when it started in 1932. Scoutmaster for many years, Junk was also neighborhood, Olympia district, and Thurston County district chairs for the scouts.
Junk was elected president of the Lions Club in 1953 and was a member of the Toastmasters Club, Red Cross, YMCA, and Elks. He also served on the Retail Board and local United Way board.
During the 1950s to the early 1970s, Junk headed the committee that handed out free ice cream and movie tickets to children at the end of the annual Pet Parade. He also regularly awarded an 8-inch-by-10-inch photo of the winning child and their dog in the best dressed large dog category.
Merle Junk: Later Years
In 1967 Junk sold his business to Dean Palmer of Shelton. Renamed Dean and Merle Photography, he stayed on as a production advisor until retiring. He passed away on September 16, 1981. Around 2,000 of his photos eventually became part of the Susan Parish Collection at the Washington State Archives.
While he did not become an engineer, during his lifetime Junk built bridges through his photos, bringing people together. His historic photos recorded treasured family images, past events and places. "In the years to come," ran a holiday ad for his studio in 1964, a family photograph "will be one of your most prized possessions." It was after all, as his slogan went, "The gift only you can give."