Looking for something to do in Lacey that's fun and free? Then put the Lacey Spring Fun Fair on your calendar! The 35th annual Fair is happening May 20 from 10 a.m. to 6 p.m. and May 21 from 11 a.m. to 5 p.m. at Saint Martin's University. Lacey Spring Fun Fair is a great way to spend the weekend in Thurston County, with entertainment, activities, music, and great food for all ages. Whether you make it a date, a day out with the family, or an afternoon with friends, you don't want to miss all the fun! (Did we mention it's fun and free???)
"Lacey Spring Fun Fair is a two-day celebration that is designed to bring the community together to connect, learn about our neighbors, and share memories and good times," shares Jeannette Sieler, CPRP, recreation supervisor for Lacey Parks, Culture & Recreation. "Presented by Lacey Parks, Culture & Recreation and the City of Lacey, Lacey Spring Fun Fair is managed by an amazing group of volunteers who have been working hard to plan this year's fair since September!"
Things To Do at Lacey Spring Fun Fair
Admission, parking, entertainment, rides, and activities are all free – yes, free! Two stages will have live entertainment both days from local school bands, choirs, and dance teams, along with some of your favorite local bands and other performers.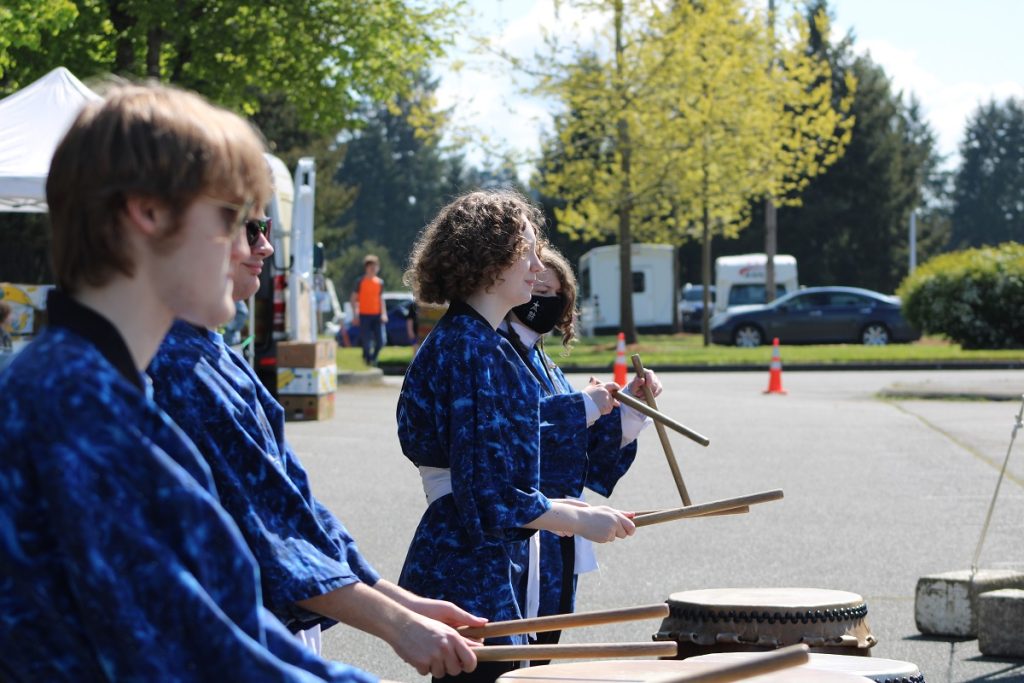 "The kids are especially excited about coming and performing for you." River Ridge High school is bringing both the Taiko Ensemble and the Jazz Ensemble to perform on Saturday, May 20. "This is a huge community event," says John Theine, band director. "Getting to perform for a wider community audience, beyond the fans who come to our concerts, is a fun and meaningful thing for our students…so it's a win-win situation!"
The River Ridge Taiko Ensemble will perform traditional Japanese Taiko drumming. "You'll not only get to see and hear the performance, you'll feel it when you see it live!" says Theine. And the River Ridge Jazz Ensemble will play both traditional band songs and some fun, not-so-traditional big band music that will get your foot tapping.
For the kids, performing is fun, but they also love enjoying the fair when not on stage!
"All of the music that is played there is phenomenal," shares Michael Chard, River Ridge High School student, class of 2024.
"The food is delicious!" adds Shanyce Hamilton, River Ridge High School student, class of 2026
"Getting to hear all the other jazz bands," is what Katie Phinney, River Ridge High School student, class of 2024, likes most.
High Impact Dance is also performing at Lacey Spring Fun Fair on Saturday and will have a booth both days where children can try on different dancing shoes and costumes, and then have fun dancing around with props! Their Teaching Assistants will even be teaching some dance moves.
"We have been participating in Lacey Spring Fun Fair for almost 20 years," shares Michelle Tippetts, dance director. "Our students love to be a part of the entertainment there and there are so many free activities for our dance families to enjoy as well. It's also so fun to be able to share a fun activity with and meet the kids and families in our community that stop by our booth."
High Impact will have 80 dancers performing on stage– you are not going to want to miss it! In fact, you won't want to miss anything at Lacey Spring Fun Fair, which is why Tippetts says, "Our tip is for you to plan on being there for a while so you can enjoy it all!"
Other performers include Grace Bello from NBC's "The Voice" and Backlash Band Saturday and Paramount Martial Arts and Emerald City 5 on Sunday. These are just a few examples of the amazing acts lined up all day, both days.
Aside from the two stages, there's oodles more to explore! Head to the Kids' World for crafts, games, face painting – all free and generously put on by local businesses and nonprofits. Be sure to experience the STEAM Museum inside Kids' World featuring a variety of hands-on activities for kids exploring science, technology, engineering, art, and math.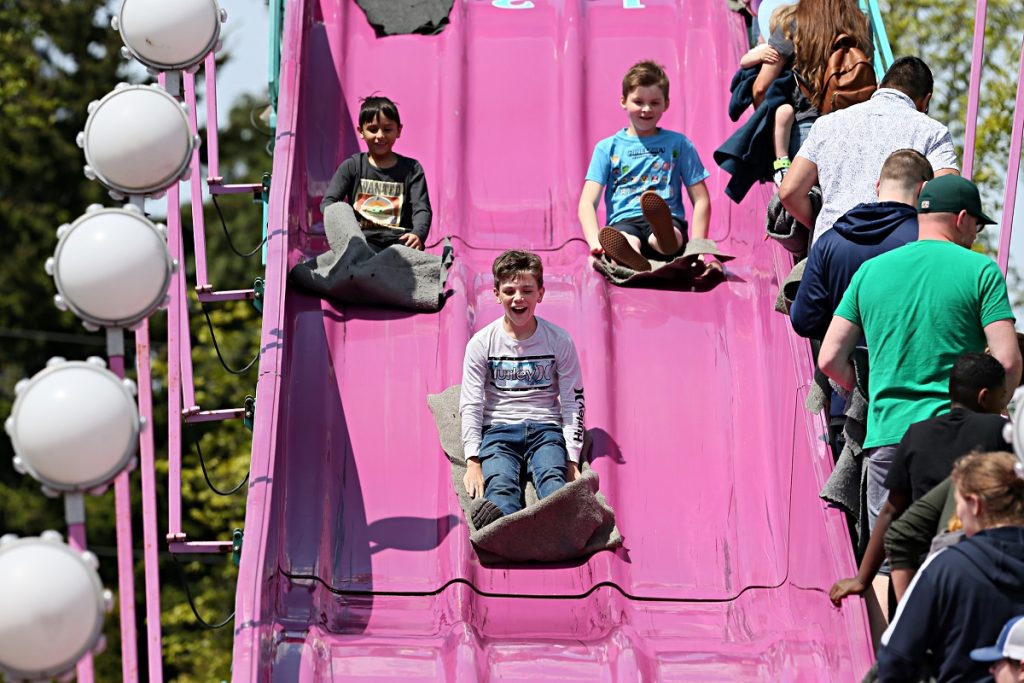 Then get your thrills on with free carnival rides for the whole family including the circus train, ballistic swings, obstacle courses, bounces house, and the brand-new reckless ride!
If you get a little hungry or thirsty, no worries! You can choose between a variety of food options for purchase. You can also enjoy shopping at numerous vendors with arts and crafts and other items for sale.
Got a cool ride? Enter your car in the car show on Sunday! It's for all makes and models and costs just $20 at the event. They will have dash plaques and trophies – and even free coffee for the early birds! First 100 entrees will get a goody bag as well.
Head to Lacey Spring Fun Fair
Lacey Spring Fun Fair is May 20-21, 2023 at Saint Martin's University: 5300 Pacific Ave SE, Lacey. Parking is limited on site, but a free shuttle is available if you park at Civic Plaza Flag Pavilion (521 Sleater-Kinney Rd SE) near Applebee's that drops you off right in front of the fair. Visit the Lacey Spring Fun Fair website for more information.
See you at the fair!
Sponsored