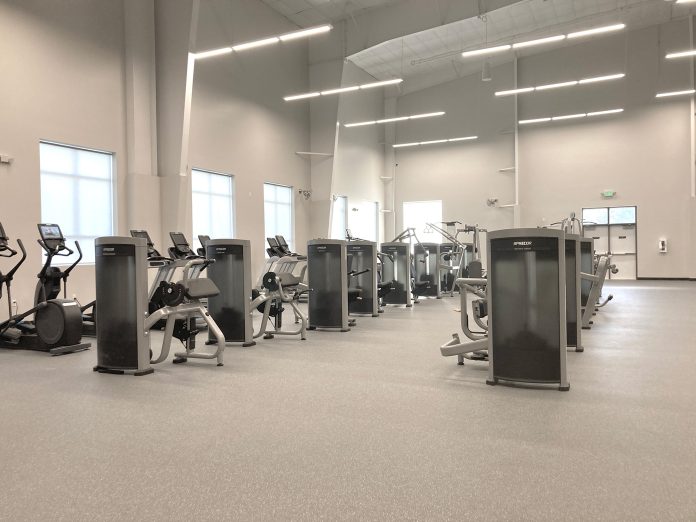 Being healthy means something a little different to each person, but the heart of it for most people is feeling good. Steamboat Tennis & Athletic Club (STAC) in Olympia set out with a mission to provide a space for the local community to recreate and achieve their health and wellness goals in a supportive and welcoming environment. After many years of hard work, devotion, and setbacks, STAC was finally able to open their brand-new athletic club on March 1, 2023 and is now offering countless ways for Steamboat Island and surrounding communities to get active, stay healthy, and feel good along the way. Now through April 1, STAC is extending a 50% enrollment fee special to all ThurstonTalk readers, so be sure to email admin@staclife.com to start your membership with this limited-time offer!  
Endless Ways to Stay in Shape at Olympia's New Athletic Club
In 2015, STAC opened its tennis club with four indoor courts and provided classes, lessons, and open playtimes for tennis players and pickleball players. The original plan was to open the athletic club along with the tennis club, but due to restrictions, the fitness center was unfortunately delayed. In 2020, the STAC team was able to break ground on the project and constructed the new athletic club. Since then, they have been working diligently to open their doors and provide health and wellness services to the local community.
"It has been years in the making, and we could not have done it without everyone here pulling together to make it happen," shares owner Drake Nicholson. "We want to say special thanks to Thurston County and Washington State for helping us get our doors open."
After a soft opening on March 1, STAC is now welcoming Steamboat Island and neighboring communities into this brand-new space. STAC's athletic club features a state-of-the-art fitness floor full of industry-leading Precor equipment. From treadmills and ellipticals to rows of weight-stacked equipment, newcomers and gym enthusiasts alike will have plenty to stay active and keep busy. For those interested in gaining muscle and staying strong, STAC offers a strength training area full of free weights including dumbbells and kettlebells, as well as bench press stations, leg press machines, squat racks and more.
In addition to top equipment and aerobic machines, STAC boasts one of the few indoor pools in the area, which is kept heated year-round for lap swimming. With three lanes and extensive hours, swimmers can easily find times to take a refreshing dip in the pool and get in a quality aerobic workout without any of the impact or pressure of gym equipment. After a rejuvenating swim, patrons can submerge in the hot tub, take a seat in the infrared sauna, or relax on the hydromassage bed and feel all of their aches, pains, and troubles melt away. With so much at STAC, it is easy to care for your health and feel good doing it.
"My daughter came up with our slogan 'feel-good fitness,' and that's what we want to give people at the end of the day," shares Drake. "We know that with all we are doing that we will be a place for families to recreate and stay socially healthy too."
A Team Committed to Your Health and Fitness Journey at STAC
If you are newer to fitness or just getting back into physical activity, STAC's team of instructors is here to help you get started on the right track. Members can benefit from an annual complimentary fitness consultation with a certified personal trainer to determine their current fitness level, and can then choose to continue with private or small group training to stay accountable with their goals. For a more social experience, guests and members can jump into group fitness classes to learn something new and stay challenged. Group fitness classes are led by certified group fitness instructors in a variety of focuses and formats to promote better overall health, from functional fitness and cycling to Pilates and yoga. No matter how you choose to stay fit, you can trust the STAC fitness team will be there to guide and support you every step of the way.
For those looking to gain or improve a new skill, STAC offers tennis lessons and swim lessons for both adults and children. In the heated indoor pool, new swimmers can work with a certified swim instructor to learn fundamental skills in the water or improve their competitive swim skills. The indoor tennis courts make it easy for developing athletes and lifelong tennis players to keep up on the court and improve their game. "I grew up playing tennis and still am out on the courts every week," Drake says. "It's a great way to get moving and meet people." Experienced tennis pros provide one-on-one instruction for individual development, as well as group classes to help players stay sharp with peers and have fun taking their tennis play to the next level. Classes are regularly offered each week for adults and juniors, and are welcome to guests and members.
Experience Feel-Good Fitness at STAC and Additional Savings by April 1
Community and connection abound at STAC, especially as the club has expanded to provide health and fitness services within the new athletic facility. With aquatics, personal training, tennis, and more, everyone can find something to support better health and wellbeing at STAC. Email admin@staclife.com to activate your membership with 50% off the enrollment fee and embark on your health and wellness journey today!
Steamboat Tennis & Athletic Club
3505 Steamboat Island Road NW, Olympia
360.539.7877
Sponsored