We love our holiday traditions, especially those that deal with food. Turkey each Thanksgiving, champagne on New Year's Eve, and chocolate for Valentine's Day, Easter and Halloween. But there's something delightful about mixing it up every once in a while and thanks to the Ocean Shores Razor Clam and Seafood Festival, your St. Patrick's Day weekend can be a feast from the sea for breakfast, lunch and dinner.
But it's not just clams on the menu…or the three-day agenda. The Seafood Festival, which is sponsored in part by Quinault Beach Resort and Casino, will again partner with the Dungeness Crab and Seafood Festival from Port Angeles. They'll showcase food, music and local vendors for a true weekend to remember at the Ocean Shores Convention Center.
Delicious Fresh, Local Seafood in Grays Harbor
The Ocean Shores Razor Clam and Seafood Festival runs from 12 p.m. until 8 p.m. on Friday, 11 a.m. until 8 p.m. on Saturday and 11 a.m. until 3 p.m. on Sunday. It's free to attend but if you're hoping for some of their iconic, decadent meal plates, advance sign-up is required.
Fresh whole Dungeness crab dinners are available all three days of the festival. These include a whole or half crab – averaging two pounds and available warm or cold – herbed red and gold potatoes and crunchy coleslaw. Purchase your dinner in advance online until Thursday, March 16, at midnight. For those who decide to attend at the last minute, never fear. While supplies last, you can pick up a dinner plate for yourself at market rate. Advance tickets are designated for a specific date, but diners can pick up their meal any time during that day's festivities.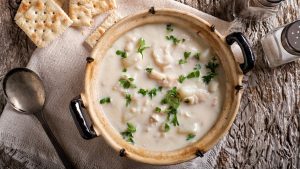 On Sunday, March 19 there will be a separate ticketed event for crab benedict brunch. Tickets are available for hourly seatings and come with either a Bloody Mary or mimosa on the side. Be quick! These always sell out!
Celebrate All Things Seafood in Grays Harbor
But the two plated events aren't the only tasty treats. The Seafood Festival in Grays Harbor honors all of the seafood that sets our region apart. Come try razor clams, clam chowder, raw oyster bar, fish and chips, scallops, crab shooters, salmon, crab boil, smash burgers, Russian dumplings, funnel cakes and so much more.
There will also be local artisan craft vendors, wine and beer, live music or on-site DJs all three days and a chowder tasting passport, which allows you to try nine different varieties then place your vote for the People's Choice award winner. Vendor spots are currently full for this year's festival, but questions about participating in next year's event can be sent to director@crabfestival.org.
"It's one of the few festivals people can go to during the off-summer months," says Ocean Shores Convention Center and Tourism General Manager Diane Solem. She says that organizers typically see 7,500 people attending each year, despite the recent pauses during COVID-19, mainly drawn by the lure of world class dining and miles of iconic beachfront.
Decorated Clam Guns Galore: Spotlight, Vote, Win
If you've ever been razor clamming, you've probably used a clam gun. It's much easier than simply trying to dig those quick long-shelled squirters out with a shovel. Their plastic tubes look a little like your average bicycle pump and essentially take sci-fi movie style core samples of the sand that are a few feet in length. With practice, skill and some savvy aiming, your sample could include a long, golden brown razor clam with minimal muddy digging.
At the Ocean Shores Razor Clam and Seafood Festival, they're honoring the most delightfully decorated clam gun with an all-ages decorating contest. And don't worry, your decorated piece doesn't have to remain functional, we all understand that art comes first. Simply bring your finished clam gun to the designated booth by closing time on Friday, March 17. Winners will be granted ribbons based on age (10 years and younger, ages 11 to 16, and 17 years old and up) as well as a first place Best in Show award. The grand prize is a concrete Seahawks bench valued at $450.
Prizes for the chowder contest will be awarded at 5 p.m. on Saturday.
Visit the Ocean Shores Razor Clam and Seafood Festival webpage or track the latest updates on Facebook. There you'll find flash sales, vendor spotlights and information about the weekend's events and activities. Life is topsy turvy these days, why not go with the flow and ditch corned beef and cabbage – an American dish anyway – for shellfish and chowder. I'm sure St. Patrick would still approve.
Sponsored