Pests can become a problem at any time of the year. Luckily, there's help. Spectrum Pest Management, now serving Olympia, Lacey and the wider South Puget Sound, is here for you and your family. The brand-new pest control company is queer family-owned and operated by Rachel Morriss, her wife Kimi Conley, and their business partner and technician Ronnie Lastufka. They raise their two children in Olympia and love calling this community home.
Olympia Pest Management Company Provides Full Spectrum Approach
Spectrum Pest Management knows that this business is about more than just treating pest problems. It is about customer service and building relationships, providing a full-spectrum approach to the issue at hand, starting with the customer.
Spectrum's lead technician, Ronnie, is their biggest asset, according to Rachel. "He brings over six years of experience in pest control to the business," Rachel says, "and his skill and craftsmanship while doing home repairs speak for themselves."  But more importantly than that, Ronnie has a way of putting customers at ease with his kindness, honesty, and optimistic outlook. "Common complaints we hear from customers about their current or previous pest control services are that they don't feel heard or listened to," she adds. "We take the time to listen to our customers and understand what they want and need."
"I was never really happy with the way it was done, addressing a pest problem with an angle of keeping a service going rather than solving the actual problem," Ronnie explains. Spectrum promises to do things differently, to serve its community with transparency, reliability and trustworthy professionalism.
Spectrum Pest Management's main objectives are to put their clients' minds at ease and to solve their pest issues by delivering solutions that target the problem at its source, through proven techniques. They employ an integrated, multi-faceted approach to resolving the issues they find.
Spectrum Pest Management is licensed, bonded and insured, and adheres to strict regulations and guidelines from the Washington State Department of Agriculture.
Spectrum Pest Management Provides South Sound Residents Tips for Keeping Pests at Bay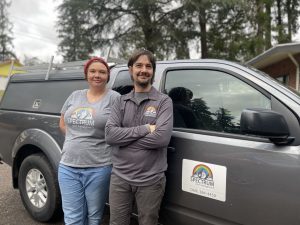 It can be challenging to maintain a home. When you add to that the strain of having pests in your home, it can be a little unsettling. The folks at Spectrum Pest Management want to provide the support and professional experience you need to tackle your pest problems.
"Particularly in winter, rats are a common problem," says Ronnie. "We have seen an increase in rat activity lately all around the South Sound." While there are many factors beyond an individual's control that contribute to rodent activity, such as having vacant lots or properties nearby, recent construction or development, and of course, colder weather, there are plenty of actions one can take to be proactive.
"Reducing or removing food sources for rodents is key to keeping them away," Ronnie continues. Remove fallen fruit from trees and leftover produce from your gardens before rodents get to them. Store pet food in rodent-proof containers; don't leave food out; and reconsider feeding the birds this time of year, or move bird feeders further away from your home.
"Keeping vegetation trimmed back away from your home is also important," Ronnie adds. Rodents prefer to hide under the cover of vegetation and can climb branches to gain access to roofs, attics and crawl spaces, so trimming back shrubs, trees and branches can be very beneficial. If you have a pet door, seal or lock them during cooler months, or use pet doors that only allow your pets access via special collars to help prevent unwanted visitors.
At the first sign of rodent or pest activity in or around your home, such as tunnels, nesting materials or droppings, you should take swift action before the problem becomes bigger. Spectrum Pest Management will provide a thorough inspection of your home and give you a professional assessment of the situation, including a plan of action with recommended next steps. They can provide services for minor repairs and corrections of conditions conducive to pest infestations as well as follow-up services.
Contact Spectrum Pest Management in Olympia
Community is a big deal to them. "We are really looking forward to serving and contributing to our local community in a variety of ways, not the least of which is helping people rid their homes of pests so they can have peace of mind," say the folks at Spectrum. Spectrum hopes that as they grow, they will add solid, high-paying jobs to the local economy and become a trusted source for pest management for residents across the South Sound.
For a limited time, Spectrum is offering free inspections. To schedule your home inspection today, visit the Spectrum Pest Management website or Facebook page, or call 360.284.4450.
Spectrum Pest Management
info@spectrumpmnw.com
360.BUG.4450 / 360.284.4450

Sponsored