It's the busiest time of the year for Santa Claus. But luckily, we recently caught up with him while he was taking a short break from his North Pole workshop to grab a cup of hot chocolate in Lacey. Santa, also known as Bob Partlow during the off season, explains his philosophy for sharing the holiday spirit throughout Thurston County and beyond.

"Believe," Santa Bob says. "That's my motto."
Spreading Goodwill as Santa Bob for Nearly a Decade
Partlow has been donning the well-recognized red suit as Santa Bob in Olympia since 2013. And his white beard is entirely real, which is how he was drawn into the ho-ho-ho world. "I saw a guy who looked like me," he says. "He asked, 'Have you ever thought of being a Santa?'"
From that encounter, Partlow as Santa Bob has become a well-established figure in Thurston County and Western Washington. He is active with the Northern Pacific Santas, also called NORPAC Santas. It is a professional organization of persons who serve as Santa Claus, Mrs. Claus, elves, reindeer and Santa helpers in the Puget Sound region.
A retired reporter and radio announcer, Partlow says that becoming Santa is the best job he has ever had. "Santa is a figure of comfort, empathy and compassion, or can be," he says. "That's what I try to be."
Santa Bob and Mrs. Claus Appear at Local Events
Partlow has appeared at the JC Penney Portrait Studios at the Capital Mall in Olympia, the Providence Christmas Forest, the Thurston County Food Bank, the Oly Lightstravaganza light show, as well as at hospitals, fundraisers, domestic violence shelters, tree-lighting ceremonies and many other functions. He says there was a memorable moment at the Tacoma Tree Lighting this year when the symphony conductor handed him the baton so Santa could lead the musicians in playing "Sleigh Ride."
In his appearances, Partlow is often joined by his spouse Dee as Mrs. Claus. They take their roles seriously and earned their "Bachelor of Santa Claus" degrees from the International University of Santa Claus. "When you put on the red coat, you are someone else. You are Santa Claus," he says. "It is really, really important to me to maintain that."
That's why the Partlows also pledged the Santa Claus and Mrs. Claus oaths, promising to be well versed in the mysteries of bringing Christmas cheer and goodwill to all people they meet in their journeys. "It's a reminder that it's not all about you," he says of the oath. "It's all about Santa – they are hugging Santa."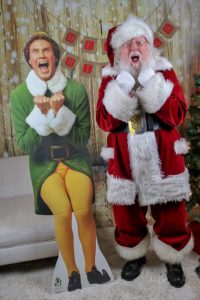 Donating their time to events for foster children holds a special place for the Partlows because they are former foster parents. They also support local organizations such as the Family Education & Support Services which helps families and children, Sibling Strong which reunites siblings separated because of foster care and other out-of-home care, adopt-a-family programs, and more. "Mrs. Claus shops all year round for toys, so we can do a gift contribution," he says.
Santa Bob Stays Timeless While Adapting to Modern Life
Partlow says Santa Claus is a universally recognized figure who is timeless, transcending ages and cultures. He says he has had his photo taken with everyone from new babies to a woman who was 93. And while some children's requests change over the years, others remain the same. "The number one request year after year is for LEGO," he says.
Meanwhile, Santa has also adapted to modern life. Partlow has a website where you can get his contact information for appearances and photos. The website has his email address plus the Santa workshop and sleigh cell phone numbers.
And last year, the jolly old elf went across the ocean through videoconferencing. Partlow worked with his daughter to provide a Santa storytelling and game session remotely via Zoom with children in Taiwan, where his daughter lives and is a TV personality. "It was a huge hit," he says. "This year we are going to expand it to do two." In this year's videoconference Santa Bob will read "The Christmas Extravaganza Hotel" book aloud and sing "Jingle Bells" with the children. "How cool is it to have a father and daughter working together?" he adds.
Santa Bob Invites You to Join the North Pole Crew
One of Partlow's own Christmas wishes is to recruit new volunteers after this year's holiday season. If you are interested in becoming a Santa, Mrs. Claus or one of their many helpers, reach out to Partlow or to NORPAC Santas. "It's been an interesting human experience to be a Santa," Partlow says. "It's all about how you interact with kids. It's all about the relationship with kids, even if only for a few seconds."