Submitted by North Thurston Public Schools
We've all seen the charming cupboards filled with books that dot neighborhoods and community spaces. Little Free Libraries, the popular "take a book, leave a book" depots installed by bibliophiles in public places, are abundant in the greater Lacey-Olympia area, but not all of them have age-appropriate material for our youngest community members. In an effort to make free books for kids easier to find and boost youth literacy, North Thurston Public Schools (NTPS) is partnering with the Kiwanis Club of North Thurston and the South Sound Reading Foundation (SSRF) to install Little Free Libraries at each of the district's 13 elementary schools and 5 middle schools.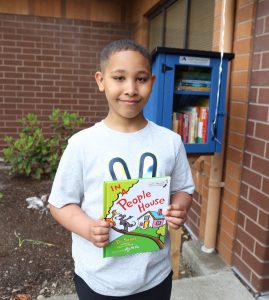 Prior to the COVID-19 pandemic, seven or eight elementary schools around the district had Little Free Libraries. They had been installed by Scout troops and PTAs and were maintained by the school librarians with stocking assistance from the SSRF. Shortly before the onset of the pandemic, NTPS approached the local Kiwanis Club to explore ways they could collaborate to support literacy-building efforts among grade school students. Expanding the number of Little Free Libraries seemed like the best place to start.
"One of our goals as an organization is to bring books to places where our community is instead of asking them to come to us," explains Jennifer Williamson Forster, executive director at SSRF. SSRF supplies books for all Little Free Libraries housed on NTPS campuses.
Lynn Neely is a member of the Kiwanis Club who now works part-time for SSRF coordinating the installation and ongoing management of NTPS's Little Free Libraries. She evaluated the existing Little Free Libraries around the district and wrote up a process for how the Kiwanis would work with SSRF to grow and manage the fleet.
"This is an amazing example of community," Lynn says. "You've got a service group like the Kiwanis that's all about supporting youth development. You've got SSRF, a nonprofit dedicated to reading literacy. And you've got a school district that wants to partner with community members to help in the development and education of our youth. When you put all those pieces together, we've got a year-round benefit for kids."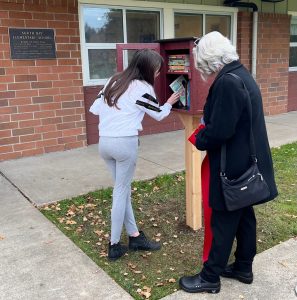 Lynn works to keep all NTPS Little Free Libraries stocked year-round with age-appropriate books for elementary and middle school students. Even during the summer, students can stop by the Little Free Libraries to pick out a graphic novel, a chapter book, or a picture book. "We're now delivering books more than once a month," Lynn says. Prior to the addition of the new Little Free Libraries, one Kiwanian was delivering books just once a month. Now 10 volunteers from Kiwanis Club distribute books several times a month, and they're getting to know the subtle differences between each of the Little Free Libraries.
"Every Library has its own personality," Lynn says. "Some of the Libraries move books really fast. Some like early reader chapter books. Longer chapter books are important in some, graphic novels in others. Some like holiday-themed books, some don't. At Performing Arts Academy, we try to tailor the books to the performing arts."
With Little Free Libraries open at South Bay Elementary and Horizons Elementary as of Monday, November 21, all 13 elementary schools in the district are now home to these hubs of fun, learning, and literacy. Nisqually Middle School will soon install a Little Free Library handmade by a Kiwanian and painted by a group of students. Chinook and Salish Middle Schools will get one next, followed by Komachin once construction is complete on their new campus.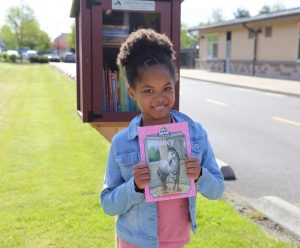 "Horizons is excited to establish a Little Free Library at our school entrance," says Horizons principal Alicia Farmer. "Our school functions as a community space. Families come and play on the playground, Girl Scouts meet here, the local homeowners' association uses our library for meetings, our garden provides fresh food for students, and our gym space is offered for community use. Adding a Little Free Library will add another layer of community access and help promote literacy and book sharing in our local community. Thank you to our community groups who are coming together to support our very own Little Free Library."
The Horizons Free Little Library has an extra bit of meaning: It was built by Darcy Guyant of Sunbreak Church, the district's first Helping Hands Program partner.
The catchphrase of the Little Free Library is, "Take a book, leave a book." While visitors are welcome to leave books for children and young readers, it's not a requirement in order to take a book or two. "Take them, read them, and pass them along to your friends," Lynn says about the books in the Little Free Libraries. "We just want them in the hands of a young person who wants to read or be read to."
What can you do to help NTPS build literacy in local youth? Donate new or gently used children's books to the South Sound Reading Foundation and read or give books to the children in your life. You can also find your nearest Little Free Library using their interactive map!
Sponsored