Our feet put up with a lot and when problems arise, it'll stop you in your tracks…literally. Most of us don't think much about our tarsals, metatarsals, and phalanges but foot pain is incredibly common and, in many cases, totally treatable. Don't suffer longer than you have to. Olympia Orthopaedic Associates (OlyOrtho) specializes in general orthopaedics, sports medicine, neurosurgery, joint replacement and issues of the spine, shoulder, elbow, hand, wrist, hip, knee, foot and ankle. Starting December 1, 2022, they'll add podiatrist Dr. Amy Winter to their team so patients can enjoy total continuity of care.
Dr. Winter Brings a Lifetime of Podiatry Skills to OlyOrtho
Though new to the team, Winter has spent more than 20 years in the industry. She has also been an attending physician – instructor – for the DePaul Podiatry Surgical Residency in St. Louis, Missouri for many years and really enjoys sports medicine of the foot and ankle.
She first heard about this new position through a podiatric society she belongs to, and it was a perfect fit. Her husband needed to move to the Pacific Northwest for his work as an environmental consultant and field biologist, so now they're happily making their home in our gorgeous green corner of creation. A longtime Midwesterner, Winter previously spent time in British Columbia during an internship, but her husband is from Alaska and still has family there.
With three grown children, when not working Winter dedicates her time to animal rescue operations and takes care of their dog, two cats and pet turtle. She is a recreational helicopter pilot and master scuba diver as well as proud Jayhawk alumna of the University of Kansas.
Joining OlyOrtho is a Win-Win for Olympia's Podiatry Patients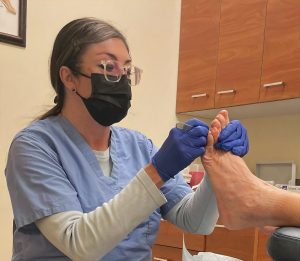 Winter believes she's found her northwest niche. "I believe in compassion for patients, and OlyOrtho exhibits that trait," she says. "I like that comprehensive orthopedic care can be handled in one location. All the employees I met really like their job, and Olympia Orthopaedic Associates has longevity. The clinics are organized efficiently and carefully, and the buildings are beautiful, professional and welcoming."
When she starts in December, Winter looks forward to enjoying camaraderie with the other doctors. "I hope to bring success to their podiatry clinic aspirations," she adds. "I will be OlyOrtho's first podiatrist. I will build this podiatry practice to serve the Olympia community." Patients can reach out as early as November to start scheduling appointments from day one.
A Warm Welcome from OlyOrtho CEO Ben Shah
The first days of any new position are stressful, but it helps to feel fully supported and warmly welcomed. CEO Ben Shah is excited for Winter's arrival. "At OlyOrtho, we strive to be a full service, head to toe, specialty for any of your bone, joint and muscle issues," says Shah. "We have two amazing foot and ankle surgeons, but felt we needed a non-operative foot specialist to round out the team. That led us to looking at podiatry."
And podiatry brought them Winter. "She is amazing," says Shah. "She is personable, a great communicator and really committed to great patient care. She is bringing many years of experience treating all types of foot conditions to complete our foot and ankle service and brings a dedication to the patient that fits perfectly with our goals as an organization."
With the clinic's focus on growing as the community grows, Shah is proud to offer this new treatment style. "I know that OlyOrtho has many surgeon specialists to serve our community, but we also have a strong commitment to non-operative care as well," Shah says. "Dr. Winter is a part of that commitment and joins our non-operative sports medicine providers, physical and occupational therapists, and walk-in clinic, the ROC, as alternatives for those patients that want to try non-surgical interventions."
If you have problems which need to be seen right away, visit OlyOrtho's Rapid Orthopaedic Care (ROC) clinic today. They're open 7 days a week from 10 a.m. to 5:30 p.m. at 3901 Capital Mall Drive SW.
Otherwise fill out their online form to start your diagnosis, schedule an appointment or call 360.570.3460. Don't live with pain and limited mobility any longer, let their team – soon to include Dr. Amy Winter – work with you on a permanent solution. There's even a video education library with topics including conditions, procedures and specialties. This time, put your feet up because you want to, not because they hurt.
Sponsored