The holidays are rolling in with family and friends cooking, eating and playing together. Relatives are staying over, and adult kids think their bedrooms are still available. Your cleaning to-do list includes vacuuming, dusting, scouring showers, wiping baseboards, shining up windows, and getting into all the nooks that may or may not have been tended to in the fall. For those people who want to do it all, Maid Perfect, a cleaning service in Olympia, has a few holiday suggestions to make everyone feel at home, even when it's not their own.
Maid Perfect House Cleaning Tips
Preparing the Guest Bedroom
"What I like is an empty drawer," says Drew Fremantle, owner of Maid Perfect. Suitcases are hard to live out of, and an empty space invites your guests to settle in. Clearing a shelf and the top of your nightstands are helpful touches. You might set out a clock, magazine, a box of tissues and a note with your WIFI password. "A TV is nice," says Drew. An extra blanket on the bed would be welcome for cool nights or a cozy afternoon nap. Make sure you've checked under the bed for dust bunnies and forgotten items. Dust everywhere and then vacuum thoroughly. Take a walk around the room as if it were your hotel room. Are things in place and cleaned? "People miss corners," reminds Drew. As a final touch, leave a chocolate or two on the pillows.
Preparing the Guest Bathroom
I'm a towel person, so I like plenty. Include washcloths and a hand towel as well as bath towels. Your bathroom probably already has a hand towel, but sometimes people just want their own.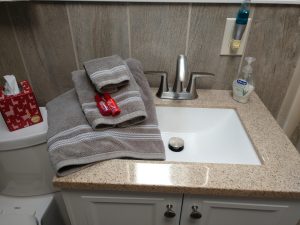 "Make sure you clean the shower, leaving no hair in the drain," recommends Drew adding, "If you don't want to see it in a hotel, you don't want your guests to see it." That means you are cleaning everything from top to bottom. "You want to be pickier with guests," he says. Empty the trash can. Travel-sized personal care products including shampoo, conditioner, body lotion, a razor, or toothpaste are thoughtful items to have on hand.
Guests in Your Kitchen
Show your guests where you keep the coffee and tea and how to use your machines. If you know ahead that someone is partial to certain snacks, have a few on hand. "That's very personalized," says Drew. They will likely open the refrigerator for cream or whatever, so remove forgotten leftovers and wipe spills from the shelves. "You really don't want people to be afraid to go into the fridge," he says.
Mop floors and wipe counters. Get rid of unnecessary stuff on the counters. With more people, more cooking, and more traffic, you'll need all the extra space for prepping food and extra dishes.
Remember to Clean the Living/Family Room
Stowing the clutter, a good vacuuming and a dusting will make your shared spaces feel roomier and calmer. Holiday decorations are festive and fun, and yet you don't have to go overboard.
Book a Cleaning Service with Maid Perfect
Maybe you have unlimited time. I don't. I do believe a cleaned space sets the tone for you and your guests to relax. The thought of deep cleaning my whole house before guests is a great idea, but I'd rather not do it myself. That's the perfect reason to call Maid Perfect. I would have a better time baking cookies or organizing activities. I'd rather be taking a walk than cleaning the toilet. Maid Perfect can do all those back-bending, step-climbing, arduous cleaning tasks. It will be done professionally and proficiently. You can manage your other to-do lists. Your house does not need to be perfect, but tidy is appreciated.
Maid Perfect has all sorts of cleaning tips for you. Here's one more fabulous seasonal tip. When the guests have packed up and you've loaded the dishwasher one last time, take a look around your home and recall how much fun it was to enjoy time with family and friends. Then make sure you have a date with Maid Perfect. They'll come to clean up all the crumbs from the floors, make your cooktop sparkle again and bathrooms shine. It may look like guests are coming over, but it's just for you!
Book your pre- and post-holiday cleaning services as a gift to yourself (or the cleaner in your home). Maid Perfect can also come to your home or office on a regular basis. Arrangements can be made for move-out cleaning, construction sites and rentals. Yes, someone can even do your windows. For more cleaning tips and information, visit the Maid Perfect website, request an estimate or call 360.402.6248.
Sponsored