The holidays are a great time to do a bit of extra volunteering. In fact, many families have a holiday tradition of doing something together as a family to help others in our local community. If you are looking for ways to volunteer in Thurston County this holiday season, here are some ideas.
City Gates Ministries
City Gates Ministries is currently doing their Albertsons Hunger Bag Fun Drive that runs now through December 2022, seven days a week from 11 a.m. to 7 p.m. They need volunteers to supervise the tables inside the Albertson stores and handout lists of items patrons can purchase to help families in need this holiday season. Contact Phil Prietto at 360.359.1999 or phil@citygateministiries.org
City Gate Ministries also has a Thanksgiving Basket Delivery, sponsored by Roots Community Church, that need volunteers to pack boxes and deliver the food. Each box has everything for a Thanksgiving dinner including a turkey, potatoes, green beans, dressing, pie, fruit, gravy, eggs, rolls and dry goods. The boxing and deliveries will happen November 20. Contact Phil Prietto to be involved.
Salvation Army
Salvation Army has extra volunteer needs during the holiday. They need help with toy sorting and distribution for their toy drives during December.
"We also need volunteer bell ringers to help us raise the funds for our operations during Christmas and throughout the year because it is the main fundraiser for the year," shares Major Corps Officer for Thurston County, Marcelino "Butch" Soriano. While often service groups volunteer for these shifts, Soriano says individuals can too! You can call his office at 360.352.8596 x101 or email marcelino.soriano@usw.salvationarmy.org to learn about needs.
South Sound YMCA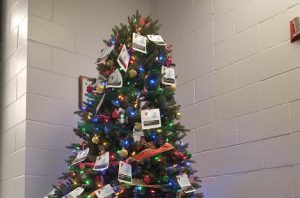 The South Sound YMCA is doing their annual Giving Tree and they need volunteers to help transport the donated gifts. Reach out to Clara Robbins at robbinsc@ssymca.net if you would like to volunteer.
And of course, you can head to your local YMCA, grab a tag or two off the Giving Tree, and fulfill some wishes this holiday season. Want to shop online? You can visit the South Sound YMCA Giving Tree webpage, which has links to their Amazon and Target wish lists. Simply have the items shipped directly to PO Box 4132, Olympia WA 98501.
Thurston County Food Bank
Food banks can always use a bit of extra help during the last two months of the year. Whether you can help distribute food, pick up food donated at locations throughout the County, or organize a food drive – there are plenty of ways to get involved. You can email volunteers@thurstoncountyfoodbank.org to ask any questions and find out how you can get involved this holiday season, or visit the Thurston County Food Bank volunteer webpage.
ROOF Community Services
ROOF is also looking for volunteers to help with holidays! The food bank needs help to distribute food during big events, like Thanksgiving Turkey Baskets or organizing food drives. They have Operation Santa that needs volunteers during the second and third week of December to collect and distribute clothing and toys. Find out more on the ROOF website.
Tumwater Christmas Tree Festival
The Tumwater Christmas Tree Festival needs volunteers to assist in set-up and clean-up, helping attendees, assisting with Santa photos and more. Shifts are three hours long during the Tumwater Christmas Tree Festival on Saturday, December 3 from 1 p.m. – 5:30 p.m. Learn more about volunteering by visiting the City of Tumwater website.
Adopt-A-Family
There are several places you can adopt-a-family in Thurston County this holiday season, which can be a great way to pay it forward with your whole family if your scheduled don't allow for group volunteering, you can all shop for different items and bring it together to make a family in need's holiday extra special.
Some local Adopt-A-Family programs including Gabi's Kids, Tumwater Lions Club and ROOF Community Services.