The holiday season is right in front of us. Are you thinking you want to minimize stress and find easy gift solutions? Ballaura Wellness Spa in Olympia has the antidote for both with a few suggestions to maximize your time, reduce tension and hopefully throw in superlative self-care. With special sales events planned through the Thanksgiving weekend and beyond, you can give and receive spa gifts of massage, infrared sessions and themed gift bundles. Yes, you can feel your shoulders relaxing already.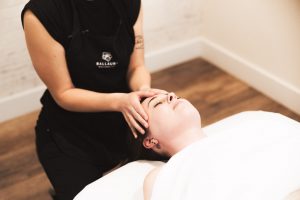 "Time and money can be limited," says Nicole Chryst, owner of Ballaura Wellness Spa. She's a business owner and mom of three young boys. She knows the value of utilizing time as smartly as possible and why self-care is essential.
"People are stressed out," notes Nicole. It's from life. We are living in a dramatically shifting world, yet the holidays will come whether we are ready or not. She wants her current clients and future clients to know Ballaura cares. The wellness spa has been thinking about your well-being and has a few thoughts for your gift giving needs.
A Massage in Olympia Makes an Excellent Gift
Gift certificates for a massage don't need hangers or a place in a cabinet. They won't collect dust on a shelf or clutter your home. They are calorie-free, will relieve stress and help you feel great. You don't have to guess the size. You are supporting a local business and the people that work there. To make your life even easier, they have beautiful gift wrap for gift cards purchased in the spa.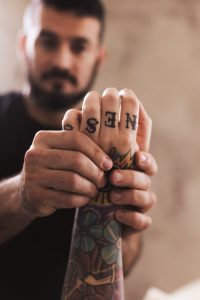 A bit of holiday shopping can be fun, for some. Decorated window displays, lights and music can be mood-lifting. However, when there's no place to park, the crowds get big, the checkout lines get long and you aren't even finding anything you want, it's not so fun. You can gift a massage via your electronic device. You can send it to your friend across town or print a gift receipt and stuff it into a stocking. "Go to Gift Cards on the website," suggests Nicole, "and they can be sent instantly." It's a solution for that last minute gift need, too.
For one reason or another, some people have never had a massage. They are apprehensive, shy, or don't like what they don't know. Ballaura has a cadre of experienced massage therapists and are happy to match clients with the person who best suits their needs. A gift card might just get your friend or loved one the tiny push they need to get on the table. It's easier to test the waters when encouraged or when it's free to you!
Personally, I would never let a gifted massage go unused! But, if your friend whom you treated is resistant, they can always pass the certificate along to another. This is a regifting that another could find thrilling. Someone else might have wanted to try a different massage modality but been hesitant to proceed. A gift massage at Ballaura would work perfectly.
Many Health Benefits of Massage at Ballaura Wellness Spa in Olympia
In addition to increasing relaxation and reducing stress, a massage can reduce pain and muscle soreness. It improves circulation and energy levels. It can lower your heart rate and blood pressure while it improves immune function.
Ballaura Wellness Spa in Olympia has massages that include hot towels, a heated table, aromatherapy, warmed oils, dry brushing and transdermal magnesium. They are optional, so you request the ones you want. "We do not have up-charges for these enhancements," says Nicole. Massages also include any of the advanced techniques your therapist is trained to perform, which varies by therapist. These techniques include the following:
Cupping
Gua Sha
Lomi Lomi
Craniosacral
Intraoral
Myofascial release
Passive and active stretching
Lymphatic drainage
Deep tissue
Trigger point therapy
Pin and stretch
Relaxation with guided breathing techniques
Infrared Sauna in Olympia
This can be used on its own or before a massage. You'll warm your muscles up for full massage benefits and extra relaxation. There are various settings to personalize your time in the sauna.
A Visit to Balluara Wellness Spa in Olympia is the Perfect Gift
Your mom who lives in Ohio wants to send you something but is not up-to-date on your clothes tastes. She can call or get online to send you a massage. No trip to the post office for her and delightful stress relief for you.
Ballaura Wellness Spa is planning all sorts of sales for reduced massage costs, membership deals, gift card sales, and various discounts. Some will be online and others within the spa. Think about the holiday season as the perfect time for less stress, amazing self-care and easy gift giving. Ballaura is planning ahead, and so can you. Stay up-to-date on sales, services, therapists and related information on the Ballaura Wellness Spa website or Facebook page. Free parking accessed from Eastside Street is located behind the building.
Ballaura Wellness Spa
1017 4th Avenue E Olympia
360.539.7726
Sponsored