There's nothing like a warm welcome to make us feel at home, especially when starting a new job. At the South Sound YMCA, where caring for others is job one, they're happy to introduce three new community change-makers to the family. When you swing by your neighborhood branch or see them working in the community, make sure to say hi to Kolayne, Claudia and Kyeshia.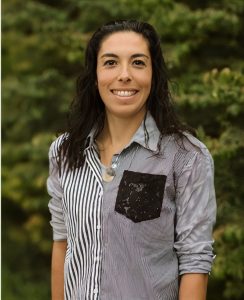 Kolayne Bykoff: Executive Director of Youth Development
No stranger to the YMCA, Bykoff has spent nearly 20 years with the organization in Whatcom, Pierce and Kitsap counties. Before pursuing a teaching degree and teaching middle schoolers, Bykoff developed a partnership between the YMCA and Franklin-Pierce School District to supplement the district's music, library and physical education programs.
She started with our local Y in August and heard of the position from two sources. "A former mentor and a former colleague of mine sent me the posting of this position on the same day – without knowing that each of them sent it – thus I felt it was the universe's way of telling me to apply," she says.
During her time here, Bykoff hopes to: "learn from the authentic voices in this community, inspire my staff to be servant leaders and to deliver compassionate pathways for youth to seek their passions and purpose. The South Sound YMCA stands firmly in its commitment to equity and hearing the voices of people and youth who have been historically undervalued, underserved and unrepresented."
When not surrounded by kids at work, she enjoys outdoor activities like camping, paddle boarding and kayaking as well as cooking, spending time with family and friends, and wrangling her family's 5 cats, one dog and 30 fish.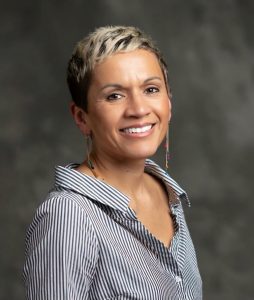 Claudia Suastegui: Senior Director of the Shelton Family YMCA
Suastegui was previously Youth Development Director at the Caldwell Branch of the Treasure Valley Family YMCA in southwest Idaho where she'd served for 20 years. Before the Y, Suastegui worked as a social worker helping migrant families find much needed assistance, services and a place to fit in.
She's excited to settle in the Shelton area. "This community has everything it needs to thrive – deep roots, a beautiful environment, and a willingness to help one another," she says. "I first heard about the position from a current employee that sent me an e-mail. Initially it was an absolute, 'No thank you, I'm pleased where I'm at.' Then I came to visit. The fresh air, the mountains, and most importantly, the people changed my mind…I'm all in!"
After starting in early September, she hopes to bring her enthusiasm to Shelton while immersing herself in the community, building relationships and inspiring change. Outside of work, Suastegui loves to dance, hike, write and spend time with friends and family. "The Shelton YMCA is a special place built to be the community's HUB where there is something for everyone of all ages, abilities, and backgrounds," she says. "We all need a welcoming environment, connection and relationships to thrive."
Kyeshia Likely: Executive Director of Community Engagement
Likely started with the YMCA in late September and comes, most recently, from the Seattle-based nonprofit, CHOOSE180. While there she formed a youth-led advocacy division, which supported young people around Washington State in learning about and drafting community policy reforms.
"I have been in the grassroots/nonprofit sector since I was 20," says Likely. "I went from assisting my college campus with rideshares to joining and serving with AmeriCorps Communities in Schools of the Greater Seattle Area one year after graduating from Washington State University. And after an adventurous mother daughter trip through Europe, I came back and found a position at the Greater Seattle YMCA, where I expanded my skill sets of support for those that are a part of the communities I love."
She and her 1-year-old daughter Ocean love to spend time with grandma going to pumpkin patches, hayrides, trunk-or-treats and all manner of weekend activities. "The biggest surprise I'm finding out about the South Sound YMCA is that it is truly standing in its mission to be more inclusive to community, which includes its staff members," says Lively. "This is the first time that I've been allowed the privilege to bring my daughter to work with me because the working community I am apart of cares about my family's mental health, physical connection to my child, all while supporting my individual career growth opportunity."
The South Sound YMCA is more than just afterschool childcare or a place to exercise. It is an anti-racist, multicultural organization determined to build a future where all people thrive. Youth Programs, swimming lessons, sports,summer camps, and enrichment classes are all ways to package the Y's core mission of strengthening community. And programs aren't just for kids! Adults can find a full schedule of activities including yoga, exercise, water volleyball, a climbing wall and community get-togethers focused on creating opportunities to achieve your goals and foster a sense of belonging in your community.
Membership is easy, simply join online or contact your local branch directly. Make sure to say hi to Kolayne, Claudia and Kyeshia and wish them well on the next step of their YMCA journey.
Sponsored