As a way to acknowledge the highlights of Thurston County-based athletics, the Experience Olympia & Beyond Sports Commission created the Thurston County Sports Awards in 2018. The Sports Awards honors memorable games, athletes, coaches and team supporters in the Thurston County community.

"It's not just athletes, but it's also coaches," says Jeff Bowe, vice president of sales and development for Experience Olympia & Beyond. "It's teams. It's sports influencers and enthusiasts as well. So, people that are involved with sports or that are promoting sports. That are dedicating time to make sports better. That are donating finance to make sports better, or to bring sports to Thurston County."
A Commemoration of the Vibrant Sports Community in Thurston County
The Thurston County Sports Awards was created to be a celebration of the local sports community and as a way to showcase Thurston County as a bustling destination for athletic events. Home to a range of sports-related venues and amenities, Thurston County is a premiere place to play and watch sports in the South Sound region.
As a part of their mission, Experience Olympia & Beyond showcases the best that Thurston County has to offer to encourage visitors and events to the region. In addition to attractions like live performances, a thriving small business economy and annual festivals, Experience Olympia & Beyond also envisions a local travel industry related to the regional athletic community.
The Lacey-Thurston County Regional Athletic Complex regularly hosts a range of sporting events and helps to promote tourism in the region. And in recent times, Thurston County has become a venue for statewide tournaments and championship games. This past year, the region hosted statewide high school golf tournaments across multiple golf courses in Thurston County. In addition, the 2A and 1A high school boys soccer state championship games were also hosted at the Tumwater District Stadium earlier this year.
A New Era for Sports Tourism in Thurston County
For a long time, tourism to the Thurston County area focused on certain aspects of the community, like art and commerce. As the athletic community has continued to grow, though, certain community members have encouraged a more concerted effort to elevate sports as part of the local tourism industry.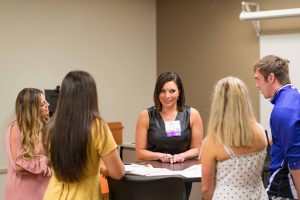 That led Experience Olympia & Beyond to form a Sports Commission, to help promote sports-related travel to the region. In addition to attracting special athletic events, like championships and tournaments to the region, the Sports Commission also helps to tell the story of Thurston County-based athletes and athletics through programs like the annual Sports Awards.
"It's galvanized the sports community and it's just given us an outlet to be able to recognize all that is really truly happening in the sports world," explains Bowe. "I think we do a great job in Thurston County of recognizing art and culture. All of those things are really important, but I think that sports should be included in all those celebrations because of the impact that it does have on so many people."
At the root of the Thurston County Sports Awards is a community-oriented nomination process, with coaches, athletic directors and members of the community providing nominations for each of the award's seven categories. After nominations are collected, the Sports Commission Advisory Committee gathers together to determine a finalist for each category.
Celebrating Thurston County Sports
Each Year the Sports Commission hands out multiple awards to those participating in or supporting Thurston County Sports:
In certain circumstances, the Sports Commission may also decide to create a special award to honor members of the local sports community who may not fit into one of the set categories. Alongside the commemoration of athletes, coaches, teams and organizations, the Sports Awards also aim to recognize loyal supporters of Thurston County athletics. For example in 2020, the Sports Commission created a Special Recognition award for Father Gerard Kirsch from Saint Martin's University. This Special Recognition celebrated Kirsch's consistent support to Saint Martin's University athletics, as a regular attendee of games and cheering on student athletes throughout the years.
"There's just so many people in our community, that used to be athletes or maybe never were athletes, but are so passionate about a particular sport," says Bowe. They've worked really hard to either create an event or they've supported an event and made it successful here in Thurston County. And, you know, I think that it's really important to recognize those people and what they've done."
After the recipients for the Sports Awards are determined, the nominees and awardees are invited to celebrate at an annual award ceremony. This year's celebration will take place in person on November 3 at South Puget Sound Community College. The event will include a reception, ceremony and remarks from keynote speaker Beth Knox, the CEO of the Seattle Sports Commission. The award ceremony is open to the community, and all are invited to help celebrate the best of Thurston County athletics.
"It's a really exciting time for us to not just celebrate the sports community," says Bowe. "But to celebrate the fact that sports are back."
To learn more about the history of the Thurston County Sports Awards, or for more information about this year's award ceremony, visit the Experience Olympia & Beyond website.