Few high school cross country teams in the state can match the legacy Northwest Christian has created. From numerous individual state champions and state placers to a stockpile of overall team titles, the Wolverines have a history that is virtually unrivaled. Asher and Madison Ingram are adding to that legacy.
Now a senior, Asher grew up watching several of the program's all-time greats compete, and was even a member of the last Northwest Christian boys squad to capture a Class 1B/2B state championships as he was the No. 5 runner on the Wolverines 2019 title team as a freshman.
"It was a struggle, even during some of the easier runs," Asher said about his experience four years ago when he was running daily with several of the best to ever compete at the school. "I learned a lot by watching those guys run. You can't just show up. You have to be fully committed to working hard."
Which is exactly what Asher has been as he kicks off his final high school season.
"I ran every day this summer on my own," said Asher, one of just three runners on the boys' team at Northwest Christian. "There were a lot of days where it was not mentally easy to do, but I really wanted to push it this summer. I've changed up some things that I hadn't done before. I've changed my diet up a little bit. I'm making sure I'm getting better sleep. Most of all I'm just working hard to beat those [school record] times. I'm really putting in all this work with those times in mind."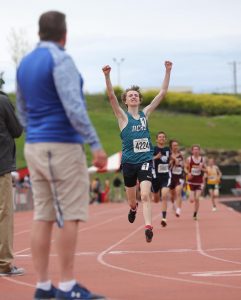 Asher Learned From Some of the Best to Ever Run at Northwest Christian
During his middle school years, Asher got a first-hand view of Luke Schilter, Northwest Christian's last state champion who won the 2016 crown after placing second in state three consecutive seasons. He also ran during his freshman year with Noah Phillips, who placed second in state as junior in 2018 before leading the Wolverines to another team title in 2019.
"I finally feel like I will be able to put my name up there with the people I saw run when I was in middle school and when I was a freshman," said Asher, who placed third at the state meet last year. "I feel like I can put up those times."
However, Asher might not be the only member of the Northwest Christian team this year to win an individual state championship. In fact, he might not ever be the only member of his family as his younger sister, Madison, is coming off a sensational freshman season where she placed third at the girls' state championships last season.
Asher and Madison Ingram Coming off Strong Third-Place Finishes at State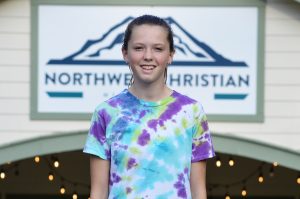 "I do not believe I would have got third at state last year if it wasn't for her," Asher said about his sister. "There was about 400 meters left [in the state meet] and I was in fourth. The guy who was in third was right in front of me and we were going up the hill. I thought I was going to finish fourth. I had just watched my sister finish third in the girls race and just dug deep in. I thought how cool would it be if we both got third."
A year later the goals have been upgraded.
"I'd really like to see us both win state titles," said Madison, whose father, Robert, serves as one of the team's assistant coaches.
It would certainly be an extremely rare double, but something well within each runner's grasp.
Both have already put up strong times this season. Asher placed second at the 15th annual King's Cross Invite in a personal record time of 16 minutes, 35.5 seconds for three miles. His top time at the 5K came last year when he crossed the wire in 16:37.6 to win the Bill Kehoe South Sound Invite.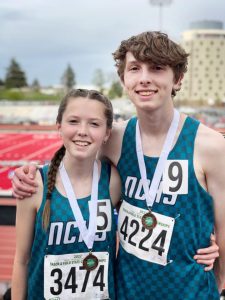 "I've learned a lot from him. I definitely look up to him a lot and follow after a lot of the things he's done," Madison said about her brother. "His wisdom in running impresses me the most. He's fast, but he also works really hard at it and that motivates me."
Much like last year's state meet, Madison mirrored her brother's efforts at the King's Cross, placing second in the girls' race with a PR time of 19:48.5 before grabbing a fifth-place finish at the Ramrock at Saint Martin's University.
"Asher has this great ability to finish a race. He has a very strong kick and he's also very mentally strong. Madison is very strong too. She's got good foot speed and her kick has really come out over the last year," said Northwest Christian coach Michael Ziesemer. "I think they can win [state titles] as individuals."
Looking To Add More Success to Northwest Christian's Resume
While Asher is looking to capture the first state title since 2016 for the Wolverine boys' team, Madison is attempting to end a 15-year drought on the girls' side and become the program's first state titlist since Joselyn Minton in 2007.
"There was pressure (last year)," Madison said. "There's still nerves. There's always going to be nerves, but I'm definitely felling more confident this year. I know a lot more people and feel like I have a lot more support behind me."