After several years of missed or minimal Halloween festivities, 2022's celebrations promise fall fun for everyone. Whether you trick-or-treat, trunk-or-treat, or attend activities at a local church, park or community hub, Thurston County Public Health & Social Services (TCPHSS) has a few Halloween safety tips for all the witches, wizards, ghosts and ghoulies out there…and their kids.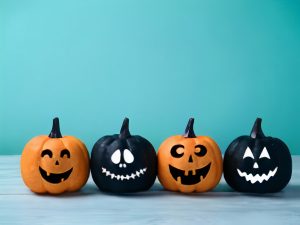 We tend to think of TCPHSS as a resource for larger statewide or global illness issues like COVID-19 and Monkeypox. They also provide veterans' assistance, housing and homeless prevention, personal health care, food safety and healthy home environment guidance as well.
Halloween Safety Tips
Halloween is a time for trick or treating and gathering with friends and neighbors. Here are some tips from Thurston County Health Officer, Dr. Dimyana Abdelmalek to help you and your family celebrate safely.
Masking up. Consider the risk of severe COVID-19 disease to yourself, your family and loved ones. The CDC Community Level can help you know if the community risk is high. If you choose to mask, try incorporating a mask into your costume. Dress up as a mummy, doctor, or ninja to sport a cloth or surgical facemask, transforming your costume into an effective and safe ensemble that doesn't compromise your creativity.

Parents should inspect all treats this Halloween and consider hosting events outdoors or in well ventilated areas to keep kiddos safe. Photo courtesy: Thurston County Public Health and Social Services

Use Sanitizer. Bring hand sanitizer with you while trick-or-treating and use it after touching objects or people, making sure to wash yours and your child's hands when you get home and avoid gathering in big crowds. Plan your trick-or-treating route in advance, and make sure a parent or responsible adult is accompanying young children door-to-door

Gather Outside if Possible. If hosting a party or get together, try gathering outside or in well-ventilated spaces. Washington's weather means October is a mixed bag. If things are rainy, consider hosting outdoor gatherings under cover of a patio.
Safe Treats. CDC recommends that food items are individually wrapped. Scare away bacteria by keeping perishable food items refrigerated until it's time to eat. Bobbing for apples is a Halloween favorite, to reduce the spread of germs, try giving each bobber their own large bowl of water and apples, rather than sharing a large tub where germs can be passed easily from one person to another.
Road Safety. If you decide to brave the weather, remember that participants of every age should respect the rules of roads. "Halloween can be a dangerous time for young pedestrians," says Abdelmalek. "Remind children to stay on sidewalks, not the street, and to avoid running. Let them know to look both ways before crossing the street, and not to cross between parked cars. Make sure your trick-or-treaters are highly visible to traffic by giving them a flashlight, using reflective gear, or allowing children to walk with a small group."
Check Those Treats. It's not a cliché. Parents should inspect the entire Halloween haul…and not just to select a favorite or two as "Mom Tax". Carefully look over each wrapped item to protect kids of all ages from illness or injury.
This year federal law enforcement warns the U.S. has seen an influx of a drug called "Rainbow Fentanyl" or "Skittles". Rainbow fentanyl has appeared recently in several forms and has been found in at least 21 states. This deadly drug resembles thick pieces of brightly colored sidewalk chalk and can come in pill or tablet forms that resemble candy. You can find photos of this deceptive drug thanks to the U.S. Department of Justice.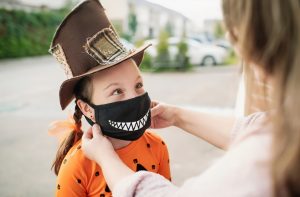 Discourage trick-or-treaters from eating candy until it has been inspected at home. Inspect all commercially wrapped treats for signs of tampering, such as an unusual appearance or discoloration, tiny pinholes or tears in wrappers. Throw away anything that looks suspicious. Tell children not to accept—and especially not to eat—anything that isn't commercially wrapped.
Halloween is a great way to get out and connect with friends, family, and the neighborhood werewolf. At the end of the day, it celebrates autumn, our changing weather and gives the community a chance to kick off mini-chocolate-bar season – which runs from October through Easter. Dr. Abdelmalek reminds revelers that, "Thurston County Public Health & Social Services, offers holiday guidance to support members of our community in celebrating and maintaining holiday traditions while keeping themselves and their loved ones safe."
Follow Thurston County Public Health & Social Services on Facebook, Twitter, and Instagram for updates, information, advice and events in our area. Then head out with your best mummy shamble, ninja tiptoe or black cat sneak and collect enough candy to last through Valentine's Day.
This article has been updated to reflect the number of states in which rainbow fentanyl has been found and that it has not been identified to date in Washington State.
Sponsored