The catastrophic downtown Olympia arson on December 15, 2021, changed everything for Revival Motors & Coffee Co, a coffee shop in Olympia with strong ties to the motorcycle community. One day it was a favorite drop-in spot for coffee and conversation, and the next it was drowning in damage caused by the water used to put out the fire. It was not the holiday season owners Audrey Henley and Jimmi Davies were dreaming about. Revival could have vanished. But it didn't.
Coffee Shop in Olympia Loses Everything in Fire
The motorcycle-friendly business has maintained strong community roots. Audrey and Jimmi are integrated into many circles. Audrey is the Executive Director of the Olympia Film Society and active in promoting downtown. Jimmi is a renowned copper artist – Craftsman Copper – and musician. They both love to ride motorcycles. "The old place was like walking into our living room," says Audrey. Jimmi's love of the craftsman style, which is simple, beautiful and practical, was evident.
Revival Motors & Coffee opened originally to fill a need. "We were inspired by other shops in Portland and Seattle," says Audrey, talking about their riding adventures. "We stop for coffee and fuel up. We wanted a place where everyone felt welcome." As a motorcycle enthusiast herself, Audrey's intention was to create an atmosphere where women, men, LGBTQ, AAPI, BIPOC people would feel included. The downtown location was also perfect for the senior clientele who lived nearby. People just liked coming in. Jimmi had a space for custom design and restoration of motorcycles, each uniquely designed to its rider's physical and stylistic vibes. The choppers may be a mode of transportation, but they are also a statement of individualized art.
Then the fire happened. Everything stopped. Time passed before Jimmi and Audrey could even go into their former business to assess the collateral damage. Building a business is an enormous amount of work. How do you rebuild…or do you?
Revival Motors & Coffee in Olympia Rebuilds
A GoFundMe site was established and enthusiasm grew. A shift was taking place as a glimmer of hope stirred in the ashes. The Revival community wanted Revival to be revived. Audrey and Jimmi took bold steps to move ahead. The tragic circumstances became an opportunity to turn the dream of owning a property into a reality. They began looking at spaces to buy for the long-term future of Revival.
Eventually, the couple purchased the property formerly known as Howard's Cleaners on Union. The visibility is excellent and there's off-street parking. Remediation has been completed. Now the space is turning into a place where Jimmi is restoring the bikes damaged in the fire. Eventually, the coffee shop will be added. "It's the gateway to the Capitol," says Audrey about the prime location. Revival looks forward be being able to hold classes and workshops in the new space. "We're not afraid to share information The more you know, the safer you are," affirms Audrey. It won't be the sort of place to get your oil changed, but it will be a place to customize or fine tune your bike. Audrey imagines food trucks in the future. It will be a place to meet people of like minds and make connections.
Downtown Olympia Coffee Shop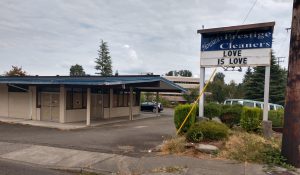 As if renovating the new headquarters weren't enough, Revival has also opened a coffee shop on 4th Avenue, in the midst of downtown. It's compact and homey. You'll get the same friendly, historic vibe when you stop in. Check out the photographs on the walls. Treats from the northwest are served from places such as The San Francisco Street Bakery, Main Street Cookie Company (LUV Cookies) and Adams Bagels. Revival uses coffee from Café Umbria, a third-generation business. The Seattle-based, artisan roaster won the intense taste testing Revival did before making its selection. "It reminds me of the good old coffee days," smiles Audrey as she sips a cup.
Audrey took a few minutes to sit at the outside table one morning. Hardly a person walked by who did not know her. There were smiles, jests and information exchanges. It's fun to be part of a community. "We come here, we gather here," says Audrey.
Full disclosure: My motorcycle experience and knowledge are woefully inadequate. I do know that all motorcycles are not choppers, and that all choppers are motorcycles. Long ago I went joyriding on the back of a Honda 200cc – no longer in production. Regardless, I am totally welcome at Revival.
Audrey rode on the back of Jimmi's motorcycle when she was 21. Were they imagining a future together filled with handcrafted choppers and coffee drinks and a life together? Olympia is lucky that things worked out for them. Fuel yourself at the 4th Avenue location and honk your horn when you drive by the new Revival Headquarters on Union. Jimmi is likely working inside. Check out the messages on the sign and keep up to date on social media.
Revival Motors & Coffee Co.
412 4th Avenue E, Olympia