Studying late? Up early for that 8 a.m. class? Need a caffeinated pick-me-up? Of course, you do! And being Washington, we've got plenty of places for you get your coffee fix. And, if you happen to be a student at The Evergreen State College, you won't have to travel too far to find the perfect cup, and a place to study or just hang out on a Friday night. Here are some great places to get coffee in West Olympia.
Olympia Coffee Roasting
1706 Harrison Ave NW, Olympia
360.705.9451
Olympia Coffee Roasting is known for their fresh coffee roasted right here in Olympia from direct trade partnerships. Their West Olympia coffee shop is open seven days a week for those early study sessions. They have a small sitting area outside for nicer days as well. Rushing to class? You can order online for pickup. For more information, visit the Olympia Coffee Roasting website.
Café Au Lait
2925 Harrison Ave NW #450, Olympia
360.791.3537
Need a drive-through coffee fix before class or after? Café Au Lait is located near JoAnn's in the Westside Target Plaza. It's a great place to get a cup of joy on your way to a study group. They have many syrups and alternative milk choices. They are also one of the only places you can find a dairy free pumpkin spice latte in the fall. They are open seven days a week, and at 6:30 a.m. on weekdays, plenty of time to make that 8 a.m. class. Need coffee delivered to campus? Café Au Lait is available for delivery to The Evergreen State College for just $3.99, so you don't even have to stop studying.  View their menu and more information on the Cafe Au Lait website.
Samayra Coffee Co
1600 Cooper Point Roadd SW Suite 630, Olympia
360.338.0926
Samayra Coffee has a smooth, rich flavor that's achieved through their micro-roasting that happens right in their West Olympia coffee shop! Their large space is perfect for study groups or just to hang out and relax after finals. They offer nitro-infused coffee on tap for when you really need to cram, as well as premium loose-leaf teas. They are closed Sundays. For more information, visit the Samayra Coffee website.
Phoebe's Pastry Café
1800 Cooper Point Road SW, bldg. 13, Olympia
360.742.3066
If you're looking for comfy booths to spread out your books and comfort food to get you through that tough midterm, try Phoebe's Pastry Café's Cooper Point Road location in West Olympia. They serve up locally roasted coffee with incredible pastries that will make your mouth water. They don't have a website, but you can follow Phoebe's Pastry Cafe on Facebook for seasonal menu offerings and important information like upcoming holiday closures.
Northwest Grind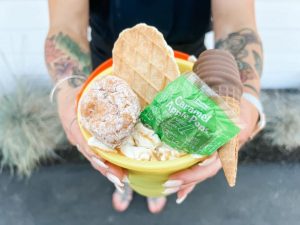 Inside Capital Mall
625 Black Lake Blvd SW, Olympia
360.489.1801
Located inside Capital Mall, Northwest Grind is a West Olympia coffee shop that has out of this world treats. They have Lotus and Red Bull energy drinks that are not like any other coffee shop, and will definitely get you through a night of studying. Or, maybe you need an extra special hit of espresso, their coffee drinks are made with their own signature, locally roasted beans and are true perfection.  Hit the library located inside the mall and then grab your favorite. You will be all set for your night of studying, perhaps in their cozy dine-in location. Visit the Northwest Grind Facebook page for more information.
Madres Espresso
3210 Cooper Point Road NW, Olympia
360.489.0620
Madres Espresso is a drive through coffee stand near The Evergreen State College that is perfect for when you need a fast pick-me-up between classes. They serve Dancing Goat coffee (formerly Batdorf & Bronson), so you know you'll be treating yourself to a rich and smooth drink. Need a bigger jolt? They also have Lotus energy drinks. Hungry? Try one other tasty morsels like breakfast sandwiches, Umpqua oats and more. They even have gelato to make a suburb affogato. They are open seven days a week, so you can depend on them for those weekend study sessions too.
Sponsored