Bread. The staff of life is so basic, and yet sublime. The Olympia Farmers Market boasts five bakeries where you can get your fill of one of life's best comfort foods. All goods are baked nearby using top-notch ingredients. Eye shop everything under the glass counters as you decide which sweet and savory baked goods will make their way with you. You'll be tempted by buttery croissants, dinosaur cookies and cheesy tarts. Find the perfect baked good for any occasion at the Olympia Farmers Market Bakeries: Baker/Potter, Blue Heron Bakery, San Francisco Street Bakery, The Bread Peddler and Wagner's Marketplace Bakery.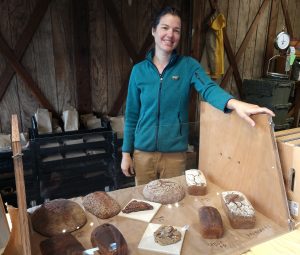 Baker/Potter
Ryan Lee and Kristen Jones are Baker/Potter. Their sourdough bread is organic, wood fired and made with Washington grown grain. "We like to keep things simple," says the couple. "We start by sourcing the best grain we can find from responsible farmers in Washington State. That grain is milled in house, hand mixed, slowly fermented using wild yeast, and baked in a wood fired oven. The breads we make celebrate the unique character and seasonality of local grains."
"We buy two loaves of einkorn each week," says one happy dad, who was picking up the family's supply. "We all like it," he added, as his young son nodded in agreement. Sweets are limited to cookies and scones. As their name implies, they also sell handmade pottery. You can also view and purchase pottery at the Baker/Potter website.
Blue Heron Bakery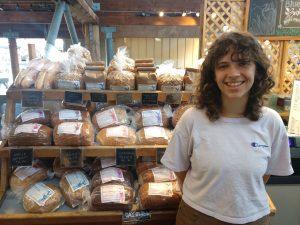 The Blue Heron Bakery has been an integral community fixture since 1977. Healthy ingredients have always been at the heart of the business. Jaina Nehm works at the market. She has several favorites. "I like the apricot, walnut sourdough bread and the almond cookies," she says. Also on her list are the soul cookies made with cashews, honey, maple syrup, chocolate chips, honey, and sunflower seeds.
Jaina is a barista at the Blue Heron's west side location. There are more items there, but the market's selection is generous. Blue Heron has gluten free, vegetarian, and vegan options. As the website notes, "The difference is that we actually make ours tasty."
San Francisco Street Bakery
The San Francisco Street Bakery market location has many of its baked goods that you have been finding at the Eastside location for over 30 years. They include the colorfully sprinkled Carmens and plenty of breads. The Bakery reminds you that using one of its sandwich loaves will make an ordinary meal into a memorable experience. You will need to go up to the eastside to get their bagel or pizza dough.
The business does its best to be an environmentally conscientious member of our community by recycling and composting as much as possible. Leftover bread and pastry are given to charitable organizations, schools and nonprofits, so that it is eaten rather than wasted.
The Bread Peddler
You might have to stand in line a few minutes to bag a treat from The Bread Peddler.
There are scones, croissants, focaccia, bread rolls with meat and cheese, cookies, and almond cake. A regular customer liked the almond cake with vanilla kefir and berries for a lovely dessert. Someone else chimed in, "Order the apple fritters."
The Bread Peddler has been open since 2006, offering authentic European fare. Their products are made from scratch, with attention given to ingredients and technique. The Bread Peddler is proud to serve this community through hard work and a commitment to culinary excellence.
Wagner's Market Place Bakery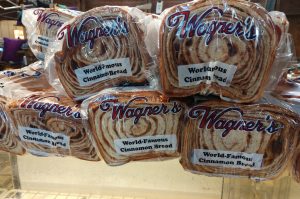 I asked seller Flavia Medina what is most popular. She pointed to the carrot cake, the German chocolate cake, éclair, fruit tart, butter horn, sticky bun, strawberry Danish, and the cookies. Clearly, everything is popular. "It a great bakery," was voiced by a nearby customer. Wagner's bakers start work well before the sun rises each day making sure your morning starts fresh.
The Farmers Market remains open four days a week – Thursday through Sunday. The Market features an international line-up of places to eat. And there's usually music or some sort of entertainment at center stage. See you there!
You can follow the Olympia Farmers Market on Instagram, Facebook and Twitter or through email newsletter sign-up.
Sponsored