One of the hardest parts when facing a new or emergent illness is the unknown. We're surrounded by sites offering the latest news, studies, predictions, and cures but finding solid information can feel like hunting a needle in a haystack. When it comes to the monkeypox virus (MPV), Thurston County Public Health & Social Services provides frequently updated, real-world details via a dedicated online portal. Monkeypox is a viral illness that causes a rash and can be spread through close contact between people, respiratory droplets, and contact with items that have infectious material on them.
Tracking Monkeypox Trends Nationwide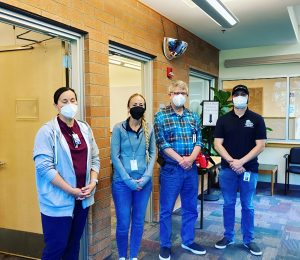 Thurston County reported the first presumptive monkeypox case in a Thurston County resident on September 9, 2022. So far, in addition to the case investigation the county has created informational material for the public, provided educational support to providers and pharmacies, as well as reached out to facilities and community-based organizations to share information about symptoms of monkeypox, isolation guidance to prevent disease spread, epidemiology of disease, testing, treatment and vaccination. Thurston County Public Health continues to communicate with providers in the area and community programs to assess needs and supplies for patients needing care. Although, it's still early in the process, the county has focused on educational direct service through vaccination, and support to providers throughout the county.
Thurston County Monkeypox Response
Recently, the county has been conducting vaccination clinics for those most at risk. Thurston County PHSS works very closely with the Washington Department of Health for a unified response and collaborate with neighboring counties according to guidelines from Washington Department of Health.
While many individuals infected with the monkeypox virus have a mild to moderate, self-limiting disease course without specific therapy with symptoms resolving in two to four weeks there are some groups that are at higher risk for severe disease including people who are immunocompromised, children especially those under age eight, people who are pregnant or breastfeeding, people with certain skin conditions and people experiencing extensive rash. Thurston County Public Health and Social Services is prepared to support to providers with patients who are at increased risk for severe disease and need tecovirimat (TPOXX) an antiviral medication that has been used to treat the family of viruses that includes the monkeypox virus and has been recommended for use in these cases.
Monkeypox Vaccine Options for High-Risk Patients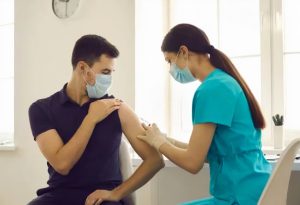 There are vaccines available for individuals who have had close contact with someone who has had monkeypox as well as people who are at high-risk for becoming infected. For people who have been exposed to someone with monkeypox getting vaccinated within fourteen days is recommended as getting vaccinated within the first four days after exposure gives people the best chance of not getting the disease and getting vaccinated between four and fourteen days can significantly reduce severity of symptoms if someone becomes ill.
Health officials do not currently recommend vaccination for members of the general public who are not at high risk of recent exposure to monkeypox. The eligibility criteria may evolve with changes in the outbreak and vaccine supply. Eligible Thurston County residents can call 360-867-2610 to schedule an MPV vaccine appointment.
Keep Updated on Thurston County Public Health
Find current, frequently updated, locally relevant information about monkeypox on the PHSS website. You can also see more about the State of Washington's response via the Department of Health or national statistics from the CDC.
Monkeypox is getting plenty of buzz these days but there's another virus on the horizon we shouldn't ignore. It's seasonal influenza time and that means flu shots. Flu vaccinations are encouraged for everyone over the age of six months and especially those at risk of developing complications. These include those over 65, pregnant and breastfeeding women or those with certain medical conditions like asthma, diabetes and chronic lung disease.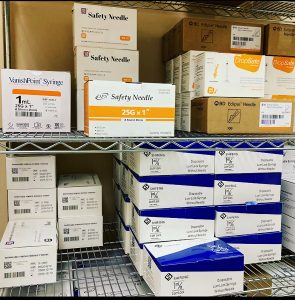 During the mask mandates associated with COVID-19, flu cases dropped tremendously but they're on the rise again this year. The flu kills more than 35,000 Americans annually and hospitalizes more than 200,000. Readily available vaccines are given through pharmacies, clinics, doctor's offices and grocery stores throughout Thurston County, often for free.
The Washington State Department of Health offers a statewide Influenza Update with information on strains, trends and regional statistics. They suggest getting vaccinated by October to protect your family and loved ones over the holidays. In our state, all children under the age of 19 can receive flu vaccines at no cost, regardless of their insurance status.
Read through the CDC's list of warning signs that it's time to seek medical care immediately and stay home for at least 24 hours after any fever is gone to avoid infecting others. Dig out those extra masks if you must head to the store and wash your hands frequently and thoroughly.
PHSS also posts updates to their social media feeds so follow them on Facebook, Instagram and Twitter. Call 360.867.2500 with questions and stay safe out there.
Sponsored