Imagine a 10-minute drive from the hustle and bustle of Olympia, leaving behind freeways and traffic lights, transitioning into a tree-lined, two-lane ribbon of road, leading out to one of the most peaceful, picturesque neighborhoods in Thurston County. This is the drive to Boston Harbor.

Sailing, marina life and lighthearted get-togethers are some of the locally reported benefits of living in the close-knit seaside neighborhood. Welcoming in visitors and new residents with open arms, the little community is genuine with its smiles and hellos. Boston Harbor is on the east side of Budd Inlet where the peninsula bumps out and the waterways widen. Bobbing sailboats and broad bay windows look toward the Olympic Mountains and Squaxin Island.
Boston Harbor True Sense of Community
The word community comes up a lot in Boston Harbor, and several families have moved to the area just for that. The harbor life, semi-rural atmosphere and a sought-after elementary school are all separated from the busy life of big towns.
"We moved here three years ago from Kentucky," resident Kris Shera says about house hunting for his family. "I just looked at a map on the first day that I had. It was February when I came out here. It was drizzly. The weather was not particularly nice. It was cool, but I saw the marina, the sailboats, the surrounding community… I went inside and saw that they had a nice little grocery store, a little TV to show Seahawks games, beer taps… I called my wife immediately and I said, 'We need to live here.'"
Every home in Boston Harbor is unique. Style, craftsmanship and history show in the architectural choices. Waterfront homes soak in the view. Hints of beach life show with canoes and kayaks in some yards and in the greyed cedar shingle siding. Streets are narrow without sidewalks but are calm enough for taking walks. Historic, modern and cabin cohabitate well together. Custom homes are nestled back among the mature trees and peek out at the water.
Shera and his family looked at other communities but wanted to live in Boston Harbor. "The reason we wanted to live here is that there is a real sense of community," Shera continues, "and that's really hard to come by sometimes. Where we lived in Frankfurt, we had a similar tight knit community. It was a place where you could go and run into the same people and talk about work, talk about weather, talk about sports or whatever. You feel there is a sense of community here, and there's just enough quirkiness to keep it interesting."
Boston Harbor Social Life
The Boston Harbor Marina is a magnet for gathering, socializing and entertainment. "We have Friday Nights at the marina with local bands and local breweries Memorial Day through Labor Day," co-owner Kate Gervais says. "In the off season, it's mostly neighbors. We do a trivia night once a month and wine tasting once a month. We have Christmas caroling on the deck and a haunted house. We also have a lounge area in the back where the beer is and a fireplace inside, but most events are those we do out here on the deck with heaters." 
The community atmosphere echoes. "Even if you don't live here, if you come down to the marina, it's a really welcoming, low-key spot for you to hang out and get some good food, have a drink and play in the water," Boston Harbor resident Emily Waugh says. "It's very approachable and friendly. If you live here, you'll end up seeing lots of people you know. People just talk to one another out on the beach, and their kids play together. It's sweet and almost feels like a throw-back spot where life was a little simpler and the world a little bit less stressful. It's got a small town feel but it doesn't make it exclusive in any way."
Another hub of communication and activity, the Gull Harbor Mercantile, also known as "The Merc," is both charming and extremely handy. One can find last minute grocery items, rent a DVD or pick up a secondhand book. Endearingly, locals call in to request birthday message postings on the roadside reader board. With grocery aisles on a scale small enough to give a hello and wave across the store, the Merc leaves visitors feeling nostalgic for a neighborhood to call home and locals thankful that it is.
Boston Harbor Residents Get Out and Get Involved
Residents appreciate and invest in their community. The Boston Harbor Association represents locals regarding public matters of development and improvement. They also organize various neighborhood activities such as the annual community garage sale. Sewer Sisters of Boston Harbor holds a garden tour every other year so neighbors can have a closer look at the group's yards. The Boston Harbor Green Bag Project collects food bank donations through local volunteers as well.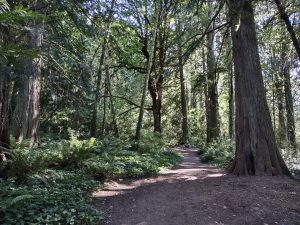 Residents and visitors get out and about at Burfoot Park. It's a combo of grass, playground, picnic shelters and barbecues with trails that span 50 acres. Shaded in massive trees and lush with ferns, dirt paths wind through the park providing a rainforest experience close to home. Trails, steps and wooden pathways meander down to 1,100 feet of saltwater shoreline along Budd inlet.
Burfoot Park and Boston Harbor represent what makes Olympia and the Northwest unique, offering natural beauty and a great place to take a deep breath and relax. Ready to move? Contact Greene Realty today via their website or by calling 360.528.4160 to find your dream home in this friendly neighborhood.
Sponsored