When families and survivors of domestic violence are in need of support, frontline help points toward the Family Support Center of South Sound (FSCSS). Whether providing emergency shelter or partnering with a family to navigate re-housing, FSCSS is a one-stop-shop, serving more than 4,000 parents, children and survivors of domestic violence every year with a variety of programs and services which support families in being healthy, safe, and hopeful. Partnerships build more partnerships, and the upcoming Family Support Center's 30th anniversary celebration is an event that will propel the energy and effectiveness of what those collaborations can do.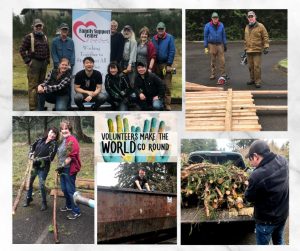 'There's No Place Like Home' Auction and Dinner Planned for the Family Support Center 30th Anniversary Party
Family Support Center of South Sound will celebrate its 30 years of service with a dinner and auction event on September 24 at the Lacey Community Center. The "There's No Place Like Home" event will feature guest speakers and stories from families who, with the support of Family Support Center, have moved into homes of their very own.
"We are excited to bring everyone together," FSCSS Executive Director Trish Gregory says, "to have all of our partners in one space, to celebrate that we are hitting our 30-year anniversary and to also raise funds for our programs and services that are really needed."
Lack of affordable housing and voucher holders with no place to spend them are big issues faced by community members. Attendees can look forward to Marv's Marvlus Pit BBQ food, raffle tickets and auction items including local business and restaurant gift certificates, date night packages, and artwork. Individual tickets are $75, and a table purchase is $750. Tickets can be found at the Family Support Center of South Sound website. Volunteers, auction items, and sponsors are always welcome! Contact Maija Glasier-Lawson at maijag@fscss.org to support this event or if you have any questions.
Supporting Families for 30 Years with Thurston County Resources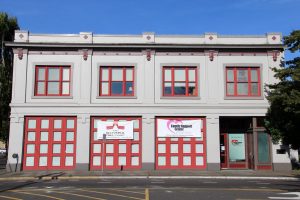 Family Support Center first opened its doors in 1992 in the fire station building on the corner of State Avenue and Capitol Way in Olympia. Though smaller in scale, they were a hub of connectivity then too, with resources on site providing direct provisions and connecting people with the right local entities to meet their needs.
By 2002, FSCSS was operating the Emergency Shelter Network connecting callers to available shelter option and doing intake and placement for the single women's overflow shelter, collaborating with Interfaith Works who had to rotate the overnight-only, shelter location every two weeks. Over time the program began seeing more and more women with children seeking shelter.  When the only existing family shelter in the County operated by Salvation Army unexpectedly closed, FSCSS building on the experience supporting the overflow shelter stepped in to fill the gap, opening its first year-round family shelter in the basement of First Christian Church.
In 2014, FSCSS opened Pear Blossom Place, increasing service to 24-hours a day and providing families with a suite complete with kitchen and bathroom as opposed to a designated mat on the floor of a shared common area.
"When the opportunity arose to open an additional shelter, Family Support Center stepped up again," Gregory says. "We opened an additional shelter in the Family Support Center campus that serves up to 10 people at a time, and there were still families sleeping in their cars and didn't have homes despite the fact that there were two family shelters. So, we started a hotel program where we can provide hotel vouchers for families with kids, and we have staff on site to support their needs while they are there."
In 2012, Family Support Center, in partnership with the Thurston County Clerk's Office, Thurston County Sheriff, and Thurston County Prosecuting Attorney's office opened Washington states second ever Family Justice Center program providing co-located and collaborative supportive services for survivors of domestic violence, sexual assault, stalking and human trafficking bringing more community partners onsite and eventually pushing the organization to outgrow its downtown location.
In 2017, Family Support Center started its search for a new home. Despite having little money in the bank, FSCSS was successful in hatching a strategic plan to come up with a down payment and the ongoing operational funding needed to purchase a vacant lot and the 35,000 square feet of office space, which is now the Family Support Center Campus. City of Olympia contributed $400,000 in CDBG funds which served as the down payment and initiated FSCSS's journey of developing affordable housing on the site FSCSS strategically invited partners who provide a direct service to families to rent space within the campus at below market rent.
"It really is a win-win-win for our community as it supports our partners in saving on rental costs, the income that the rent generates covers the operations of the facilities and our mortgage, our families gain access to so many more services than our organization could offer alone and we get to enjoy the benefits of owning our own space." Says Gregory.  Currently more than 15 provide organizations share space at the campus providing child care, legal services, support for veteran families, mental health counseling, parenting assessments and support, volunteer opportunities, volunteer chores, domestic violence services, human trafficking support, parent leadership opportunities, play and learn groups, support groups and more.
Rotary Supports New Developments at the Family Support Center Campus
Family Support Center now has a new childcare facility onsite. A Washington State Department of Commerce early learning facilities grant and legislative proviso made necessary renovations possible to develop a partnership with Olympia Learning Center. Olympia Learning Center, who owns and operates the childcare, in exchange for FSC footing the renovations bill has designated a minimum of 30% of the planned 96 spots for families with a working connection childcare voucher through DSHS. The site also has a new playground thanks to the 750 volunteer hours worked by multiple, local Rotary groups who also pooled their resources to offer a $20,000 joint grant paired with additional district level funding.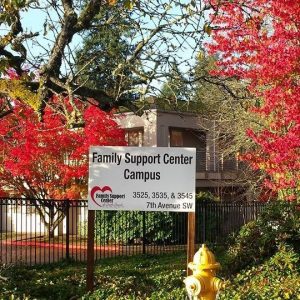 More growth is happening with The Landing, which is phase one of two, with 62 affordable housing units due to open October 2023, just across the street from the main FSCSS campus. "Our most immediate future plans are continuing housing development," Gregory says. "We recognize that we have a lack of housing opportunities in our community. The vacancy rates are really low, and it's an opportunity for us to fill that need. We anticipate that as soon as this one is built, there will be a need for more. We have a second phase planned. Beyond that, we will continue to fill gaps as we see them in the community." Phase two will provide at least an additional 62 units.
With each added layer of community support, Family Support Center expands on its original idea of creating a one stop shop for families. To learn more about the Family Support Center or inquire about services, visit the Family Support Center of South Sound website. For more information about the upcoming anniversary celebration, visit the event registration page.
Sponsored