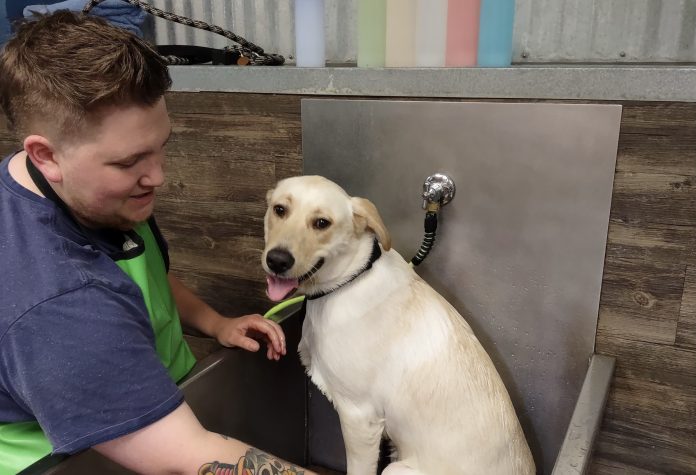 When your dog needs a bath, you can add a local self-wash location to your list of options. Aside from using your own bathtub or hiring a professional grooming service, self-wash dog places in Tumwater, Rochester and Olympia are an efficient alternative. Never been? Here's how it works. After a jaunt at the dog park, or whenever a bath is due, walk your dog into one of these local pet supply shops. Suds up with their shampoos and tubs. Towel off and groom your dog with their tools. Walk out with a clean dog.
Animology
3415 Pacific Avenue SE #F2, Olympia
360.956.9797
Animology is available for self-wash services by appointment. There is a tub with steps that's big enough for a person to walk into if a dog needs some coaxing. Animology does provide body and face soap, but customers can also purchase shampoo or bring their own special type. For more information about Animology's pet supplies, grooming services and self-wash appointments, give them a call, use their handy, website chat feature or send a message through the Animology Olympia Facebook page.
The Feed Bin
7505 183rd Avenue SW Unit A, Rochester
360.273.7440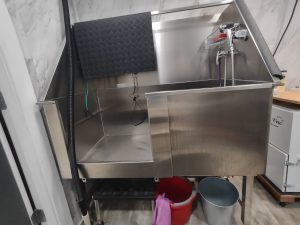 The Feed Bin self-wash is not just for dogs, but most other pets too, excluding livestock or chickens. Have two dogs that need a bath that day? A discount for additional pets makes this a good option. Washes are by appointment and priced by weight. Customers may bring their own supplies, but towels, combs and brushes are provided. Standard shampoo is also provided, but a variety is available for a bit extra.
The well-lit, air-conditioned washroom has a spacious, step-up stainless-steel tub with a spray nozzle hose. Rubber mats are on the floor and in the tub. A tether and collar are available, so your dog's own set doesn't get wet. A foot pedal adjustable grooming table, equipped with an air dryer, is also in the washroom.
A groomer utilizes the same space if you decide that you don't want the DIY experience after all. Check out The Feed Bin website for required forms, pricing specifics and helpful pet owner information. The Feed Bin also carries pet food, livestock feed and more.
Fluffy and Floyd's Pet Supplies
5211 Capitol Boulevard, Tumwater
360.584.9500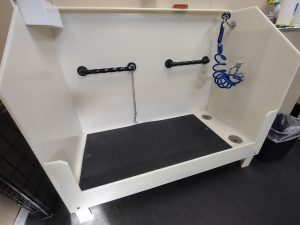 Fluffy and Floyd's Pet Supplies has two large dog wash tubs and provides all the necessary items. Their large, brightly lit washroom is nicely separated from store activity, and policy keeps occupancy to one animal in the room at a time. Both are advantages for dogs who may not be comfortable with socializing on top of their trip to the bath. One tub is elevated with a ramp for dogs to walk up. A second tub is a low to the ground, step-in style for large dogs. The washroom floor, the ramp and the tubs are covered in rubber matting for non-slip and comfort. A caddy on the edge of each tub holds the wash bottles close and easy to grab.
Fluffy and Floyd's provides customers with ear wash and shampoo and conditioner choices such as oatmeal and aloe; hypo-allergenic; de-shedding and conditioning; degreasing; de-skunking; anti-itch; flea and tick, and more. Clean towels and grooming tools are available. For a final step, professional air dryers are ready at the grooming tables. The room is thoroughly cleaned after each dog is washed.
Pricing is done according to dog weight, and the washroom is available by appointment. Patrons will find a knowledgeable and friendly staff and a variety of pet supplies such as treats, food, toys, beds, collars and more.
The Pet Works
407 4th Avenue E, Olympia
360.489.0134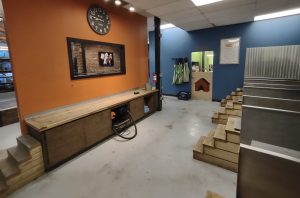 The Pet Works in downtown Olympia allows for walk-in dog washes during regular business hours, until the last hour of the day. The wash area is inside the pet store, between the treats, food and reptiles on one side and aquatics on the other. While often quite busy on the weekends, waits are not long as they have five tubs available. Grab one of the aprons and pick a tub.
Wash tubs are at a convenient, waist height, good for easily reaching your dog, but not too high if washing a small dog. Dogs simply walk up the wooden steps onto the long, wood plank bottom of the stainless-steel walled tub. A metal ring located near the tub drain is there to tether dogs in place, keeping them standing close and not able to jump up or out of the tub. Color coded shampoo bottles are lined up and within reach. A handy poster on the wall indicates the six types of shampoo, some for dry and some for sensitive skin. Towels are also within reach, right above the tub.
To dry off, dogs walk up another set of steps and hook up to another tether for blow drying on an elevated platform making your work easier. Grooming tools are available for borrowing. If you decide you are not up for doing a self-wash, inquire about The Pet Works grooming service. On the way out, you can pick up food, treats, toys and other pet supplies.