For most people, weekends are a time of joy and relaxation. Maybe watching favorite shows, resting or spending time with family and friends. For others, it's time to put on work gloves and clean up our city's precious local habitats! The City of Olympia Volunteer in Parks program has hosted volunteer work parties most Fridays and Saturdays, year-round, for over 20 years. Thanks to their efforts, we all get to enjoy beautiful, healthy parks and trails. Want to pitch in? Everyone is invited to help!
Park Stewardship Team Organizes Work Parties
The City of Olympia maintains more than 1,340 acres of park land, including community parks and trails open for anyone to enjoy. Because there is so much area to cover that needs work, a dedicated network of City of Olympia volunteers fills the gaps that the hired staff don't cover.
The Park Stewardship staff members who help organize the volunteers are a small group, but no less committed. Rain or shine, they are out cleaning up the parks alongside the volunteers with grins on their faces and shovels in their hands.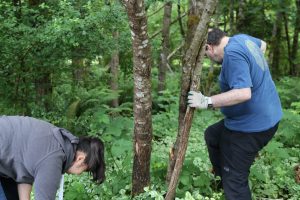 Program Specialist Jennifer Gessley Gayman has been working for the program since 2014. "The appeal of educating youth from all backgrounds and experiences in environmental restoration and creating a spark of interest in the outdoors using community service as a platform within this community was a dream come true," Gessley Gayman shared. She does her best to bring fun to the work parties. In fact, she made her own bee costume to wear to the work party during Pollinator Week.
The staff certainly bring life to the program, and people love helping out because of it. "Last year, along with our weekly volunteer work parties, Adopt A Groups, and the partnership of the Washington Trails Association," Gessley Gayman reports, "we had over 1,700 volunteers work over 10,500 hours! That is a first for our program, and would not be possible without the support and collaboration of organizations we partner with."
Get Involved with Olympia's Volunteer Park Cleanup
Interested in volunteering in Olympia? Opportunities to help keep the city's parks beautiful are plentiful for people of all ages. Adults 18 or older can become forest stewards, neighborhood park/garden stewards, or trail stewards. These Park Stewards commit to volunteering at least four hours a month, clearing trails, repainting benches, picking up litter, and generally maintaining the parks for everyone to enjoy.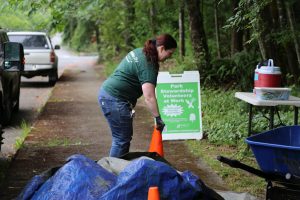 And then, of course, there are the work parties. "The program is truly for anyone and everyone," shares Shannon Millam, park steward assistant. "We welcome families with kids too! As long as a parent waiver is signed beforehand, children of any age can participate. Sometimes, we even have high schoolers come and help out who need volunteer hours. They are some of our hardest workers, and we try to make it fun for them." She became involved in the program last year after working for the City of Olympia.
To make volunteering even more convenient, the City of Olympia provides all the tools and even extra work gloves, along with light refreshments. Sometimes there are themed work parties, like the Pollinator Work Party at Friendly Grove Park in June. These themed days have tables set up with helpful flyers, button making machines, and crafts. But even with all the fun, the main focus is always improving the parks for the rest of the city.
Volunteer, Help Olympia Parks, Meet New People
At a recent volunteer work party at Burri Park, a mix of college students, local residents, regular volunteers, and hired staff show up to help. Their goal this particular day was removing invasive plants and re-graveling a trail. Looking out over the forest, invasive plants snake through the undergrowth. Though daunting, the hardest part is simply beginning the task. Conversation flows freely while everyone starts grabbing shovels and putting on work gloves.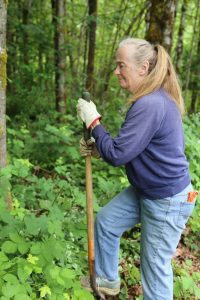 The volunteers come in all shapes and sizes. One volunteer, Roberta Woods, has been attending these work parties almost since its inception, for more than 18 years. "I wanted to give something back to the community," she says. "These parks are half overgrown with nonnative species that take over our local parks, such as the wild yellow archangel, English ivy, scotch broom, and Himalayan blackberry. Many of these invasives don't stop growing in wintertime, unfortunately. They reproduce, covering the trees, and sometimes can end up pulling the trees down."
While progress may seem slow, weeks of these efforts result in safer, cleaner parks for the rest of Thurston County. "I definitely recommend volunteering here for anyone interested!" Wood shares. "It makes me feel good to be outside, even when it gets rainier in the winter and fall. Especially then!"
"We rely on our volunteers," adds Millam, "And it's cool how many people do volunteer and are passionate about this. We're lucky to have a group of super committed volunteers, like Roberta, who take time most weekends to come and help. Again, we welcome everyone."
Join the Fun Volunteering Outdoors in Olympia
The City of Olympia Park Stewardship Program will keep hosting work parties throughout the year. Come sign up on the volunteer website and join the community!