Education opens the doors to endless futures, doors that should be accessible to all. The South Puget Sound Community College Foundation took this idea to heart when they created the Student Success Fund with the goal to make sure that all SPSCC students have access to education that is innovative and affordable. If you're over 21, you can help them in their cause while sharing some drinks and great music with friends at The Party on August 19. The night will be a celebration of SPSCC's 60th anniversary, and the Foundation's 40th while benefiting the Student Success Fund. Get your tickets now!
Head to the Tumwater Craft District where the gates open at 4:30 p.m. Plenty of time to grab a drink or two and find some delicious food before the first musical guest performs. Olympita, Lava Bowlz, Flaming Pig BBQ and The Port taco truck will have something for every craving. You just might decide to have a progression dinner and sample something from each! Be sure to save room for dessert, Sweetlee's Ice Cream will be there with all your favorites, including dairy free sweet treats for all.
Quench your thirst with beer and cider provided by South Puget Sound Community College's very own label, Percival Creek, and find out just what students are brewing up. Heritage Distilling will also be serving pre-mixed cocktails. "We will also have a few beer varieties from some fabulous local breweries who are great partners in our program and have hired our alumni," shares Kelly Green, executive community relations officer for SPSCC.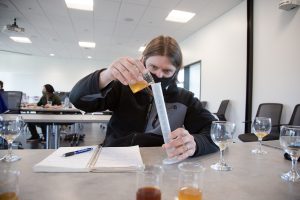 At 5:15 p.m., get ready for some incredible jazz by Chief Ahamefule J. Oluo and his All-Star Band. Oluo is an incredibly talented trumpeter based out of Seattle. Then at 7:15 p.m. get ready for the diverse sounds of Sammy Rae & Friends. They play a mix of classic rock, folk music and even funk, with some jazz undertones. They are unlike anything you've heard – with rhythm and horn sections, keyboards and more – you're going to be on your feet dancing all night.
South Puget Sound Community College Student Success Fund
The Party is a night to celebrate the success of the Student Success Fund and to continue to grow it for future students. "In 2019, the SPSCC Foundation embarked on its largest ever fundraising campaign to grow our Student Success Fund," shares Green. "Despite the pandemic, the campaign has been tremendously successful and we hope to reach our campaign goal this fall. So, we are celebrating the winding down of that effort."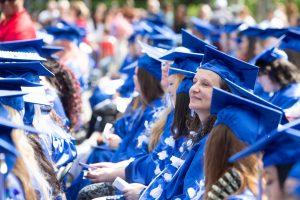 The Student Success Fund is a way for the SPSCC Foundation to provide financial aid to students for things like textbooks and tuition, as well as other essentials like food, loaner laptops, textbooks in alternative formats including braille, adaptive equipment, tutoring, learning disability diagnostics and more. These are available through several programs the Fund supports, including IGNITE, Black Scholars, Food Pantry and Accessibility Services.
2022 also marks the 60th anniversary of South Puget Sound College and the 40th anniversary of the South Puget Sound Community College Foundation. The Party is a way for SPSCC and the Foundation to mark these special milestones and thank those who have supported them. "When SPSCC was established in 1962 – then called Olympia Vocational Technical Institute – we served fewer than 400 students," shares Green. "Sixty years later, we serve more than 6,000 students every year and serve our community in many, many ways. The SPSCC Foundation has been critical to helping us grow by providing resources and support for our students. It has grown exponentially since 1982 thanks to support from generous donors, alumni, and volunteers throughout the community. The Party is our way of thanking and celebrating everyone who helped – and continues to help – SPSCC and our Foundation to complete our mission: amplify student success."
Tickets for South Puget Sound Community College's The Party are available online and include two beverage tokens. Additional drinks can be purchased. Proceeds to go the Student Success Campaign. Send your summer off with a fun shindig that supports the students of all backgrounds having access to higher education – and get some incredible entertainment, food and drinks for yourself!
The Party
Friday, August 19, 2022
4:30 p.m. – 8:30 p.m.
Tumwater Craft District
4200 Capitol Boulevard South, Tumwater
Sponsored