The Thurston County Fair is here and that means five days of fair food, carnival games, concerts, vendors, and – perhaps most importantly – 4-H and FFA projects. These kids have worked hard all year to get ready for the Fair, and they are ready to show off their hard work for you and the judges. For two seniors, Alaina Houser and Rachael Leber, this last fair is going to the dogs, literally.
Alaina and Rachael both graduated high school this year, meaning the 2022 County Fair will be there last one as 4-H members. Alaina is a member of the Steamboat Island Kibbles & Bits 4-H Club while Rachael is a member of Diamonds in the Ruff 4-H Club. "They're both really neat young ladies and amazing role models for our other members," shares Juliana Venables, Diamonds in the Ruff 4-H club leader and co-owner of Venables Pest Management. "We do a lot of team building and fun activities for our members throughout fair and they've teamed up to take the lead with all of those this year."
Get To Know Thurston County 4-H Member Alaina Houser
Alaina has been in 4-H for 10 years. "For us as a family we were looking for a sense of community and belonging," shares Michael Houser, Alaina's father on why they wanted their daughter in 4-H. "The 4-H community has brought us lifelong friends and an extended family."
ThurstonTalk: Why did you decide on dog 4-H?
Alaina: I always loved animals as a kid and I begged and begged for a dog for years. When I finally got my dog Lulu, I wanted to do agility with her. We joined 4-H and I quickly fell in love with every aspect, not just showing with my dog, but with the community and family I made."
Lulu is an approximately 12-year-old German shorthair pointer. Alaina has competed in obedience, showmanship, rally and agility with her.
ThurstonTalk: What has 4-H taught you?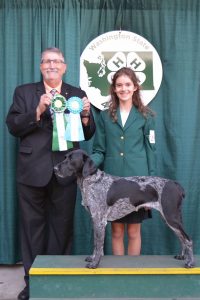 Alaina: I think one of the biggest lessons I learned was that having fun and developing relationships is way more important than winning. Competing can get to your head, but I slowly learned over the years that the placing I got didn't really matter. It's so much better to focus on the friendships and the memories than the competitive success. I've had hard losses and big wins over the years, but neither of those are my most precious memories of my time in 4-H. The memories that stick with me most are the ones where I was making friends and having fun.
ThurstonTalk: What's the most challenging thing about County Fair?
Alaina: When I was a younger member, fair was overwhelming! There was so much going on and that was probably the hardest part. Now, it's all the prep work that I put in to run activities for the younger kids. It's always worth it though. And of course, the heat! That one's hard! But overall, I think fair becomes easy because of how much fun it is. Time flies and it is one of my favorite weeks of the year.
ThurstonTalk: What are you looking forward to most at the County Fair?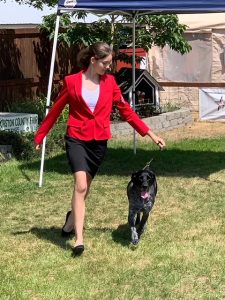 Alaina: This fair will be my last one! I'm so sad to be graduating out, I'll miss everyone so much. I'm not showing a dog this year, so I'm most looking forward to bonding with younger 4-Hers and trying to make their experience the best it can be.
Alaina will be attending Oregon State University next year to study Environmental Science.
ThurstonTalk: How do you think 4-H has prepared you for college?
Alaina: So many ways! I think 4-H has improved my social skills and ability to make friends, which will definitely be helpful in college. It has also taught me how to work hard. I've also learned a lot about public speaking as well through public presentations, oral reasoning and herdsmanship – that's when we talk to the public at fair.
Get To Know Thurston County 4-H Member Rachael Leber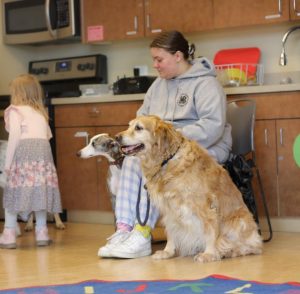 Rachael Leber has also been in 4-H for 10 years. Her parents looked into 4-H after adopting a golden retriever. "We wanted Rachael to have an opportunity to learn dog handling skills alongside other young people who shared the same interest," shares her parents, Kelly and Robert Leber.
ThurstonTalk: Why did you decide on dog 4-H?
Rachael: I decided on dog 4-H because I've always owned dogs and I really loved being around them and working with them so I thought 4-H would be really fun to join. I also loved trying new things and joining new groups to meet people with similar interests.
Rachael has shown with three different dogs during her time in 4-H, including Lilly, her golden retriever who is now 10, Saydi a 7-year-old black Labrador mix, and her current dog, a 3-year-old whippet named Poppy. She competes in as many activities as she can at Fair. Including obedience, showmanship and rally. She also loves the costume contest.
ThurstonTalk: What has 4-H taught you?
Rachael: 4-H has taught me so many different things. It has helped me become more independent while also learning that people are there to help when I need it. I have also learned valuable leadership, problem solving and people skills. I've learned how to speak in public and how to talk to people who come from many different backgrounds and ages.
ThurstonTalk: What's the most challenging thing about County Fair?
Rachael: The most challenging thing about fair is dealing with the heat. The heat is no one's best friend and especially not when it's one of the most stressful weeks of the 4-H year. The stress of competing along with the importance of making sure the dogs are watered and taken care of can get very hectic.
ThurstonTalk: What are you looking forward to most at the County Fair?
Rachael: The thing I'm most looking forward to at fair this year is getting to experience a normal fair one last time. The last two years, fair has looked extremely different than it will this year. I'm excited to get to go through the same fair I had in my first years. It feels like a nice little send off for my last year.
Rachael plans on attending Western Washington University to study English with a creative writing concentration and a minor in French.
ThurstonTalk: How do you think 4-H has prepared you for college?
Rachael: 4-H has taught me a lot of things but the one I think is the most important for college is definitely people skills. To me, being able to communicate with people is the best way to succeed in anything you do. 4-H is the place where I have learned how to be confident in talking to people and has taught me different ways to do it.
Head to the Thurston County Fair and meet Racheal, Alaina and all the other 4-H and FFA members. You just might learn something and discover a new interest! For more information about joining 4-H, visit the Washington State Extension Office website.