Now is the time to get in on the fun at the Hands On Children's Museum's (HOCM) Summer Splash! Festival. It's a summer full of non-stop special activities designed to stimulate bodies and brains that both children and adults will love. Do you have a fondness for falcons or dream of meeting a princess? Whether you are a painter, puppet enthusiast or an animal lover, there are special days and programs for everyone all summer long thanks to WSECU.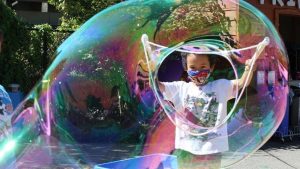 Throughout July during Bubble Mania guests can create bubbles of all shapes and sizes, even ones large enough to stand inside. Search for fossils and gems using water and a sifting box at the Treasure Sluice. Make a Mud Pie on Mondays, explore Kitchen Tools on Tuesdays, and skate in your socks every day. Show up for great summer fun all of July, August and even into September. "We give families a new adventure every week," says Beth Garson, marketing and communications senior manager.
Summer Splash! at the Children's Museum also features several days with special guests through the summer, you will want to get your tickets now for multiple days of fun! Special guests are sponsored by Small to Tall Pediatric Dentistry.
July 6 and August 31: The Falconer
John Prucich brings birds of prey, like a great horned owl and falcon, for a fascinating meet and greet. Learn about the many ways these magnificent birds are integral to our environment. "The kids are so focused as John interacts with them," says Visitor Engagement Manager Madison Peters, who has seen him in action.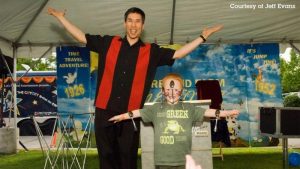 July 9 and August 28:  Magician Jeff Evans
Mixing magic with science, be prepared to be wowed by local favorite Jeff Evans. "I don't reveal secrets, but the science is equally amazing, and I can show and tell," says Jeff. Jeff performs for all ages and loves to see children light up with their excitement. In between shows, he will be wandering the grounds, interacting with guests and giving up-close demos.
July 11-17: Solar Days

Enjoy a week filled with activities powered by the sun. Play with or connect solar circuits for free or make your own solar-powered bug for $12. Then watch as sunlight creates a cool chemical reaction when you place leaves and flowers on special paper to make solar prints. Make a tiny greenhouse necklace while you wait for the print to develop. Olympia Community Solar will be on-hand with solar-powered toys on Saturday, July 16.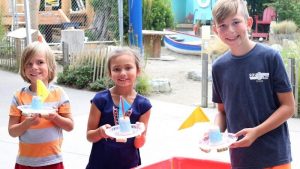 July 15-22: Sailboat Regatta
Ahoy, Sailors! Make your own miniature boats and sails with upcycled materials and then set sail to test if they are seaworthy. The event is sponsored by Dairy Queen in partnership with the Olympia Yacht Club.
July 15-16, August 17 and September 2: Olympia Beekeepers Association
"It really fun to see the observational hive," says Madison. You are eye-to-eye with the bees and will learn about the role they play in our world. We wouldn't have much food without them!
July 23-24: Rick Hartman School of Toys
Educational toymaker Rick Hartman brings his captivating School of Toy workshop to the Outdoor Discovery Center for two days of creative fun. Kids will use science, engineering, and math to design and create their own wooden toy to take home.
July 23 and August 6: Costumed Characters
The costumed Brave Princess will be in full regalia for everyone to meet. What a great photo-op! The activity is paired with archery. "The kids go crazy for our costumed characters," says Madison. Meet the Wayfinder Princess August 6.
July 25-28: Puppet Building with String & Shadow Puppet Theater
Meet members of the local String and Shadow Puppet Theater and learn their tricks to puppet building. Kids will create their own upcycled puppet to take home in this workshop.
July 29-30: Nature Painting with Artist Isobel Coney
Try your hand at creating natural paint and dyes from the contents of your refrigerator with Isobel Coney. Learn how to use red cabbage, spinach, beetroot, carrots and other fruits and vegetables to make paint and then create an original artwork. Isobel is an experienced outdoor art educator.
July 30-31: LEGO Build with Dan Parker
Join professional LEGO builder Dan Parker for a fun two days creating castle landscapes. Learn about castle architecture as you develop new skills and ideas alongside other builders with over 150,000 LEGO pieces on hand. Kids under four can also enjoy a toddler-safe castle play area. Dan will be working alongside his builders. "Learn his tips and tricks, ask questions, and take a photo with him" says Beth Garson, HOCM marketing & communication senior manager.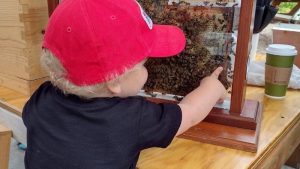 August 5: Animal Encounters: Petting Zoo
Though rural and farm areas surround Olympia, many have never gotten close to an animal other than a dog or cat. Now is your chance! Meet chickens, rabbits, goats and other cuddly creatures, 11 a.m. to 7 p.m. This event happens on the First Friday, which means people can get admission into the Museum for $1 each from 4 p.m. to 8 p.m.
August 12-13: Climbing Wall
Test your skills on a 25-foot rock climbing wall. "This is always a big draw," says Beth. "Some kids are fearless and race straight to the top. Others are more cautious, plan every step and get a huge boost in confidence when they make it to the top." Kids get harnessed in, have spotters to safely climb the wall, and get to ring the bell at the top.
August 18-20: Artist Mimi Williams
Local artist Mimi Williams works exclusively in linoleum cut block printing. She'll be sharing her skills and expertise with guests in this fun interactive workshop. The Museum is excited to offer several artist workshops this summer including block printing, puppet making and natural painting, through their Artist in Residence series sponsored by the City of Olympia.
August 24 and September 2: Native Storyteller Itsa Shash
"Itsa is so expressive and engaging, you get caught up in his stories and enjoy helping bring his words to life" remarks Madison. You might find yourself stomping like a bear or standing tall like a tree. He's a storyteller, poet, musician and vocalist, sponsored by Nisqually Tribe.
Check out the Hands On Children's Museum website for all the details, then mark your calendars for all the fun days ahead. The museum has 26 different programs to assist families with entry fees. Those with EBT cards get the first two people free and additional family members are $2 each. The first Friday night of each month allows people to visit from 4 p.m. to 8 p.m. for only $1 apiece. For families with a stimulation sensitive child, there is a low sensory, quiet room, available Friday through Sunday and the Museum opens early for Sensory Friendly Hour at 9 a.m. on Sunday mornings, presented by Premera.
Bring your family and visitors to the HOCM Summer Splash! "It is a bright spot in our community and creates joy for people of all ages," says Dr. Maureen Callender of Small to Tall Pediatric Dentistry, special guest sponsor.
Happy Adventures to all.
Hands On Children's Museum
414 Jefferson NE Olympia
360.956.0818
Sponsored