Shuddering at the thought of fuel prices? Taking an Intercity Transit bus or joining one of their vanpools is the first step in alleviating the burdensome cost of driving your individual car. As you return to work or develop a hybrid work schedule, calculating transportation costs back into your budget can have a big impact. Instead of adding up how much it will cost to drive your own car, add up how much you won't have to spend when riding the bus or by joining a vanpool. The savings are astonishing.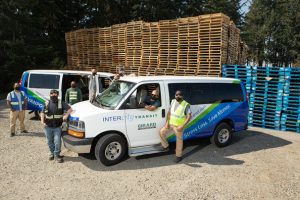 Gas prices alone can account for a significant portion of car commuting. Include insurance premiums, finance payments, maintenance and repair fees, stressful driving and pollution concerns to the mix, and it can be overwhelming. Average car owners spend $9,666 a year, or about $805 monthly, and Thurston County gas prices are $5.50 per gallon according to AAA. However, gas, insurance, maintenance and repairs are all covered when taking the bus or vanpooling.
Trying out Intercity Transit options is easy too. Taking the bus is as easy as locating your nearest route. No need to bring money since their zero fare means no slow down or hassle with coins or passes. Trying out a vanpool is also convenient with many pre-existing groups, and the first month fare is free of charge.
In addition to the reduction of the financial worries of individual transportation, you can add peace of mind to the list of benefits. When you take your car off the road, you know you are reducing your carbon footprint. Overall safety increases 10 times compared to driving your own car, and riding in the HOV lane makes for a smoother and faster trip. Stressing over finding and paying for parking is eliminated too. Time during the commute can now be spent reading, relaxing or tidying up a bit of work before the workday starts or ends.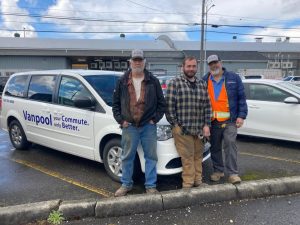 Starting a vanpool group of your own is as simple as having just three riders to share a van to start with the intent that ridership will increase over time. Stephen Little, along with brother-in-law and nephew, Rob and Nick Thomsen, started their own vanpool. Already working at the same destination together was the easy part of the equation. Round trip, the group drives 99 miles each day from the Rochester area to Pacific Welding Supply in Tacoma. Saving commute costs is where the numbers add up. Little estimates he saves around $200 per month not including wear and tear by participating in the vanpool and not driving his car. Rob does most of the driving, but with Little as an additional listed driver, there's always an alternate. A homeward bound stop at the grocery store fits into the trip smoothly because the location is along the same route for everyone in the vanpool.
The savings are even greater for participants whose employers, like Joint Base Lewis McChord, pay for all or a portion of their cost to commute in a vanpool. Michael Kyser, supervisor of the environmental health service at Joint Base Lewis-McChord Department of Public Health, introduces new employees to the vanpool program as part of their orientation. "It saves you on insurance and reduces the wear and tear on your vehicle. There's an easily accessible meeting place, and we have the route set up so we can drop employees off at their work sites." Intercity Transit can help direct interested riders to a pre-existing group if they don't know other people who share their own route.
Kyser first started ride-sharing with Intercity Transit in 2009. Acting as coordinator, he was also the bookkeeper and primary driver of a van for about 10 riders. "All you have to do is find somebody in your community that matches your working hours and will be vanpooling to the same place." Prospective riders are put at ease with concerns such as having to leave work for an emergency and not having a private vehicle. Kyser reminds them that a taxi, Uber or Lyft cost is reimbursed in such circumstances.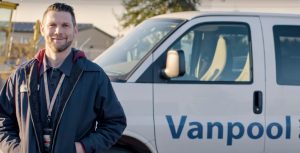 Intercity Transit has simplified their vanpool fare structure. Price points for calculating a group's vanpool fare now come from eight categories that simply list a range of miles and corresponding monthly rates. For example, a rider traveling 26 to 50 miles in a daily round trip commute, only pay $50 per month.
Vanpool and bus riders are saving significantly because when their cars are on the road less, they cost less. Intercity Transit provides all the support riders need from the van to the, insurance and maintenance, and they even provide the gas. It's easy to get started. Check out the information here to save money and stress. The only thing added to your budget might be the coffee you can relax with on your commute while someone else drives.
Sponsored