Want to dress as a fairy, stormtrooper, renaissance princess, or your favorite D&D character of your own creation? Maybe you prefer to be low-key in shorts and a fandom tank top. All are welcome at the Washington Midsummer Renaissance Faire happening the first three weekends of August 2022 in Bonney Lake. It's time to let loose and have fun as the faire has even more entertainment, vendors and activities than ever before. Not to mention the wonderful food and drinks. You're not going to want to miss it!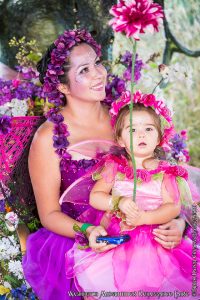 Journey to the Towne of Merriwick where Queen Elizabeth I waits to welcome you for days full of fun and merriment! August 6 and 7 come for Masquerade and Pirates weekend with lots of swashbuckling fun. Dress in your favorite pirate attire or in your finest masked ball gown. Don't miss the Queen's Masquerade Ball on Friday, August 5 at the Hammered Troll for those over 21.
August 13 and 14 is the weekend for those who believe in the fae folk! A weekend of Fairytales and Fantasy adventures await you, including a visit by Amy Brown, famed fairy artist, on August 13! She will be signing artwork and posing for pictures. Dress as your favorite fairy or fairytale character and join in on the fun. On Friday, August 12, attend the Disney-themed 21-and-over after-hours party with free face painting and karaoke.
For the final weekend, August 20 and 21, the multiverses collide for a weekend that is all about cosplay! Come as your favorite character from any time, space or universe. From Marvel to Princess Bride and Star Trek to Star Wars, you will see all kinds of incredible costumes this weekend—keep an eye out for the stormtrooper knights that come to the Washington Midsummer Renaissance Faire every year, they are truly one-of-a-kind costumes! Be sure to get your tickets for the Marvel versus DC 21-and-over after-hours party on Friday, August 19.
Washington Midsummer Renaissance Faire Schedule Highlights
Regardless of which weekend(s) you decide to visit the Towne of Merriwick, you can be sure there will be plenty to see, do and taste! Each weekend the faire schedule is packed with several stages worth of fun and there is something for every family member! Children get to be part of the show with the always popular Robin Hood & Maid Marian Present, while Chaste Treasure, new to the Washington Renaissance Faire this year, will have adults in stitches with their sassy natures and double entendre humor. And if you like fire and mystery, do not miss Broon or the IGNITION fire Troupe. IGNITION will be performing all three Saturday nights.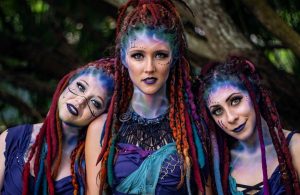 Musical acts include Mistress of Melody, who delights with her Celtic harp; Seattle-based Celtic band BOWI; Baksana, a music and dance troupe involving swords, assays and cymbals; Arden the Fiddler playing ballads and folk music from different parts of the world; and more. They will delight faire-goers of all ages every day of the faire. Heavy Hammer, a non-traditional Celtic drumming band will be at the Faire August 13 and 20 as well.
This year the Washington Midsummer Renaissance Faire is bringing back several newer acts that bring even more fun and rivalry! Raptor Events will be on hand, allowing you to get your photo taken with one of their birds at their booth in between shows. Be sure to catch their act, where you can watch these magnificent birds in action and even pet one of their ambassadors!
Sirena is an incredibly talented trio of women performers who will lure you to their stage with their incredible voices, dancing, drumming and original music. They will be performing the first weekend only.
You also won't want to miss The Distressing Damsel! Tera "supernova" Zarra is a professional strongwoman, hand-balancer and aerialist who has performed for large companies and shows, including "Game of Thrones!" Her family-friendly act includes bending steel and smashing stone.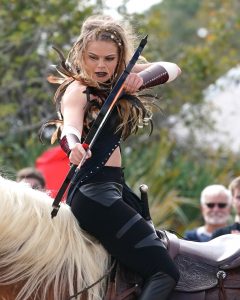 Last, but certainly not least, the Queen's joust and tournament will not be the only equestrian event this year! Equestrian Chaos will be joining the roster at The Royal Arena, bringing with them their talented horses and riders to awe you with their stunts and mounted archery.
From story times with fairies for the kids to Clergy of Errors, Robin's Risque Revels and The Fan Boys in the 21-and-over Siren's Cove, the whole family will have a fun-filled day at the Faire. Plus, Fridays and Saturdays the evenings are full of even more after-hours fun! Separate tickets are required for people who are not camping, so be sure to add those to your cart before checking out online.
Eat, Drink and Shop at the Washington Midsummer Renaissance Faire
It wouldn't be a renaissance faire without lots of amazing food and shopping! Get your turkey leg and sno cone, wash it down with mead or homemade sarsaparilla and then wander the many booths for trinkets and treasures. Didn't come in costume and feel underdressed? Not to worry! You can buy an entire outfit at the faire to suit your style, or find the finishing touches for your current garb. You will also find amazing handcrafted home décor including artwork, scents for your home and self, pottery, and iron and wood works.
Learn about archery and even pull back a bow, purchase a boffer and shield for the wee ones and let them learn the art of the sword. Get a massage or some henna and then have your hair braided or read the Tarot cards. Escape Dave Jones's Locker. The Washington Midsummer Renaissance Faire is an immersive experience that will be the highlight of your family's summer. Guaranteed.
Tickets are being sold this year by date, including the weekend passes, so head to the Washington Midsummer Renaissance Faire website and purchase yours today. Camping is available as well for those who want to stay the whole weekend. And don't forget the special after-hour events on Fridays and Saturdays. Save 25% on admission with code WMRF25.
Get Thee to the Faire!
Sponsored