Penrose Physical Therapy & Associates staff treat muscle strains, tendon problems and other common tennis-related injuries. But sometimes they might also have a patient who suffered a major contact injury from tennis, and that's what brought Olympia High School's girls tennis head coach Don Craig to the clinic a few years ago.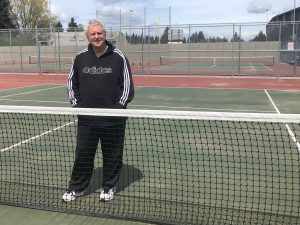 "I got a fourth-degree shoulder separation injury while playing tennis," Craig says. "It happens when your partner runs into you and then you run into a concrete wall."
Craig says he remembers the pain was so severe he thought there must be blood all over the ground, but the damage turned out to be entirely internal. After orthopedic surgery on the shoulder, he became a Penrose Physical Therapy patient to continue his recovery. At that time, he worked directly with Dr. Jennifer Penrose, physical therapist and clinic owner, who is also board-certified in orthopedics. "She did a wonderful job," he says.
Craig says the staff helped him physically rehabilitate not only from this injury but also with a later knee surgery and a subsequent compression fracture in his back. He says in all these treatments the staff helped him with the mental part of his recoveries as well, especially when he had initial fears that he wasn't getting any better. "I can still remember the basics of one of one session," he says. "They helped me mentally get through it."
"They had a connection to me, to the patient," Craig adds in describing the support he received from Penrose Physical Therapy, including from Kylie Starr. Starr is a physical therapist on the team who also enjoys working with athletes and providing therapies for post-surgical conditions. "She talked me through it. She supported me through the mental stuff," he says.
Craig describes that in one instance, Penrose staff worked with him to target exercises that would enable him to attend two important events, including a family trip to Hawaii. He says traveling down the recovery path himself, and seeing what physical therapy can do, is information he can use in coaching athletes who want to return to tennis after their injuries or surgeries.
He says the terrific staff and their good work is why he is a fan of Penrose Physical Therapy. "They are very welcoming and at that same time, they get down to business," he says. "It starts with the receptionist, and they are all absolutely wonderful."
Penrose & Associates Physical Therapy
445 Galaxy Dr. NE Suite 301, Lacey
360.456.1444
Info@penrosept.com
Sponsored