Historically, the American education system has primarily focused on academic skillsets and preparing students for four-year universities. Today, many educational leaders are developing more hands-on coursework to promote technical and trade schools as a viable option. North Thurston Public Schools offers a range of elective classes to help students discover unique career pathways that may fit their skills and interests. Woodshop has been in the district for over 50 years and has brought exceptional experiences and practical life skills to students no matter what career they decide to pursue.
Director of Career and Technical Education (CTE) Brad Hooper has been overseeing the program for 8 years and is thrilled to see these technical programs expanding. "We want to have options for all kids," he says. "We cannot focus only on trades or four-year universities, so we want to have a path for everyone." The CTE program centers around technical skills that can be applied to a variety of sectors in the working world, including automotive, welding, business, and woodshop. "Woodshop has become especially popular," shares Brad.
The middle and high school woodshop classes now teach students how to build and manage construction projects. At North Thurston High School, woodshop teacher Tim Marshall, also teaches architecture and has used these two skills to develop a unique curriculum for students. "Our North Thurston woodshop students build tiny homes," explains Brad. "The architecture students design the tiny homes, and then the woodshop students build them based on the plans." It is quite amazing to see the integration and collaboration between students in these distinct and intertwined areas of study.
Timberline High School also has its own way of integrating woodshop classes into other aspects of campus life. Timberline teacher, Peter Hauschka, teaches both agriculture and construction, so students take on projects that help support the school farm. "The Timberline students have done many construction projects for the farm, and for the auto shop too," Brad says. This last year, the class focused on creating an outside lumber storage shed for the farm and built portable walls for the auto shop that serve as room dividers. Students also worked on their OSHA 10-hour safety curriculum throughout the year, which leads to industry certification upon completion. This credential is required for most skilled trades, so it is an excellent way for students to set themselves apart before even leaving high school.
One of the major benefits of taking a CTE course is the real-life application of academic skills. Many middle and high school students question how and when they will actually use the information they are learning. "You don't just learn something and go to the next thing; you have to apply it," Brad shares. "If your math problem doesn't work out on a building, your roof will look really funny." It is impactful for students and teachers alike to see how concepts and theories relate to real-world situations, whether it is math and construction or chemistry and manufacturing. Connecting that piece can make a big difference in students' learning and engagement with their overall education.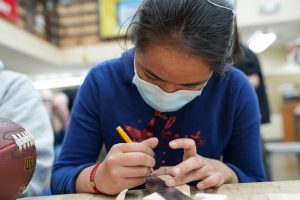 Not only do these classes provide opportunities to get hands-on technical training, but they also encourage students to develop their soft skills too. "A majority of the work is done by the students, with the teacher leading and working together," says Brad. "We really want students to focus that energy on teamwork, so they have those skills when they get out of school.." In many of the programs, students are responsible for managing all elements of a project, including designing, building, selling, or whatever else is part of the curriculum. This gives students the autonomy to creatively develop their skills and well-rounded industry expertise.
The CTE program in North Thurston Public Schools is funded for grades 7 through 12 and ranges from introductory to advanced coursework in each subject. A big perk of these classes is that they are accepted as college credit by many universities, colleges and trade schools. This provides a double benefit of giving high school graduates a head start in industry experience while reducing their higher education costs. The only requirement to receive college credit is to pass the class with a C or better. To learn more about CTE programs and college credit, contact Brad Hooper directly at bhooper@nthurston.k12.wa.us.
In today's modern education, schools are striving to develop courses and curricula that appeal to a diverse range of students. With the CTE program, North Thurston Public Schools provides a variety of learning opportunities to meet every child's needs, skills, and interests in a fun and exciting way. No matter which pathway they choose, students will be able to gain skills and experiences that apply to their future career.
To learn more about the district, visit the North Thurston Public Schools website.
Sponsored