The Jake Sandwich. The Gay '90s Special. If you know what these are, then you're probably getting hungry, because they are two of the best-known menu items at Dirty Dave's Pizza Parlor in Olympia, which is celebrating its 50th anniversary.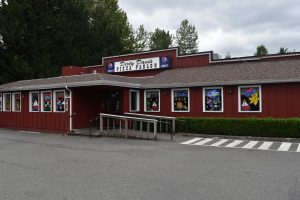 The well-known pizzeria has outlived many restaurants over its five decades and survived many challenges, including the COVID-19 pandemic. Stephanie Hemphill, the restaurant's marketing director and granddaughter of the late Dave Wilson, the restaurant's namesake and founder, says this has made it all the more special.
"If we would have celebrated our 50th anniversary without a couple of years of COVID shutdowns, it might not have felt so significant," she says. "We're just really thankful for such a great customer base and people who really love and support us and helped us get to 50 years going through a pandemic."
It Began in California
The delectable journey began in Redlands, California, where Dave Wilson, a former Army cook, ran the Dirty Dave's Gay '90s Pizza Parlor. In the early 1970s, Dave moved his family and restaurant to Vernon, British Columbia. After the area proved too cold, the Wilsons moved to Lacey, not far from the family of his wife, Lorna.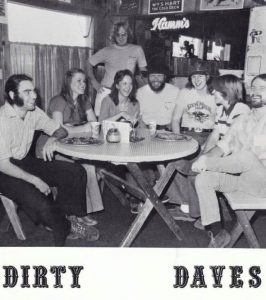 Dave opened Dirty Dave's Gay '90s Pizza Parlor in March of 1972 on leased property on Pacific Avenue. In 1979, he moved it to a nearby property he bought on Martin Way in Olympia "Gay '90s" is a reference to the last decade of the 19th century. The restaurant still has an 1890's vibe, with items like an old piano in the dining room that you are welcome to play, as long as you know how.
It's a family-owned and operated affair. Lorna originally did the books. Dave's children have all worked in the kitchen. Siblings Tom, Toni, and Greg are now co-owners. Stephanie hopes her children will be involved in the restaurant when they grow up.
"It's a family restaurant and we want to continue it, to have it grow," she says. "We just keep continuing my grandparents' legacy."
Made From Scratch
A big part of the draw is, of course, the food, which is made from scratch daily. Staff arrive around 7 a.m. to make everything from the crusts to the French Caesar salad dressing, no prepackaged items here! They'll also be crushing the cashews, the signature item on the Gay '90s Special.
The offerings on the menu haven't changed over the decades and Stephanie says that's a good thing. People can eat the same pizzas, pastas and sandwiches that they enjoyed when they were younger, eliciting a bit of food nostalgia.
"What people really like, such as the Gay '90s pizza and the Jake sandwich, they're still really going to like it because it's the same thing," Stephanie says. "A lot of things need to change with the times. Our menu doesn't."
Customers Loved Dave's Humor
The restaurant has a solid customer base, something a business needs to survive half a century. Part of what gained that support was Dave himself. Customers recall him as a man with a sense of humor who didn't talk down to kids. David Jensen of Bellevue, a long-time patron whose family had a business across the street in Lacey, remembers suggesting a slogan when he about six years old.
"I said to Dave, 'How about, 'Please order before eating. It saves time.''" He cracked up, went and got a flattened take-out box, wrote my slogan out, word for word, and stapled it up behind the counter," David says in a post on the aptly-named Fans of Dirty Dave's Gay '90s Pizza Parlor group on Facebook. "It stayed up until the move to the new location on Martin Way, where it was re-installed on the ceiling and was still there through my elementary, middle and high school years right up until I left Olympia for college."
David said the pizza box eventually came down, but continues, "I never got over thinking how cool it was of Dave to humor a little kid that way, and it really made me feel like I was part of the place for all those years."
Dave Wilson also liked to poke a little fun at his customers. On Dirty Dave's Facebook page, Deb Fischer McReynolds of Forks recalls a bit of teasing. "My college roomie, a die-hard feminist, took issue with the sign behind the counter, 'Women may sit at the counter as long as their mouths stay shut,'" she shares. "Dave just laughingly played with her through our entire meal. All the way back to PLU, I had to listen to her rant over that 'nasty (male chauvinist pig).' I had to drag her back again just to prove that Dave was just messing with her mind."
Though Dave passed away in 2013, his style of playfulness has not disappeared. Anyone who's seen the restaurant's TV commercials, even the newest ones, knows how funny they can be. A recent commercial features a trio of men, Dave's grandson's, bragging about how many Jake sandwiches they can eat. The one-upmanship continues until one boasts, "I could eat about a hundred," before giving a quick wink to the camera.
The Chicken Machine
Stephanie says there are three things that keep people returning, the food, the atmosphere, and the chicken machine, a claim backed up by posts online where adult customers recall playing it when they were children.
"It's just a little arcade game where you stick in a quarter and a chicken clucks and then you get a little egg with a little prize in it," she explains. "We're one of the few places that still have one in the United States."
The Origin Story
A special treat of the non-food kind is the recently-released book, "Dirty Dave's Pizza Parlor: An Origin Story (Dirty & Me)." It's by Jerry Farmer, one of Dave Wilson's longtime friends and first hire in Lacey, who shares both history of the restaurant and memories of Dave. The proceeds go to All Kids Win, a nonprofit that provides food for homeless and at-risk students. Dave's daughter-in-law, Kelly Wilson, is the founding board member.
The book is a quick read—just 117 pages—and it's full of fun and touching bits. Longtime fans and new ones alike are sure to love learning how the Jake got its name. Copies are being sold at Dirty Dave's and could make for fun reading while you're devouring your Gay '90s Special. Just make sure you don't get any sauce on the pages!
For more information, visit the Dirty Dave's Pizza Parlor website.
Dirty Dave's Pizza Parlor
3939 Martin Way E., Olympia
360.456.1560
Sponsored