YIPPEE-KI-GAY! It's time again to join Pizza Klatch in raising funds and celebrating our LGBTQ+ youth at "A Slice of the Good Life," a totally virtual Gayla. The main event will take place on Saturday, April 9 starting at 7 p.m. and will include a silent auction, raffle, live donation opportunity, student performances and celebrity talent, Rebecca Black. Last year's Gayla host, Gayle Evans, (drag persona of Gayla Organizer, El Sanchez), returns for this can't-miss event.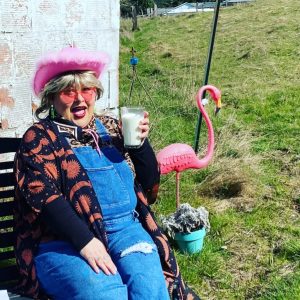 Like all fundraising events, the Pizza Klatch Gayla is centered around the goal of raising much needed funds, but for El Sanchez, the Gayla is equally about raising up all walks of the local LGBTQ+ community and their allies.
"The Annual Pizza Klatch Gayla is an event to not only center the needs of the LGBTQ+ youth of our community, but to celebrate them as individuals and as a whole," explains El. "We like to use our event to make sure our current Pizza Klatch students have paid opportunities to showcase their creativity, either through their art, (our promotional art this year is by Pizza Klatch student Ezekiel Ladd), or by showcasing their talents through performances. This year we have current students performing dances, songs, drag and for the first time, stand-up comedy! Giving these students the platform in our small support groups to be who they are and then showcase their talents as who they are on a large stage builds the resilience and confidence in our youth that Pizza Klatch makes our mission statement."
Choose Your Ticket Package
Tickets are on sale now at the Pizza Klatch Gayla website and come in three levels, general admission, special admission and VIP. Attendees who opt for the special admission and VIP tickets won't have to plan for snacks April 9, since these tickets come with a County Fair Themed Snack Pack, mailed or hand-delivered prior to the event.
Buy Raffle Tickets
Ring Toss Raffle Tickets are on sale now through April 8. You can buy tickets in person only, at the Pizza Klatch Office, 312 4th Avenue E. The office is open every day, 12 p.m. to 5 p.m. except Wednesdays and Sundays. Here is a preview of this year's prizes, see a complete list on the Pizza Klatch Gayla website.
Bid at the Silent Auction
Bidding online for the Gayla Silent Auction begins Friday, March 25 and closes Friday, April 15 and will take place on the Pizza Klatch Gayla website. Auction items include vacation getaways, self care packages, local excursions and handmade goods.
Donate or Register as a Sponsor
Donations can be made ahead of or during the live Raise-the-Paddle event by texting "GAYLA" or by reaching out to El directly, prior to the event at el@pizzaklatch.org. Donations to the live auction and raffle can also be made and are a win-win for the community and the students of Pizza Klatch, supporting program goals as well as promoting your local business. Sponsorship opportunities include showcasing through print advertisement in the Pizza Klatch Gayla program as well as through video advertisement during the live-stream event.
Learn About the Power Behind the Pizza
"Sometimes parents and folx outside of the LGBTQ+ community think that Pizza Klatch is a space in which students might talk about sex or sexual activity because it's a support group based around oppressed sexual identities," confides El, "but that's not the case. Students share their highs and lows, we discuss struggles folx have going on in their lives and the students give each other feedback and support. We can discuss anything from frustration with homework, incidents of bullying at school or frustrations in relationships. Some students just share what their favorite anime is currently. It's really a space for students to interact with their peers and feel supported and seen and heard in a space, such as their school campus, where they might not feel that way all the time. The only gay agenda we have is supporting the youth of our community."
And the numbers support the power behind every Pizza Klatch.  According to their annual anonymous surveys, 69% of attendees considered suicide and 32% attempted suicide. That comes to 203 and 94 LGBTQ+ youth in Thurston County respectively. After attending Pizza Klatch, only 10% reported considering suicide. Students also reported a reduction in self-harm, increased feelings of support and being heard, increased confidence and feelings of safety, increased school attendance, better grades and healthier relationships all after joining Pizza Klatch at their schools.
"We are seeing a larger amount of students than usual this past year now that we are back to in-person groups," El observes. "The past pandemic years have been hard on many, including our vulnerable students who are dealing with a political environment that has increased outward and hostile homophobic and transphobic bullying, isolation from their accepting friends and school staff while at home with parents and guardians they do not feel they can be themselves around and general stress and anxiety about the future. We know that Pizza Klatch and the support and resources that LGBTQ+ students receive at klatch can literally save lives."
Pizza Klatch is a place of community, individuality and empowerment and the 8th Annual Pizza Klatch Gayla is a beautiful extension of that uplifting work.
For event details, to donate or to purchase tickets, visit the Pizza Klatch Gayla website or contact Gayla Organizer, El Sanchez, directly at el@pizzaklatch.org or 360.339.7574 ext. 105.
Sponsored