When Providence St. Peter Hospital began offering Transcatheter Aortic Valve Replacement (TAVR) procedures, the team estimated they would perform 40 or 50 operations per year. Instead, that number rapidly grew to more than 150 and the program continues to expand. "We're one of the busiest groups in our family of organizations," says ARNP Michael Eveland of the 52 hospitals across Providence. "To have that kind of growth so fast is a testament to the positive outcomes and good work of the physicians."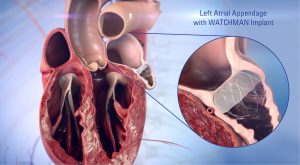 TAVR is a minimally invasive heart procedure that replaces a diseased aortic valve with a manmade valve. Having the TAVR procedure available in Thurston County is hugely beneficial for patients. "There is a strong correlation between the distance from a patient's home to where the care is provided, and the outcome," says Dr. Gopal Ghimire, an interventional cardiology specialist at Providence. "If you can get treatment closer to you, your outcome is likely to be better if there are any complications."
Healing from TAVR occurs more rapidly than with other forms of cardiac surgery, and it is less invasive with a smaller incision. In a clinical trial, 96% of patients were able to stop taking blood thinners just 45 days after the operation.
Ghimire and Eveland run the Structural Heart Program at St. Peter Regional Heart Center and ensure that they see every patient within a week after undergoing a TAVR procedure. "It's creating a safety net that helps patients avoid rehospitalization," says Ghimire. "Going back to the hospital is a big deal. It costs the patient a lot, it costs the hospital system and today, hospitals are always full. It's an inconvenience for everyone. Preventing rehospitalization is a significant gain for us."
He hopes that more people, including other practitioners, become aware of the medical options available in their community. "Patients may not be getting the appropriate care and therapy that their condition requires, or the care may be delayed because they don't realize this procedure can be done here," he says. "Other practitioners also may not be aware of what is available, so they don't refer the patient to us in a timely manner."
The Watchman implant is a permanent device that surgeons insert into the left atrial appendage (LAA) to prevent clots within the LAA from entering the bloodstream and minimize the risk of stroke. Watchman technology has continued to improve, Ghimire notes. The first generation of the device would sometimes result in bleeding around the heart at a rate of approximately 8%. Over time, that rate dropped to 4%, and today it's less than one-half of one percent. "It's an exponential drop in the risk of complication," says Ghimire. "Now, even patients we might have been hesitant about in the past can get the procedure done in one day and be discharged. It's such a benefit to the community."
Eligible patients fall into two categories: those who are at sufficient risk of having a stroke based on medical models, and those deemed at risk of having a negative outcome if they continue taking blood thinners. "If those two criteria are met, there is a shared decision-making process," Ghimire explains. "Someone who is not an implant cardiologist makes the decision to eliminate the possibility of bias."
In addition to providing surgery, St. Peter Regional Heart Center is a Center of Excellence for Medtronic, a medical device company. Doctors from other sites in the company's system come to St. Peter to observe the teams TAVR implementation techniques and learn how the clinic runs the program.
"Before they will bother to bring anyone to observe, you have to prove that you are a Center of Excellence," Ghimire points out. "They don't want to bring people to learn suboptimal techniques. The teaching program is a testament to the excellence in practice we've achieved."
In July 2021, U.S. News & World Report named Providence St. Peter the top regional hospital and ranked it third in Washington State. It also recognized St. Peter as high performing in 16 different areas, including TAVR and stroke treatment and prevention.
The Structural Heart Program is part of a national database, and the team submits quarterly reports. "Our outcomes are some of the best," says Ghimire. "We compare ourselves with other hospitals. Our outcomes on most of the indices are better, so we know we are doing robust teamwork."
Learn more by visiting the St. Peter Regional Heart Center website.
Sponsored