The South Puget Sound Community College (SPSCC) men's and women's basketball teams will close out their regular seasons on Wednesday, March 9 at Pierce College.
The Northwest Athletic Conference double header will begin with the women's game at 5:30 p.m. followed by the men's game at 7:30 p.m.
The Clipper women (10-8 overall, 6-5 conference) are playing for seeding positioning for the NWAC tournament. SPSCC enters its final game fourth in the West Region, trailing Centralia College and Tacoma Community College by a game in the standings. Lower Columbia College has already wrapped up the West Region title, finishing its conference slate a perfect 12-0.
Centralia College visits Highline College, while Tacoma hosts Green River College in the regular season finale for all four programs.
Whether they win or lose against Tacoma, the Clippers' season will continue as they already secured a berth into the NWAC tournament for the first time since 2016. SPSCC and the other 15 tournament teams will find out what their path to the NWAC championship looks like during the tournament selection show on Sunday, March 13.
The men's selection show will take place at 1:30 p.m. with the women's show at 3 p.m. Both shows will be broadcast live for free on the NWAC Sports Network.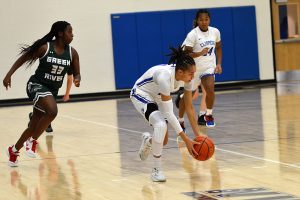 The SPSCC women will attempt to complete a season sweep of the Raiders as the Clippers won the first game between the two teams, 64-53. Jennie Goldsberry scored 15 points in the win, while Kayla Jackson and Sharay Trotter both chipped in 12 points.
SPSCC has four players averaging double digits in scoring, led by Trotter, who paces the team with 16.4 points per game. She is followed by Goldsberry (12.3 ppg), Payten Foster (10.9 ppg) and Jackson (10.3 ppg).
Goldsberry is the team leader in rebounds at 10.2 boards a game and blocked shots, averaging one per game. Trotter tops the team in steals at 3.6 an outing, while Brandie Tobin is the team's assist leader, handing out 3.5 a contest.
While the Clipper women tune up for the postseason, the men's team look to end the season on a high note by snapping its 11-game losing streak.
SPSCC dropped its first meeting against the Raiders, losing 97-69 at home on February 12 with Justin Hicks and Mekhi Speller-Hale each scoring 18 points for the Clippers.
Sponsored