After a three-year absence, the 195-pound Class 3A state high school wrestling championship is back within the Platt family. Yelm High School's Logan Platt capped his stellar senior season by claiming the title at Mat Classic XXXIII at the Tacoma Dome on Saturday, February 19, joining his older brother, Derrick, as a divisional state champion.

Platt finished the year with a record of 24-1. His final high school match was arguably his most impressive. Unlike his brother who captured his second state title in 2019 with a nail-biting 3-2 victory in the 195-pound state finals, Platt's title win featured far less drama as he dominated his opponent Hunter Tibobeau (28-2) of Shorewood throughout the match before posting a convincing 14-4 triumph.
Platt, who finished second at state in the 195-pound weight classification two years ago as a sophomore, was denied a chance at joining his brother as a state titlist last year after the postseason was cancelled due to the COVID-19 pandemic. Motivated by the two-year hiatus, Platt easily mowed through the bracket, defeating his first three opponents by pins to advance to his second career championship finals.
He pinned De'Veion Walter of Ferris (:56 seconds) in the opening round, Mead's Chris Grosse (1:07) in the quarterfinals, and Chief Sealth's Ethan Healthershaw (3:17) in the semifinals.
Platt, however, was not the only Tornado wrestler to take home some hardware. In fact, he wasn't even the only member of his family to finish the season on the medal stand as his younger brother, Brayden, finished his sophomore campaign by placing third in the 285-pound tournament. The Platt brothers were two of six Yelm wrestlers to place.
Senior Jeffrey Myers finished fourth at 120 pounds, freshman Lake Harris was seventh at 132, junior William Carreto placed fifth at 170 and junior Ray Wright took home a fourth-place medal at 195.
The Tornados strong showing helped Yelm place fifth overall as a team with 156 points. Mead captured the 3A crown with 236.5 points. Hermiston (171 points), University (167.5) and Mt. Spokane (162) rounded up the top four placing 3A teams.
It marks the fifth top eight finish at the state tournament for the Tornados since they rejoined the 3A classification in 2017. Yelm also placed third in state as a team in both 2019 and 2020, eighth in 2018 and fifth in 2017.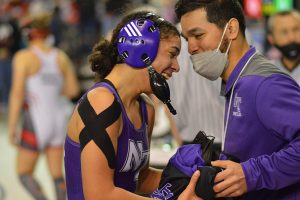 North Thurston had one of its best performances in years, placing 11th overall as a team in the 3A standings with three Ram wrestlers claiming top eight placing. Senior Russell Scholl was fifth at 285 pounds, while junior teammates Marcellus Belton (220) and Charles Parker (145) placed fifth and eighth, respectively. It was the highest team placing for North Thurston since 2003 when the Rams finished ninth at the 3A tournament.
Capital also had three medalists at the 3A tournament. Sophomore 170 pounder Ezekiel McEwen was third, freshman Kadyn Hagerty grabbed fourth at 106 and junior Alijah Wiatt was seventh in the 160-pound division.
In the 2A tournament, Black Hills senior Mikey Johnston advanced to the 113-pound finals before losing to Orting's Quentin Harding, 8-0, in the championship match. Johnston navigated his way to the title match after pinning Brycen Palmer of West Valley Spokane (3:13) in the first round before registering a 14-6 win over Hunter Oswold of White River in the quarterfinals and a victory via pin over Aberdeen's Michael Hatton (1:55) in the semifinals.
The Yelm girls' program finished as the highest-placing local team after grabbing the fourth-place trophy with 79 points. Toppenish won the girls' state title with 206 points. The Wildcats were followed by White River (171.5) and Curtis (81). It's the best finish for the Tornado girls since the team won its second consecutive state championship in 2018.
Yelm received a third place from freshman Samantha Blank (140), fifth-place finishes from sophomore Madisyn Erickson (115) and junior Camryn Erickson (155) and an eighth place from Lily Lawson (170).
Black Hills freshman Sloane Kruger placed fifth in the 105-pound girls division, while North Thurston junior Annika Lee captured sixth place at 135.
Olympia's Alex Grant was the only local wrestler to place at the 4A tournament after the senior claimed an eighth-place finish in the 182-pound division.