The South Puget Sound Community College (SPSCC) basketball programs will begin the second half of their conference schedule on Wednesday, February 16 when they play a double-header at Highline College in Des Moines, Idaho. The Clipper women will play at 5 p.m., followed by the men's game at 7:30 p.m.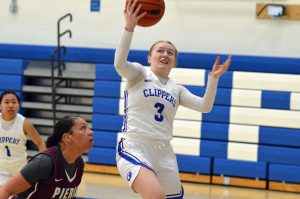 The SPSCC women are 3-3 in the Northwest Athletic Conference West Region as they continue their push for one of the conference's four postseason berths. The Clippers are currently tied in third place with Tacoma Community College with both teams chasing leader Lower Columbia College (6-0) and Centralia College (5-1) in the standings.
After failing to register a steal in its 73-52 loss to conference-leading Lower Columbia, the Clippers notched a season-best 22 steals in a 64-53 triumph over Pierce College on February 12. Eight SPSCC players picked up at least one steal against the Raiders, led by Payten Foster's five steals.
The Clippers shot a chilly 35.1% (27 of 77) from the field against Pierce, but made up for the 50 misses by pulling down 23 offensive rebounds, marking the fourth time this season and the second time over the last four games the Clippers have notched 20 or more offensive boards.
Overall, the team ranks first in the NWAC in offensive rebounds a game (17.6) and third in total rebounds per game (44.9) with Jennie Goldsberry ranking sixth in rebounds (10.6 rebounds per game) and Foster ranking 13th (7.9 rpg).
Foster also clocks in at 5th in the conference in steals, averaging 3.0 a game, while teammate Sharay Trotter, who averages a team-best 16.1 points a game, is 6th in steals at 2.9 an outing.
The Clippers defeated the Thunderbirds (5-9 overall, 2-4 conference) on January 19 at home, 57-50. In that game SPSCC trailed by one after three quarters, but held Highline to 2-for-13 shooting from the field in the fourth quarter. Foster scored a team-high 13 points off the bench, while fellow Clipper freshman Kayla Jackson scored 12 points and Goldsberry added 9 points and 11 rebounds.
Despite holding a 1-6 conference mark, the South Puget Sound Community College men's team is well within striking distance for a playoff spot with six games remaining. The Clippers were forced to forfeit two West Region games this season due to COVID-19.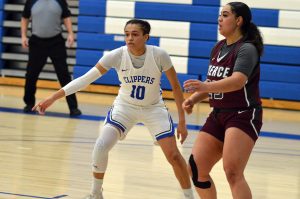 SPSCC will attempt to snap a five-game skid when they face the Thunderbirds. The Clippers (3-15) are coming off a 97-69 loss at home to Pierce College. Black Hills High School graduate Justin Hicks and Mekhi Speller-Hale both scored 18 points to lead SPSCC.
The Clippers dropped their first meeting against Highline, losing at home to the Thunderbirds, 82-67, on January 19. SPSCC tied the contest at 51 on an Ethen Ojukwu free throw with 10 minutes remaining in the game before falling victim to a 21-2 Highline run over the next 6 1/2 minutes.
Jason Montes paced the Clippers with 15 points, while Hicks and Jackie Simmons each scored 11 in the defeat.
The Clippers lost a hard-fought game to conference-leading Lower Columbia, 71-60, on February 9. Both Speller-Hale and Hicks had double-doubles in the loss for SPSCC. Speller-Hale, who leads the team in both scoring (15.9 ppg) and rebounding (7.7 rpg), finished with 14 points and 14 rebounds, while Hicks scored 18 points and grabbed 10 boards.
Both SPSCC programs will play on the road for the next two games. The teams will follow up their games at Highline College with a double-header at Grays Harbor College on Saturday, February 19 before returning home to host Centralia College on Wednesday, February 23.
Sponsored